While headlines continue to highlight the significant challenges that the maritime and fishing industries are facing, Pacific Marine Expo highlighted what it means for this community to come together and collectively work through those challenges. Even more significantly, it showcased what kind of opportunities are being created on account of the connections and conversations that define this community.
The strength of this industry was highlighted during the Alaska Fisheries: Separating fact from fiction session. As panelists from NOAA outlined, Alaska is still a seafood powerhouse and is a model for sustainable fishery management both for the nation and for the world. This strength has enabled an evolution of the industry as well, which is evident with the plans to extend electrification all along the Seattle waterfront. Shore power construction is already underway at the city's cruise ship terminal.
That evolution means being able to go beyond buzzwords when it comes to terms like "sustainability," which was another topic that was explored at Pacific Marine Expo. Terms like "zero emission" can generate high expectations but little in concrete, deliverable approaches to solving problems. Those expectations can lead to additional challenges, which is part of the reason the fishing industry is in the 'fight of our lives' over offshore wind.
Those changes in expectations are often driven by technological innovations, and they can be positive as well. For the first time, captains can see fish and sonar targets in 4K high definition thanks to innovations like the GPSMAP 9000 series. Attendees were able to go hands-on with fisherman-centric solutions that represent new approaches to countless tasks such as gear tracking and boat building. Going hands-on isn't just about the latest gear or what's happening in the industry though, which Xtratuf highlighted as part of their unique tattoo experience. Over at the Grunden's booth, fish were literally flying across the exhibit floor.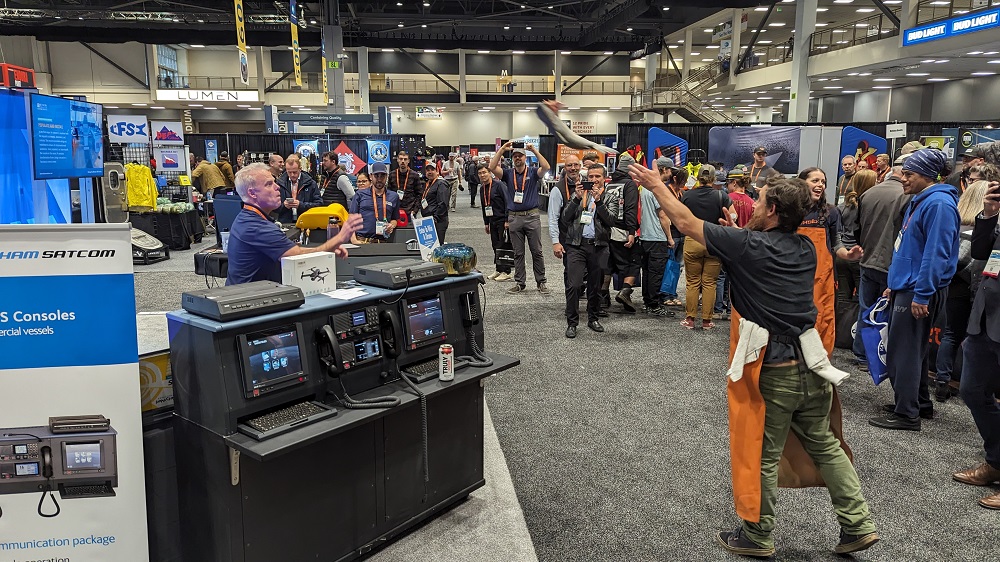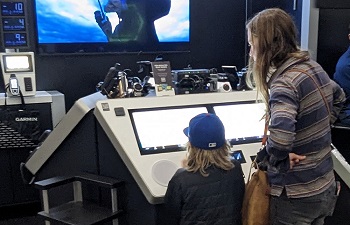 Such experiences highlight the community element of the event and industry, which is by far the most notable element of each. Interviews with industry legends took place at the Galley Stories booth, while people of all ages, including kids, were on the floor. This community element was especially evident when 2023 National Fisherman Highliner Curt Brown took the stage with his family.
Fellow 2023 Highliner MJ Jackson said that the Highliner award "isn't a 'me' award, it's a 'we' award." That same sense of "we" cuts across the generations that define the present and future of the entire commercial fishing industry and community.