National Fisherman's five 2023 Highliner award honorees took the stage Wednesday at the Pacific Marine Expo to applause from a packed house – and urging everyone in the audience to stay involved in the future of their fisheries.
I'm a first-generation commercial fisherman, and at an early age, I knew what I wanted to do," said Jimmy Hull of Ormond Beach, Fla., who credited his father's early support with launching his career, from the decks to advising scientists and managers.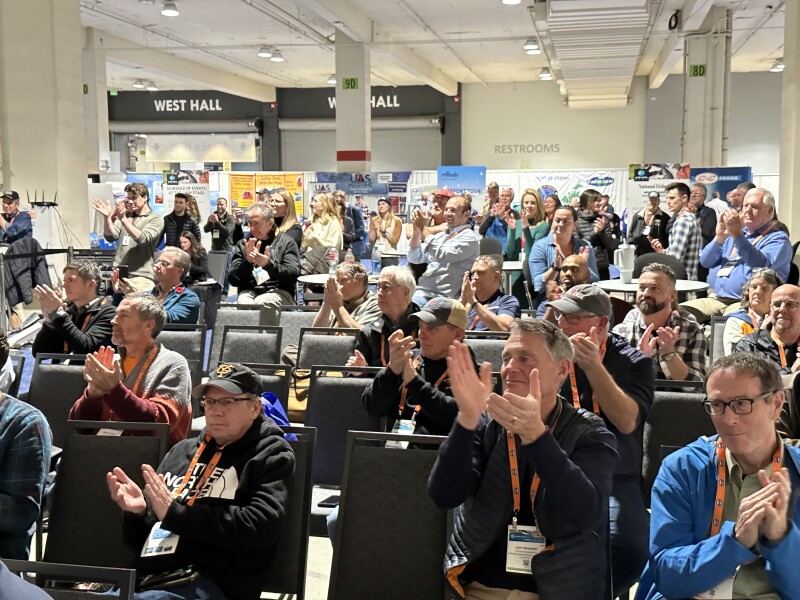 "With family, hard work, and persistence, we succeeded," said Hull. His priority remains seeing "American seafood produced by American fishermen."
Matt Alward of Homer, Alaska gave a shout-out to the "people who fight to keep this industry alive" and mentors like Captain Malcolm Milne, who early in his career convinced Alward to get involved in fisheries policy issues.
"If you're not part of the advocacy, you really have to step up," Alward told the audience.
In New England, Maggie Raymond of South Berwick, Maine, helped fishing communities navigate the stormiest decades of their 400-year history in the region, with outcomes yet to be decided.
Raymond expressed her thanks to "the fishermen and their families who allowed me for over 25 years to be their voice in the process."
"Keep it up. It's important," she urged fishermen.
Portland, Maine, lobsterman Curt Brown said seeing that activism has been critical to the survival of the Maine lobster fishery amid the dire threats posed by conflicts over the endangered North Atlantic right whale.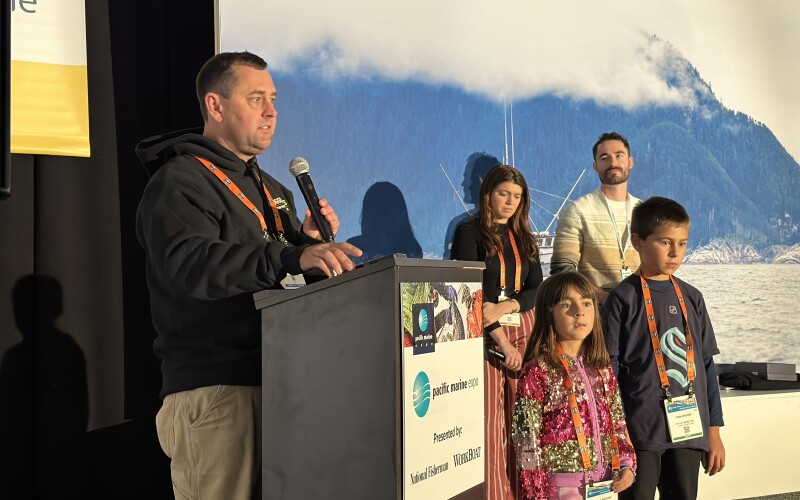 "A year ago, we were in real jeopardy," Brown said, but the Maine Lobstermen's Association and allies fought back in federal court and on the political and public relations level.
"We fought together as an industry," Brown said to applause. While the MLA was in federal court Brown worked to get their story out to the news media, "from Fox on the right side of the spectrum to NPR on the left," he said.
In June, a federal appeals court sided with the lobstermen in a ruling that found the National Oceanic and Atmospheric Administration had "egregiously" overstepped in blaming Northeast lobster gear for right whale deaths, said Brown: "Those are harsh words from a judge to a federal agency."
Michael "MJ" Jackon of Bellingham, Wash., followed a similar path as the other Highliners that took him to activism. Working with the Commercial Fishermen of Bristol Bay "taught me how to speak truth to power," said Jackson.
More than a decade battling the Pebble Mine proposal to protect Bristol Bay sockeye salmon – "The largest migration on the planet," Jackson notes – involved him with scientists and other nonprofit groups that continue the effort, even after their last victory getting the U.S. Environmental Protection Agency to block permits for the mine.
"We won the battle but the war's still on," Jackson observed.
In conclusion, Jackson said that the Highliner awards over the years prove an important principle.
"The Highliner award isn't a 'me' award, it's a 'we' award," he said.