As smartphones become more than communication tools for fishermen, it's important to protect them from water, dust, dirt, and any other hazards. We took a closer look at some of the waterproof phone cases of 2023, and that also check some of the solutions available to carry and protect your other gear.
Waterproof cases for smartphones are the best way to protect a device that has become more than a communication tool for fishermen. In fact, smartphones are now also used for navigation or as a reference. They are paramount to the efficiency of a professional fishing experience. As more apps appear available to download to your smartphone, your information is accessible anywhere, anytime. It's important to be able to protect your valuable equipment when using it in different environmental situations, whether it be on the shore or on a fishing boat in high-seas.
Smartphone cases with water-resistant capabilities are available in various models, designs and prices. Essential aspects to consider are the waterproof rating of the case, if it's the adequate size for your smartphone, the long lasting capabilities of the type of material used and if there are accessories available for the case. It may also be important, in some cases, to make sure that whatever case you pick it's able to float, so your smartphone doesn't end up at the bottom of the ocean.
Here is the list of some of the best waterproof cases of 2023, to help you make an informed decision when choosing the perfect waterproof case for your needs. While we cover these cases, there are some suggestions in terms of waterproof cases to protect other valuable equipment you carry onboard, such as cameras, tablets and other electronics, from the harsh elements of water, salt, and moisture.
Choice overload can happen when looking for waterproof smartphone cases and you may feel overwhelmed by the sheer number of options. The truth is that in many cases it's the same product sold under different names under online marketplaces. Instead of showing you lots of similar products, we picked those that best show the variety of options available at different price brackets and from brands both popular and less known. So, without further ado, here is a selection of protection equipment you may want to checkout before your next trip.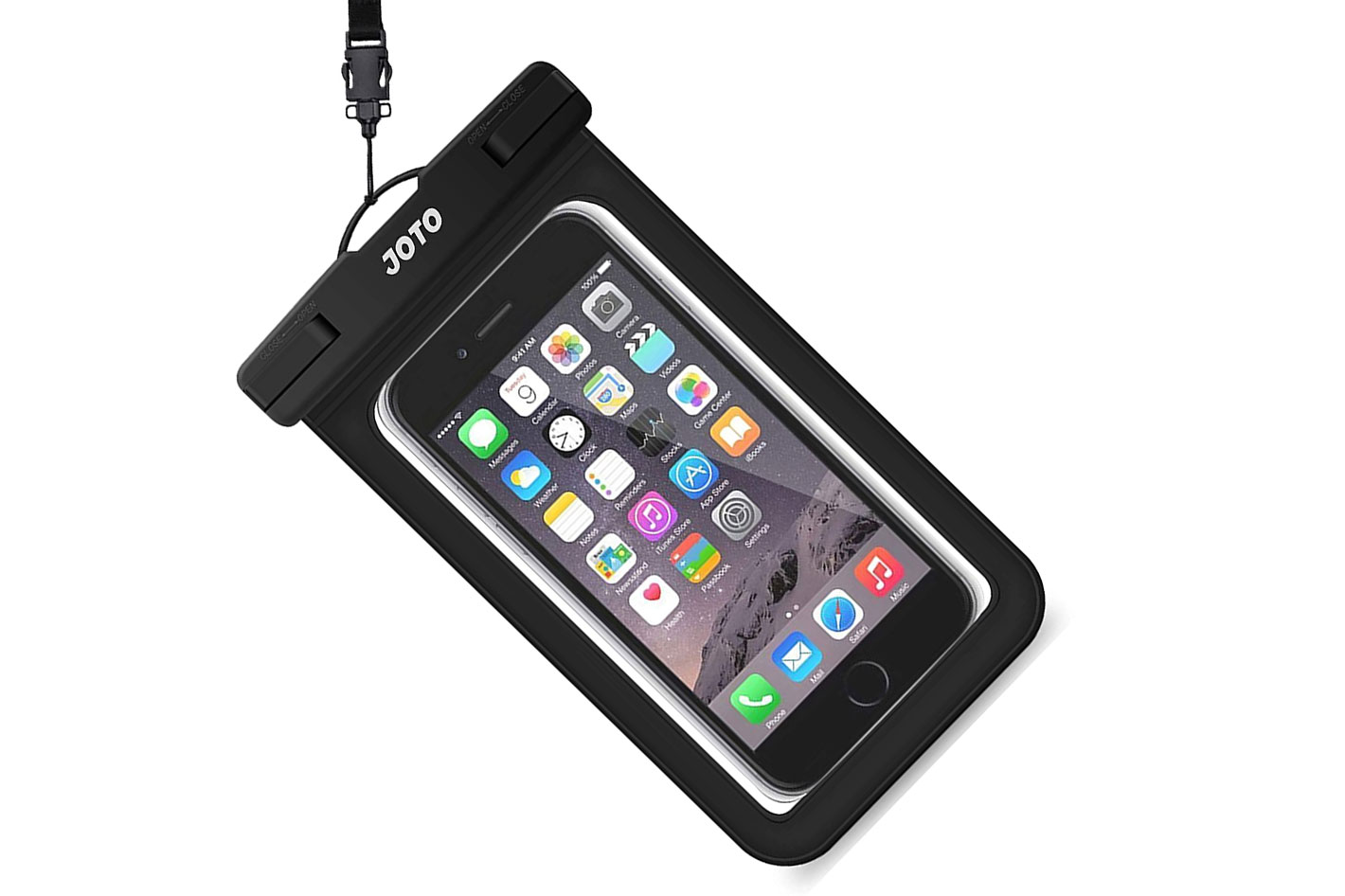 JOTO Waterproof Phone Pouch Universal Waterproof
A popular choice that does not break the bank, the JOTO Waterproof Phone Pouch Universal Waterproof costs as low as $6.99, depending on where you buy it, and, as the name suggests, is a universal case that will fit any smartphone up to 7 inches tall and 4 inches wide, although some big screen phones may only fit with the protective case removed. With a clear window on both front and back sides, easy to operate the touch screen functions, perfect for taking pictures, videos and checking emails, the JOTO is IPX8 certified (waterproof down to 100 feet/30 meters). The case comes with a neck strap for convenient carrying and features a simple snap and lock access.
JOTO suggests carrying out a waterproof test on the product before using it, and making sure it is sealed properly before use it in the water. A word of warning: the JOTO Waterproof Phone Pouch Universal Waterproof does not float, according to some users, so if you need a floating case better look elsewhere. It may be the reason why the company sells a "JOTO Floating Wrist Strap for Waterproof Camera Underwater Phone Pouch". The company notes that "the floating strap protects your waterproof digital camera and underwater phone case from sinking while cruise, ship trip, snorkeling or swimming.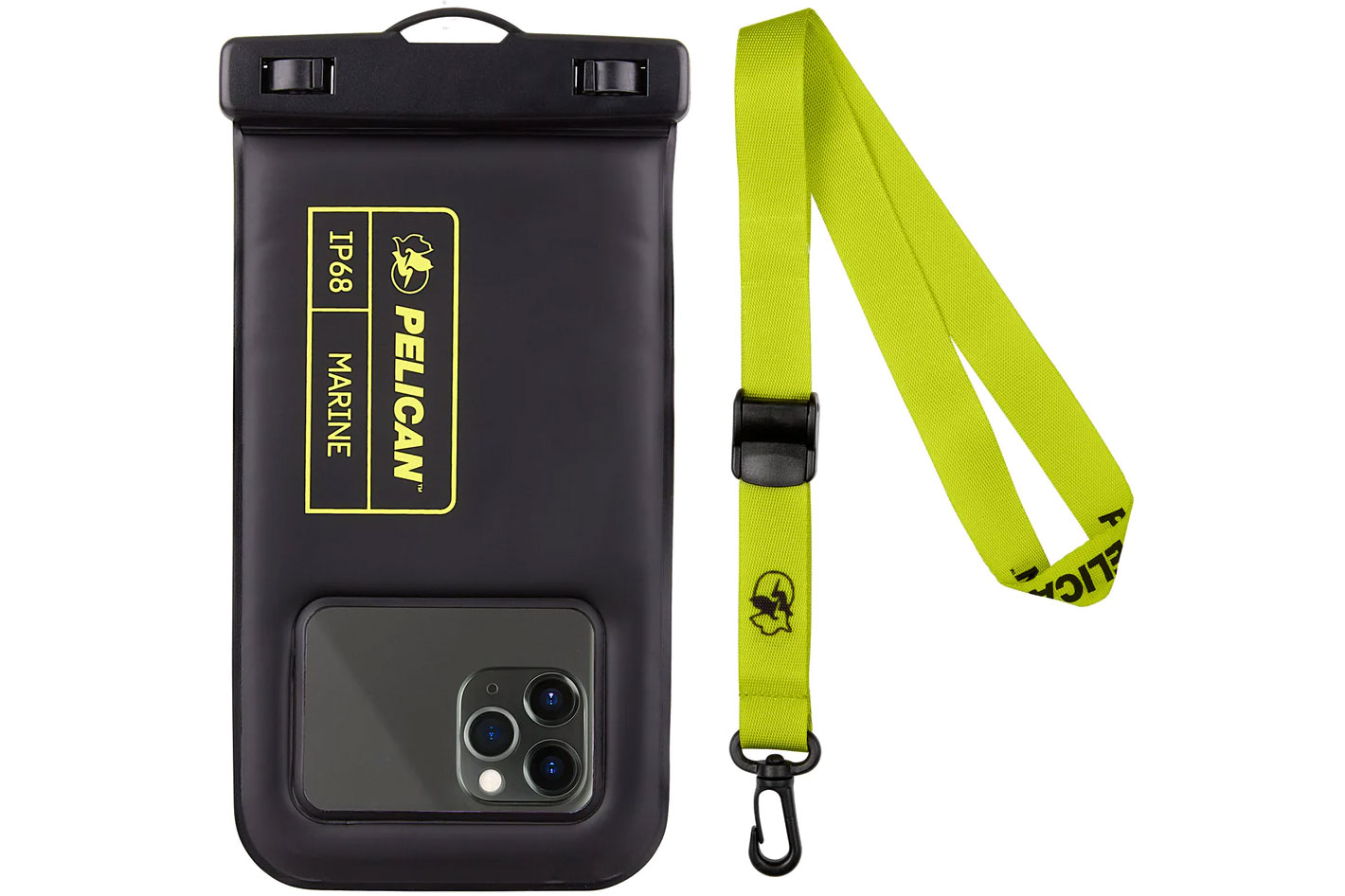 Pelican Marine Waterproof floating pouch
If you need a waterproof case for your smartphone that floats, then the Pelican Marine Waterproof floating pouch is a clear choice, and it comes from a company known for their solutions for protecting gear. The Marine pouch is IPx8 rated, as is common for many of these cases, for underwater submersion, but built in air cushions help ensure that it won't be submerged for long. It's perfect for your smartphone, but it can also be used to keep your ID or small valuables safe. The Pelican pouch features a clear window that allows touch screen accessibility so that your phone can stay safe and dry while you take care of business--even in the harshest conditions. The detachable lanyard included keeps whatever you choose to store close at hand.
Built for your life and everything it throws at you, according to Pelican, the Marine Waterproof floating pouch costs $24.99. Pelican suggests that those with XL smartphones pick the larger version, which is compatible with most smartphones with screen sizes up to 7". The XL version costs $29.99.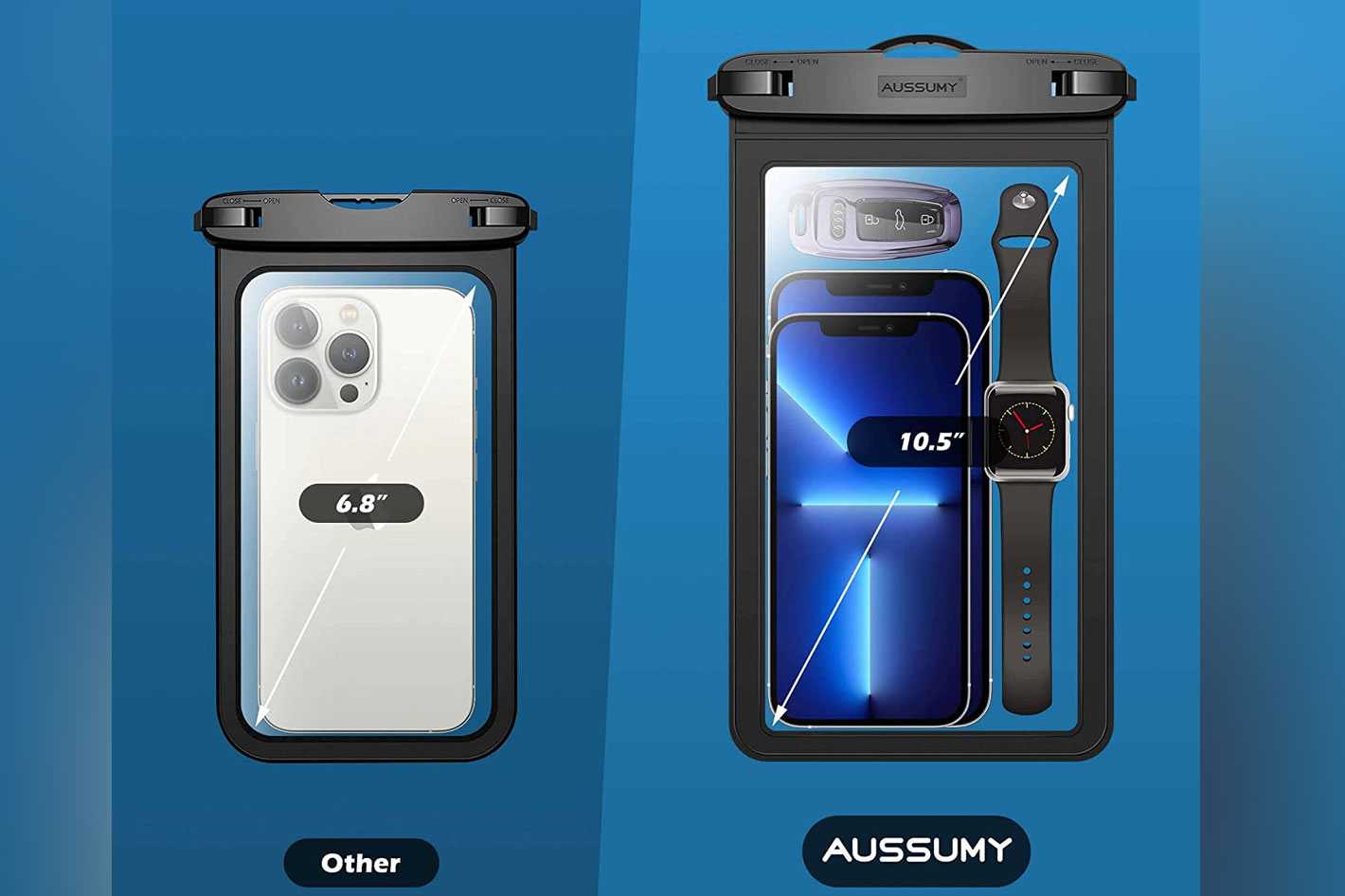 Aussumy 10.5" XL Large Waterproof Phone Pouch
If you need a larger waterproof case for your smartphone, then Aussumy is the brand to choose: it's a big size waterproof phone bag with clear front and back cover with up to 10" capacity that fits all smartphones. Made with a transparent PVC material that offers a crystal clear display gives you excellent touch screen performance, the case has been, according to Aussumy, tested one thousand times, without any indication of leakage or water damage during 30M (100 Ft) deep underwater. Still, it's suggested that before use you test the case by submerging it underwater for 30 minutes… with a sheet of dry paper inside!
Featuring a detachable lanyard, the Aussumy 10.5" XL Large Waterproof Phone Pouch comes in a pack of two cases for the price of $12.99.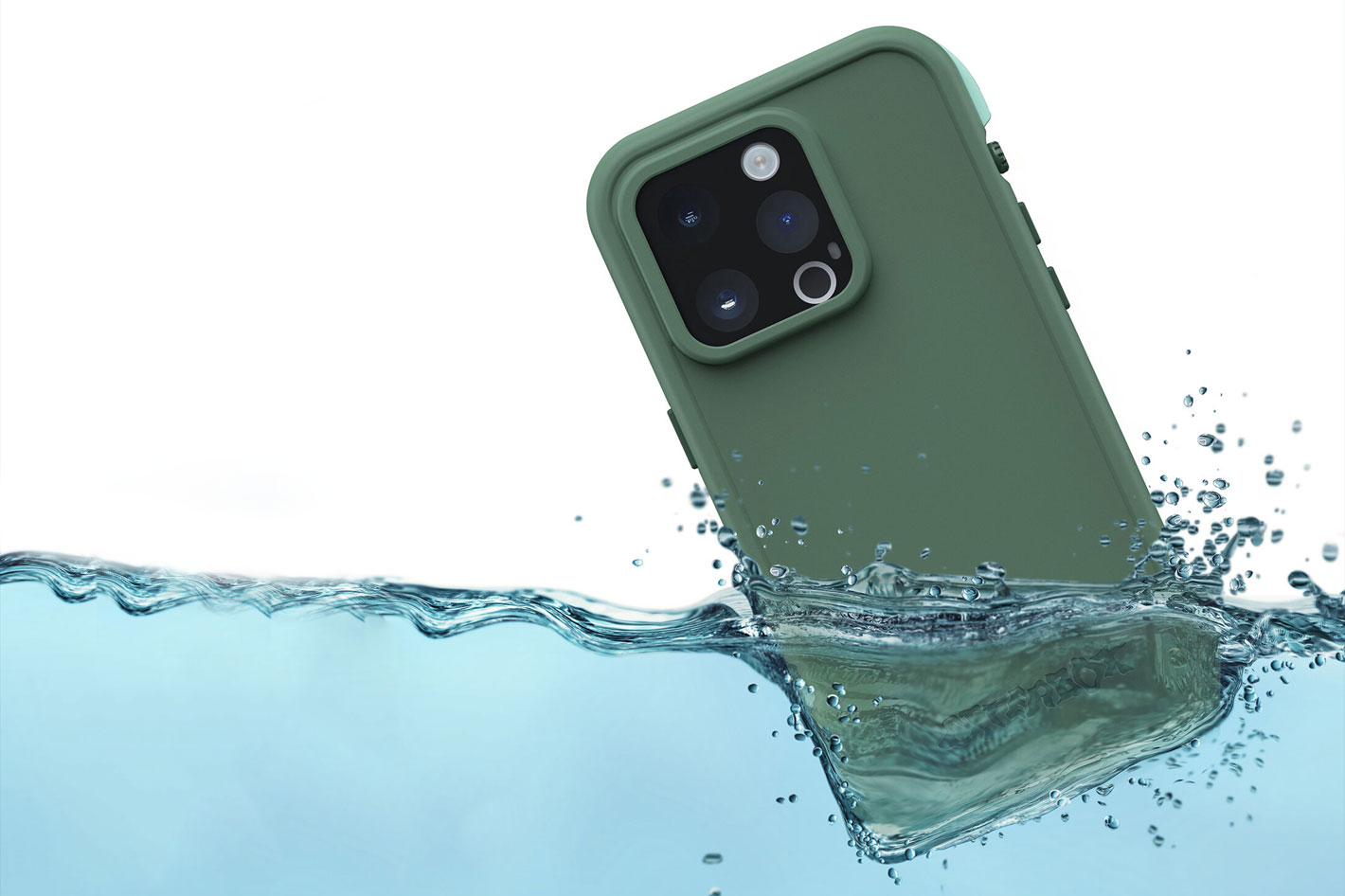 OtterBox Frē Series waterproof iPhone 14 Pro cover
Designed and engineered by LifeProof, the OtterBox Frē Series waterproof iPhone 14 Pro cover with MagSafe is different from other solutions; LifeProof FRĒ covers your phone on all sides, keeps up with every activity — and survives hard falls along the way. Plus, it snaps securely to MagSafe accessories.

It's waterproof down to two meters for up to one hour (that's IP68) and is designed with the iPhone 14 Pro in mind, so no chance using it with other models. Made with more than 50% recycled plastic, including 25% ocean-based recycled plastic, the case allows users, according to LifeProof, to charge their device wireless without removing it from the case. Available in black, green and purple, the OtterBox Frē Series waterproof iPhone 14 Pro cover costs $99.95.
Backpacks and Gear Boxes
Smartphone waterproof cases are great, but what about other equipment you may need to protect, while at sea? Well, here are some suggestions, from a backpack that offers extra protection to a dustproof, waterproof, and virtually indestructible gear case which is part of a family you may want to get to know better.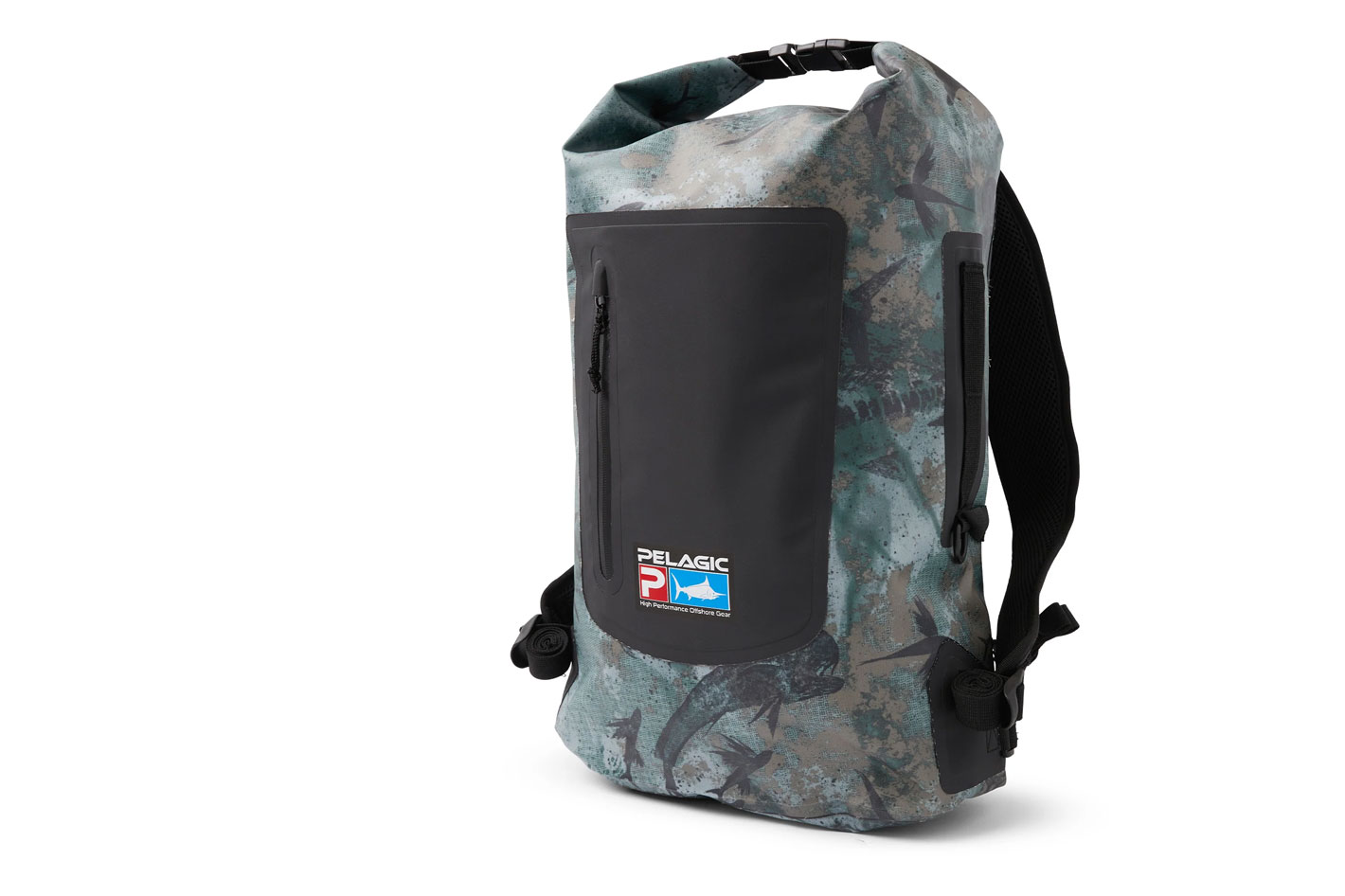 Pelagic 30L Dry Bag Backpack
Ideal to keep stuff dry in a boat, the Pelagic 30L Dry Bag Backpack is constructed in Pelagic's own PVC Dri-Core material (85% PVC 15% Polyester) to provide essential water-resistant protection. Featuring a convenient roll-top closure, non-submersible water-resistant zippers, and reinforced handles & straps, the Pelagic 30L Dry Bag Backpack is ideal to keep anything from clothing to gear dry. Whether by land or by sea, it assures your gear is always prepared for an onslaught of moisture.
Available in green, the Pelagic 30L Dry Bag Backpack costs $120.00.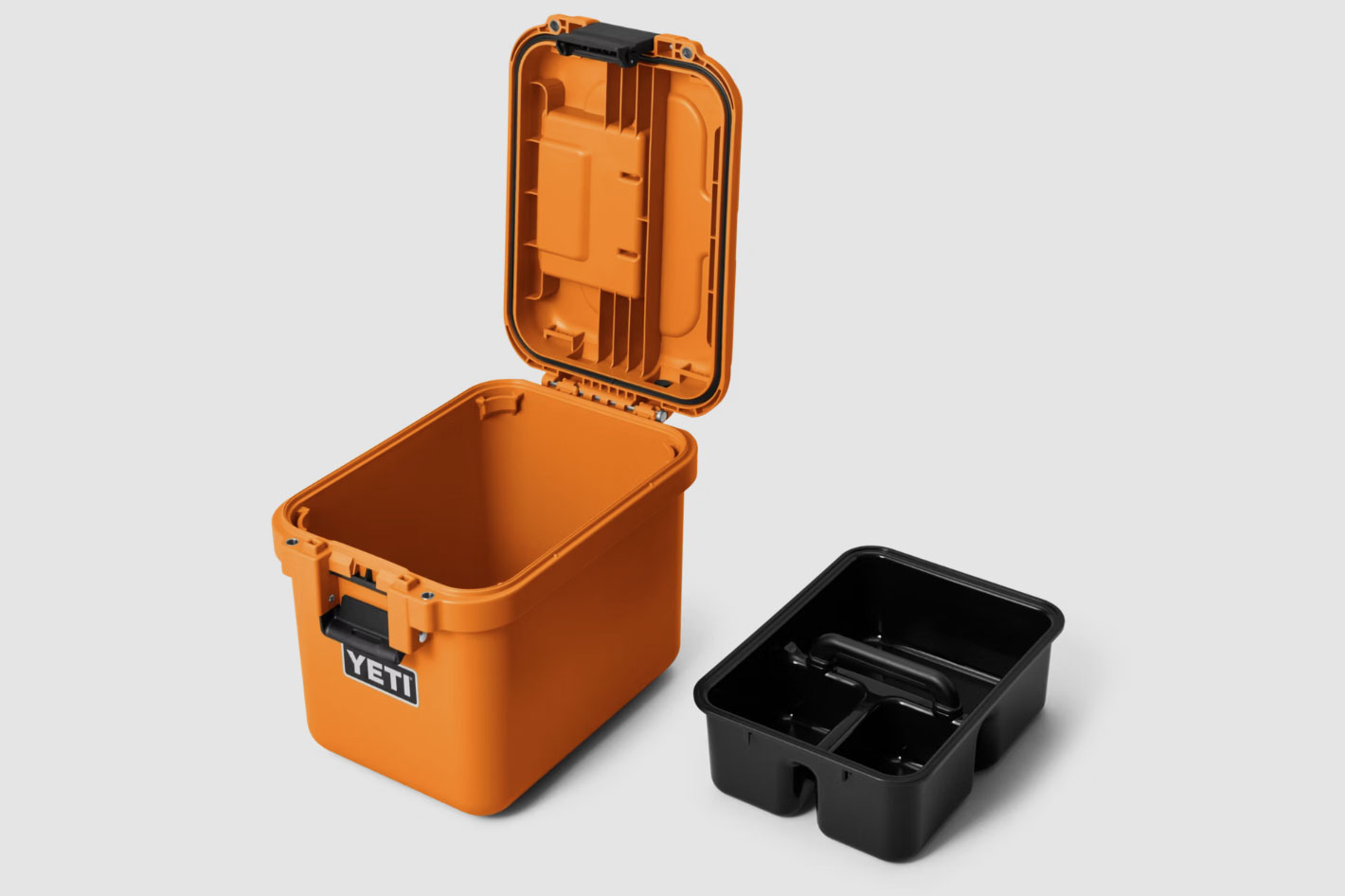 Yeti: LoadOut GoBox 15 Gear Case
Waterproof, dustproof, and practically indestructible, the compact LoadOut GoBox 15 Gear Case protects everything you can't afford to risk to the elements or disorder. Built to withstand serious impact, this cargo box meets IP65 and IP67 international ratings to be dustproof and fully submersible, keeping gear protected all the time.
YETI's removable cargo tray keeps small essentials at the top of your gear case. In addition, each GoBox's Pack-and-Stack Design allows you to easily stack your multiple boxes together for convenient packing and storing. The LoadOut GoBox 15 is the smallest member of the family, and it's perfect to keep essential dry. The size above, the GoBox 30 is for those who need some extra space while the GoBox 60 can be used as a personal gear locker.
Yeti says that the GoBox 15 Gear Case fits a marine safety kit, first aid supplies, or whitewater basics. With a built-in flip handle, a single caddy (provided) the GoBox 15 comes in king crab orange, charcoal, white or tan, and has a price of $125.00.