Funded by North Carolina Sea Grant as a core research project, ShellCast, a digital tool helping shellfish growers across North Carolina's coast better prepare for last-minute lease closures is expanding to benefit shellfish growers in Florida and South Carolina.
North Carolina weather is unpredictable, to say the least. While for most people that means determining whether or not to pack a rain jacket for the day ahead, for shellfish growers along the coast, it is a completely different scenario: an extra inch or two of rain can impact their harvest schedules and other operations.
The primary driving force for most new inventions is a need, and that's what is behind ShellCast. Faced with the changing weather, a team of engineers and computer scientists at NC State University worked with key partners to create ShellCast, an online application for predicting temporary shellfish lease closures. Lease closures are issued by the N.C. Division of Marine Fisheries as the result of storm runoff polluting coastal waters and potentially contaminating shellfish, which can lead to illness if consumed.
According to Eric Herbst, North Carolina Sea Grant's coastal aquaculture specialist, "Temporary closures of shellfish harvest areas are a big challenge for many North Carolina shellfish growers and can have a big effect on inventory management, cash flow, and ultimately the bottom line."
While growers are always instructed to yield to formal announcements and requirements for closure, ShellCast provides guidance to growers on how best to navigate potential closures. Herbst adds, "Knowing the likelihood of a closure occurring in the immediate future can help drive decisions regarding resource and time allocation to mitigate or manage the effects of a pending closure on their business."
The ShellCast project was started in early 2020 under the direction of Natalie Nelson, who leads the Biosystem Analytics Lab at NC State. Initial development of ShellCast was funded by North Carolina Sea Grant as a core research project for its 2020-2022 cycle. The project flourished despite the pandemic and other challenges. The project also receives support from NC State's Biological and Agricultural Engineering department, and the Southeast Coastal Ocean Observing Regional Association.
Users say ShellCast is "a great tool"
The tool was presented at the Coastal and Estuarine Research Federation Biennial Conference in November 2021 and at the NC Aquaculture Development Conference in March 2022. ShellCast debuted in 2022 as a digital tool helping shellfish growers across North Carolina's coast better prepare for last-minute lease closures. This year, ShellCast is expanding along the south Atlantic coast to benefit shellfish growers in Florida and South Carolina.
Prior to this expansion, the ShellCast team — led by Natalie Nelson — coordinated a pilot program for users to test the app. Participants in the pilot provided feedback that the ShellCast team then used to make improvements to the app before publicly releasing it.
"We're very appreciative of the important feedback we received from North Carolina shellfish growers and aquaculture professionals while developing the ShellCast web app," says Sheila Saia, a member of the app's web development team who is now associate director of the North Carolina State Climate Office. "As a researcher, it has been rewarding for me to see how shellfish growers are actively using ShellCast in conjunction with other weather forecast apps to make decisions about their operations."
Users described ShellCast as a "great tool" in the pilot program, with forecasting capabilities that function similarly to traditional weather applications that anticipate precipitation. But, unlike these standard weather apps, ShellCast is aimed at helping shellfish growers optimize their business decisions by providing targeted information specific to the growers' lease areas, allowing them to gauge the possibility of a lease closure and how that could impact their decisions to harvest.
Nelson and her team received funding from the Southeast Coastal Ocean Observing Regional Association (SECOORA) as part of a grant aimed at connecting important coastal tools and expanding their use across the Southeast. The other two applications receiving grant funding alongside ShellCast are the University of South Carolina's How's the Beach? and Mote Marine Laboratory and Aquarium's Beach Conditions Reporting System.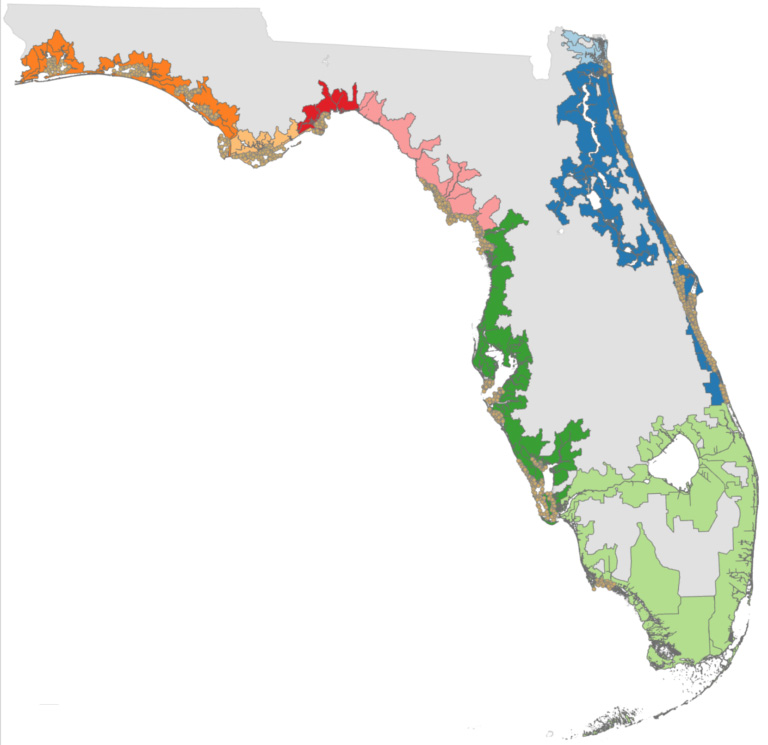 Florida's eight coastal watershed areas
Natalie Nelson anticipates expansion of the app into South Carolina by early 2023 and later into Florida – new waters and new uses. Expanding ShellCast into South Carolina is relatively straightforward, a near "copy-paste" of many elements in the NC app as Nelson describes it, but making ShellCast available to Florida shellfish growers is a bit more complicated because of Florida's different watershed areas. In fact, due to Florida's eight coastal watershed areas, the team needs to design predictive models for each, what they are doing using water quality data as well as other environmental variables.
While the U.S. Food & Drug Administration's National Shellfish Sanitation Program (NSSP) provides basic sanitation requirements for shellfish grown and harvested for human consumption, states are able to build off of these standards and maintain management programs that work for their specific resource management agencies.
To address these discrepancies and provide an app more specific to Florida, Nelson brought in Natalie "Nat" Chazal. A master's student studying biological and agricultural systems analysis at NC State, Chazal optimized models that could be used to improve the app in Florida. Chazal explains that the main difference in Florida's management protocol comes down to their use of an alternate sampling method to test water quality.
To develop state-specific models, Chazal spent the summer collecting and processing water quality data from Florida. She used these data to build upon existing models developed by Megan Carr, a PhD student studying biological and agricultural engineering at NC State, for Florida shellfish waters. Since then, Chazal and the ShellCast team have met with collaborators and presented their findings through SECOORA and at the Ecological Society of America and the American Geophysical Union's annual conferences.
The utility of regulatory data is useful beyond ShellCast's purposes and can provide insight into coastal systems' changes over time, but with different management criteria come data types and structures that vary by state. As a result, Nelson and her team designed ShellBase, a database integrating data from different state programs into a consistent, accessible format.
Currently, ShellBase houses water quality data for Florida, Georgia, North Carolina, and South Carolina's coastal waters from the 1980s until 2020. Nelson and her team are seeking additional funding to support database updates.