October 6, 2023
5 Things to Consider When Choosing an Operator's Chair
What is the application?
The most important factor to consider is what the chair will be used for. Is it going to be used for long offshore voyages or shorter, more local fishing? With the application determined, you'll have a better understanding of the environment, what kind of requirements are needed and how often the chair will be used. You'll then be able to narrow down chair models depending on ruggedness, standard features and available options.
Are there any space restrictions?
Considering the space where the chair will be installed is just as important as the chair itself. If it's a tight area where space is limited, you have the option of choosing a chair with a smaller footprint or a chair with suitable features. For example, the NorSap 1500 Series comes standard with a fold-up footrest, armrests and seat-bottom, which allows you to get the comfort, support and durability of a larger chair, with the ability to fold it into a slim profile.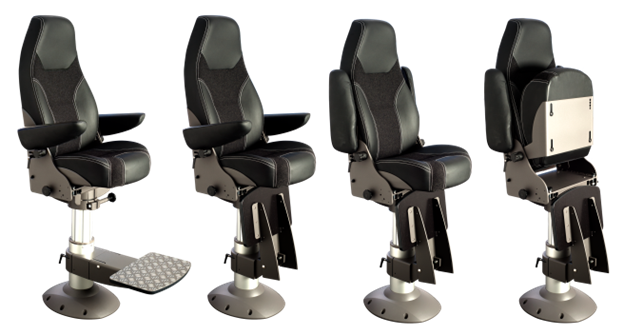 Conversely, if the chair will be installed in a large space with multiple controls and screens for the operator to monitor, you may want to consider the mobility options available. Many helm chairs come with the ability to swivel 360° and NorSap chairs can also be mounted on deck rails that are used to slide the whole chair either manually or electrically. These can be oriented fore & aft or port & starboard, depending on what is required. All this maneuverability can allow operators to navigate a large area while staying focused and maintaining safety.
What accessories will the chair need?
Accessories on a chair are often overlooked or not even considered, but they can make a big difference in the operator's experience. Accessories can be anything from a simple amenity like a cup-holder to a safety measure like grab-handles or seatbelts. It is also common to see controls (joystick, propulsion, thruster etc.) integrated in the armrests of the chair or multiple monitors attached. All these options are available with different series of NorSap chairs and can really make a difference in the comfort and functionality of the chair.
How many operators will use the chair?
If multiple operators will be using the chair, it's important to choose a chair with many adjustable features, so that everyone can make it comfortable for the size and shape of their body. All NorSap chairs are ergonomically designed to keep operators comfortable, healthy and safe. Some Series even have the option of storing preset chair adjustments for each user, which is a nice convenience at shift change. The adjustability of the chair becomes especially important if the operators are spending long hours in the seat.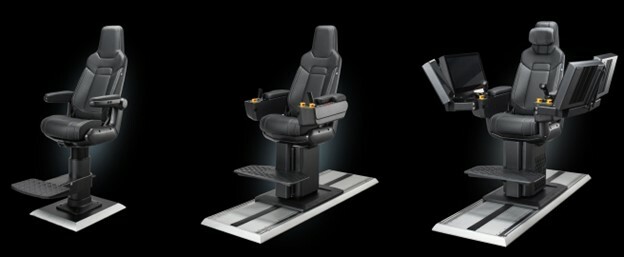 What customizations are available?
There are sometimes instances where the standard chair does not have exactly what is needed or wanted. For example, the operator of a Bristol Bay 32 may require a shorter back rest cushion for an unobstructed view of the back deck. NorSap chairs offer a solution for this, as well as many other customization options. Some common ones include embroideries, logos and upholstery designs.
For more information: