Smartphones are a commercial fisherman's best friend. The pocketable devices put essential information under your fingertips, making it accessible anywhere you are, on land or high seas. These are the best apps for 2022!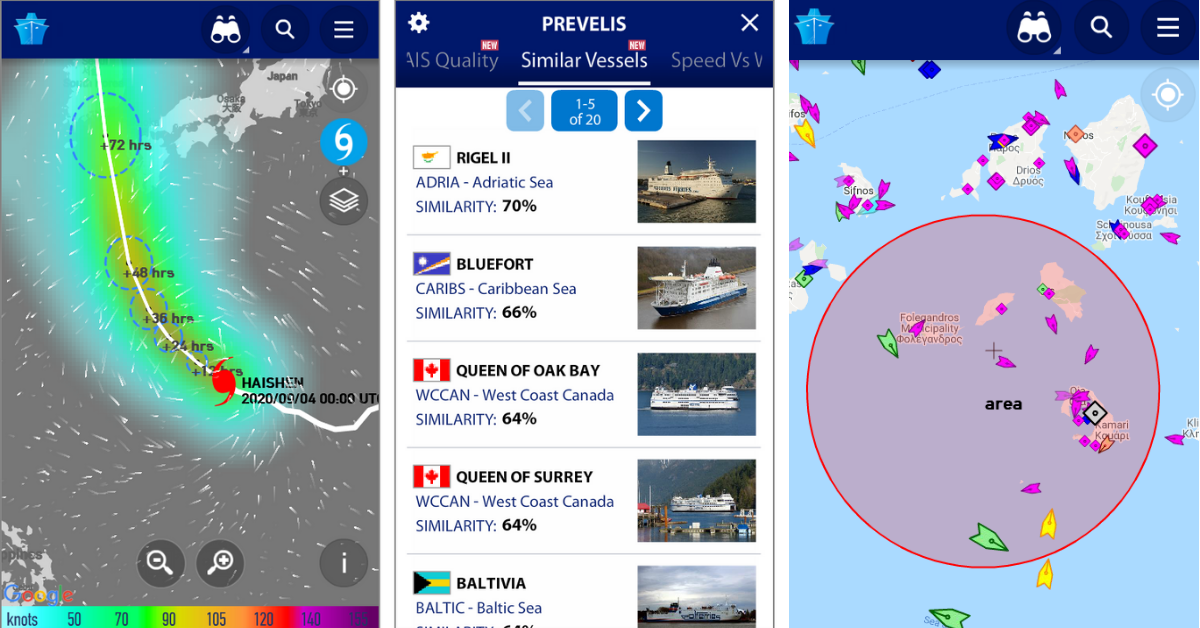 Marine Traffic – Ship Tracking
Connected to the largest network of land-based AIS receivers, Marine Traffic covers most major ports and shipping routes, displaying near real-time positions of ships and yachts worldwide. All you need to do is point your smartphone's camera to the horizon and get all the information you need about the vessels in your area: name, flag, speed, distance from you, and a lot more.
Marine Traffic is a free app available for both Android and iOS, with in-app purchases available as an option. The subscription versions include more information, depending on the plan you choose: nautical charts, advanced weather maps, advanced density maps, and SAT-AIS data.
Here are the key features of the Marine Traffic app:
View VESSELS ON THE LIVE MAP, search for ships, boats, and seaports, and see what's near you!
More than 100,000 VESSELS PER DAY report their positions via MarineTraffic AIS.
View live wind and 48-hour WIND FORECASTS on the map
ANIMATED PLAYBACK of vessel's track.
PORT ARRIVALS & DEPARTURES live for over 4,000 ports and marinas, current conditions in ports and estimated time of arrival for the boats & ships.
Manage your list of vessels ("MY FLEET"), shared with all your devices and MarineTraffic.com
Browse 2,5 MILLION PHOTOS of ships, harbors, lighthouses, and much more!
Identify and track vessels sailing beyond the range of land-based AIS receiving stations, using satellite tracking, with ACCESS PLUS 24 (in-app purchase).
Identify vessels around you at a glance with the Augmented Reality tool.
Visit Marine Traffic's website for more information and to download the version of the app adequate for your device.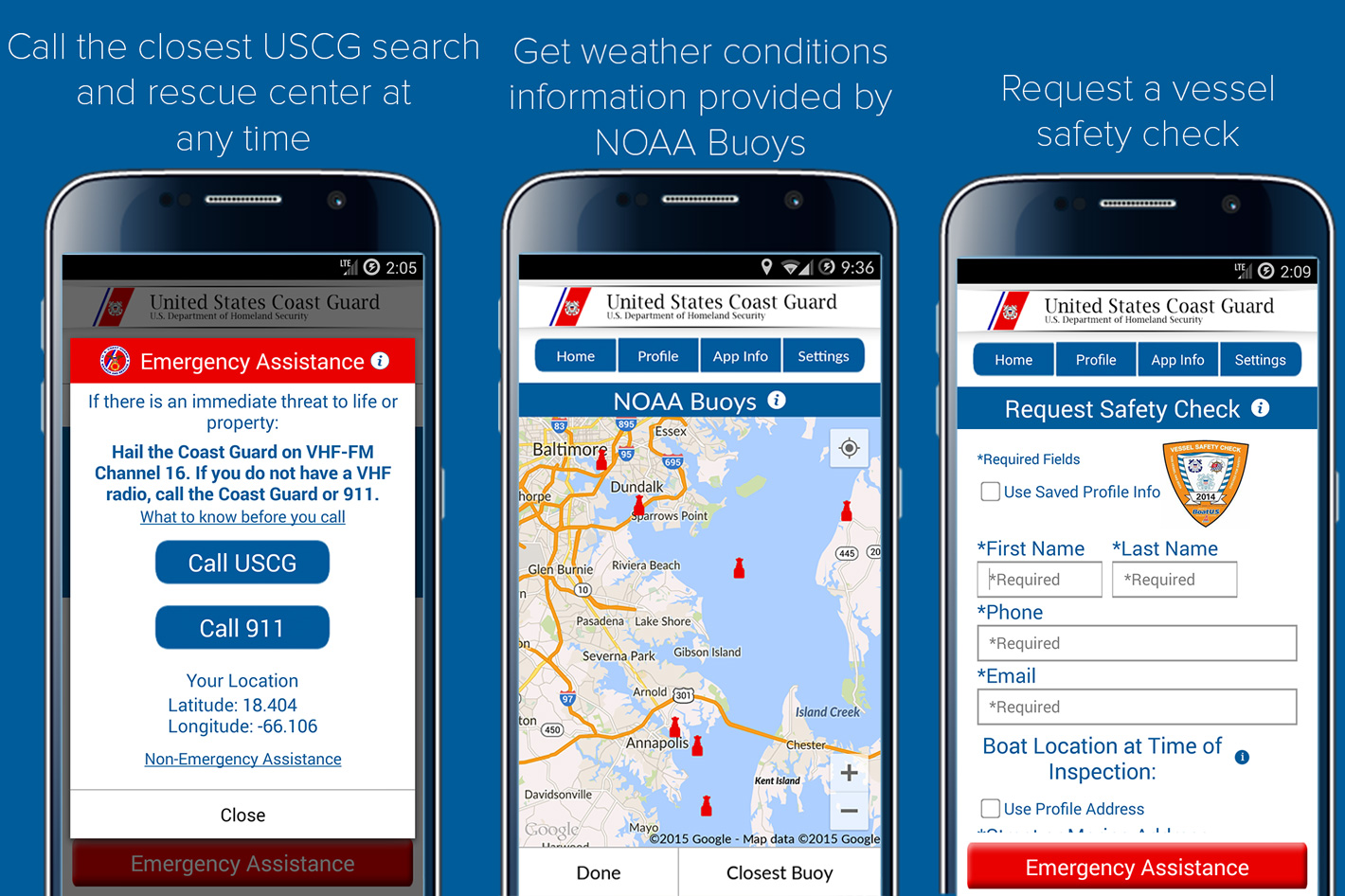 US Coast Guard Mobile App
Developed by BastaYa and the Coast Guard, the official U.S. Coast Guard app gives you 24/7 access to the most commonly requested information and resources for the recreational boating public. Available for both Android and iOS, the app allows you to Identify the boating safety laws, requirements, and resources available in your home state, the state where you keep your vessel or the state where you are planning to operate.
The list of features the app offers also includes a series of other options for safer navigation. Here are some:
Request a vessel safety check from the U.S. Coast Guard Auxiliary.
Determine what safety equipment you are required to carry by law based on the size and type of vessel you are operating. The app also recommends additional safety equipment you might want to consider.
File a float plan with up to three friends, loved ones or other responsible parties. While you cannot file a float plan directly with the Coast Guard, the app helps you develop a float plan that will allow your responsible party to provide search and rescue coordinators with important information they can use to facilitate a missing or overdue boater case.
Review the most commonly sought-out navigational "rules of the road."
Access weather information from the closest NOAA buoy to your current location.
Report a navigational hazard to the Coast Guard – this could be a buoy or marker out of place, a sunken vessel or some other obstacle obstructing safe passage of a Federal waterway.
Report pollution to the Coast Guard – from a minor oil sheen at the dock to a major pollution event, you can help protect our marine environment.
- Report suspicious activity to the Coast Guard – if you see something, say something! We all have a shared responsibility for homeland security.
While the U.S. Coast Guard app will help you better prepare for your time on the water and may help you contact the Coast Guard in an emergency, it is not a replacement for a VHF-FM marine radio, EPIRB, safe boating classes, and common sense. Learn more about being a responsible mariner at http://www.uscgboating.org/.
The U.S. Coast Guard app is a self-contained mobile application that resides solely on your mobile device. Information about yourself, your vessel, and your current or past locations is only shared with the Coast Guard when you choose to do so.
Visit U.S. Coast Guard website for more information and to download the version of the app adequate for your device.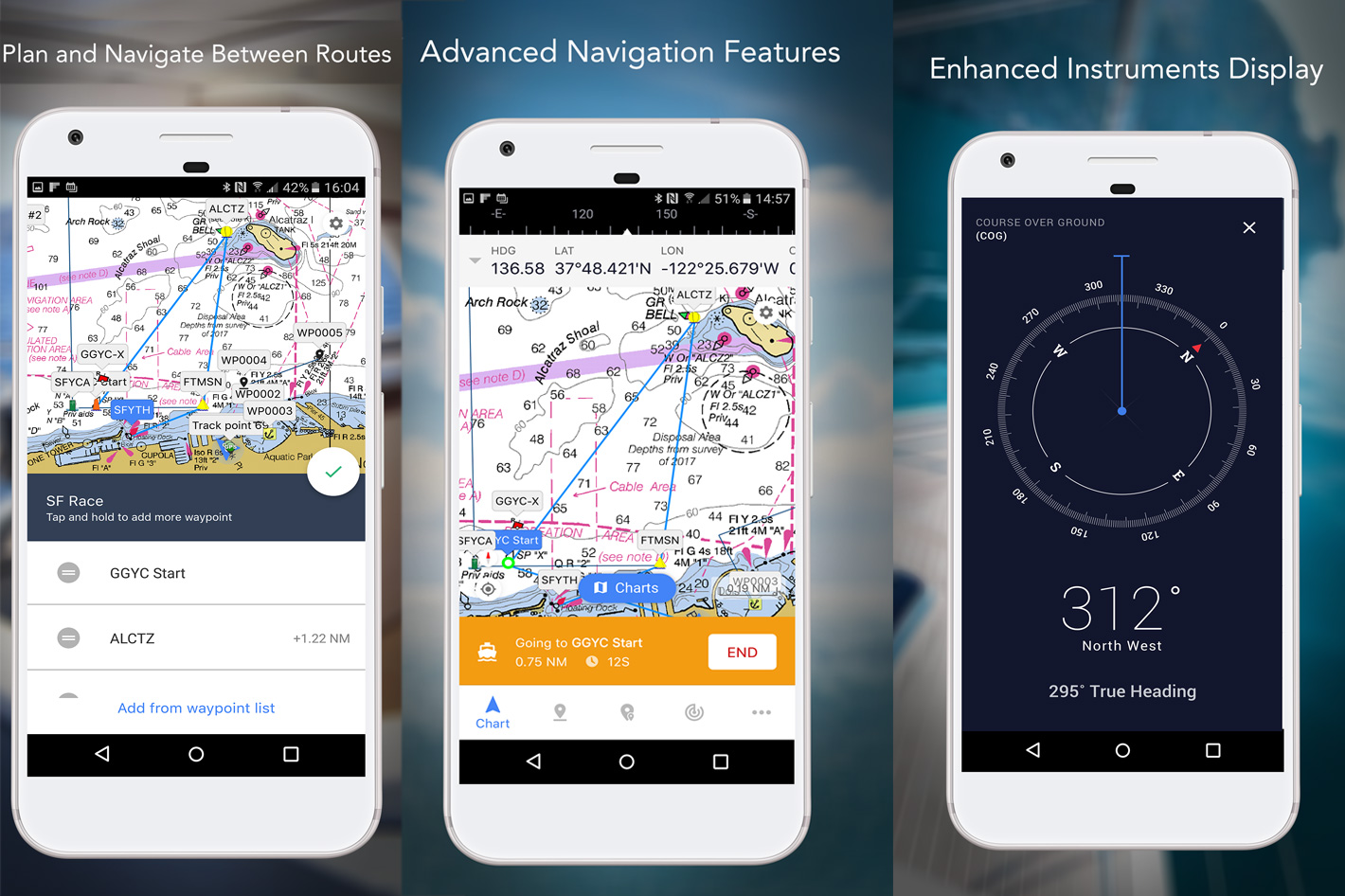 iNavX, your handheld chart plotter
Trusted internationally by casual and professional sailors, fishermen, and cruisers, iNavX is announced as the #1 handheld chart plotter and the only chart plotter on your phone that delivers charts from your favorite chart providers and hundreds of features. Additionally, the developers claim, iNavX is the only app to give you complete worldwide chart coverage, with access to all your favorite charts directly through the app. From C-MAP, Blue Latitude, Explorer, Waterway Guide, Delius Klasing, to a host of other chart providers, to overlays from Theyr and GRIB file weather data – it's all ready for you in your hand.
Fully enabled with one-touch access, iNavX gives users access to the broadest set of marine charts and maps from multiple providers including:
iNavX Professional+ Charts
Blue Latitude
Explorer
Theyr Weather
Waterway Guide
… and more
Available for both iOS and Androids, iNavX is the most feature-rich app available for all sailing and boating needs and it also offers a series of advanced features, including:
Advanced Chart Plotter
Plot your position in real-time using your device's built-in GPS
Pan, zoom and rotate charts (including course up)
Print detailed charts to use in combination with the app
Advanced Navigation
Create waypoints and plan routes to navigate between them
Tracklog allows you to record your route
Import/export data in KML (Google Earth) or GPX format
Advanced Instrumentation
Supports NMEA data over TCP/IP (using Wi-Fi)
Integrates with external GPS, AIS receivers & transponders
Connect nautical instruments: Depth, Speed, Wind, Engine, Batteries, etc.
Designed to make marine navigation easy, iNavX is a free app with optional in-app purchases that expand the features available. Visit NavX website for more information and to download the version of the app adequate for your device.NOAA Buoys Live Marine Weather
Developed by Sherpa Mobile, the NOAA Buoys Live Marine Weather app, available for Android, displays all the AVAILABLE weather data provided by NOAA's website at each location (buoy station). While it is viable to check the online website National Data Buoy Center, from NOAA, the app makes it easy to have the information from the buoys accessible on your smartphone.
Faced with criticism from some users, the developers note, on the download page, that "if you don't see wave height, wind speed, or anything else, please understand it is not our fault but a lack of information at the source. Hence, do not leave (please) a bad review for something we can't fix, as on reviews depends our survival on the market."
While some older reviews point to problems with the app, more recent ones suggest the app works as intended. One of the recent comments, from April 2022, gives the app a five-star rating, adding "I've been a commercial fisherman 40 years and was more interested in the barometric pressure and sea state than if there is rain or snow and that's what works for me and others, I am sure."
Visit NOAA's National Data Buoy Center online or, if you want the app, follow the link to the developers' space at the Google Play Store, to download the Android version of the NOAA Buoys Live Marine Weather app.
VESL, an app to make reporting easier
National Fisherman wrote about this app before, in the article "VESL: one app to make lobster harvest reporting easier" published last July. Available for iOS and Android devices, VESL, which can be downloaded free from the Apple App Store and Google Play Store, is a hub for collecting quality data with the least amount of effort all in one place, and report it to the government.
The app, which was updated last June is introduced with a brief explanation: "file your reports with the least amount of effort, all in one place. We reduce frustration, saving you time and money." To use it, says BlueFin Data, fishermen just need to create an account, "tell us your reporting obligations and file your reports."
The software from BlueFin Data has been used to submit more than 4 million reports and is integrated withy 10 reporting agencies. The VESL app, which saves countless hours of frustration, is not alone: the company also developed VESL Swipe Plus which allows Florida seafood dealers to use a magnetic card reader and QR code scanner integration for initiation of new reports in the VESL software application.
‍With VESL commercial fishermen have access to a free app that simplifies required harvest reporting for both state and federally licensed fishermen. The reporting requirement, which will be implemented in Maine in 2023, is intended to provide regulators and researchers with more detail about where fishing activity takes place.
"We decided to develop a new app to make it easier for lobstermen to comply with the new reporting requirement," said Maine Department of Marine Resource Commissioner Patrick Keliher. "Better data about fishing activity will help managers sustain Maine's important marine resources and will help ensure informed decisions are made around issues that impact fishermen like whale regulations and offshore wind development."
Visit the BlueFin Data online website for more information and to download the version of the app adequate for your device.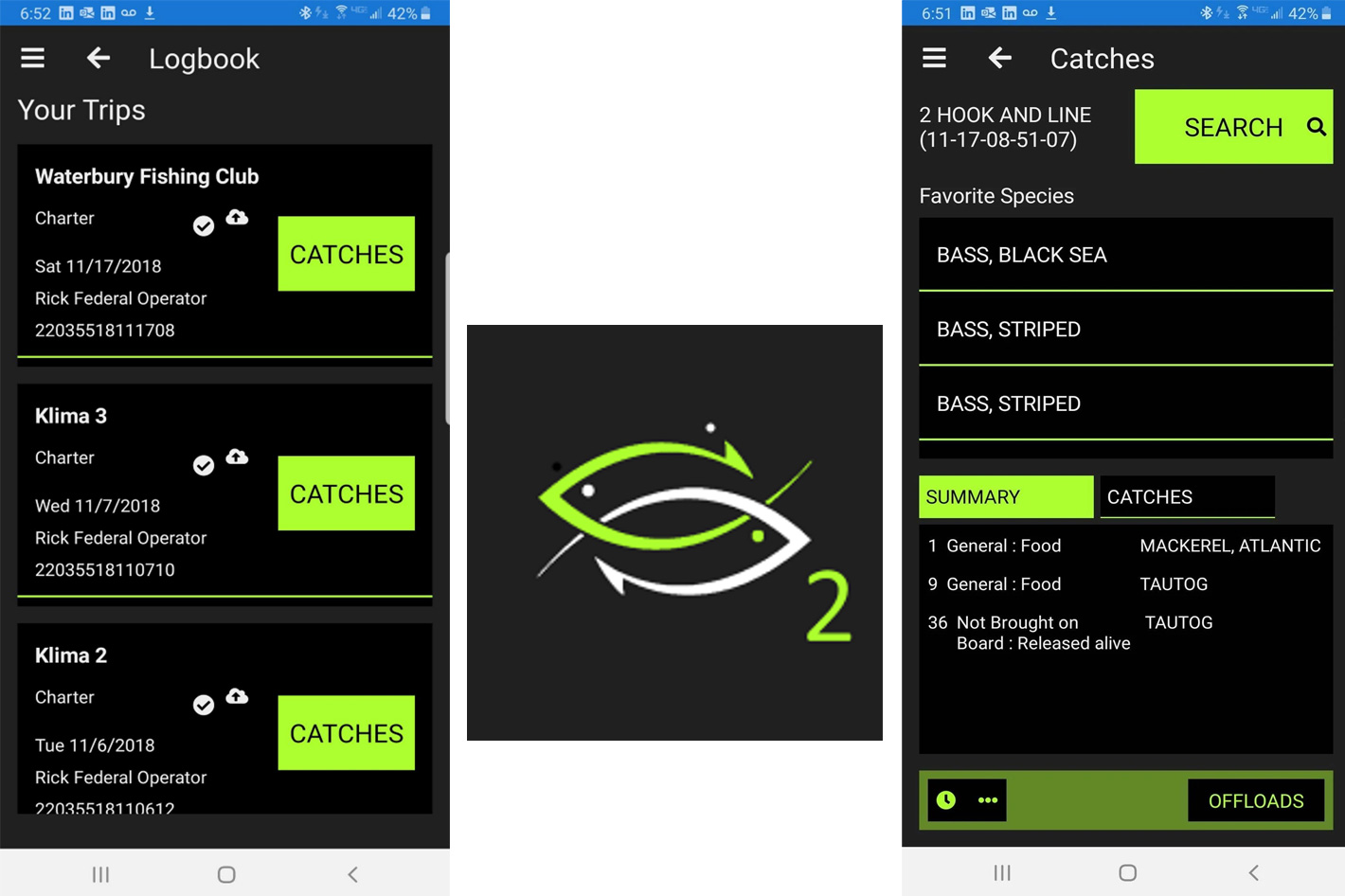 SAFIS eTRIPS/Mobile, the app from ACCSP
The Atlantic Coastal Cooperative Statistics Program (ACCSP) was created with a vision: to be the principal source of fisheries-dependent information on the Atlantic coast through cooperation of all program partners. To help the organization reach its goal, one app was developed, eTRIPS/Mobile.
According to the organization, eTrips/Mobile is the mobile version of ACCSP's eTrips application that allows captains to capture their catch and effort data while at sea, independent of a full-time internet connection. This application is compatible with Windows 10 (PC), and both Apple/Android phone and tablet platforms.
SAFIS eTrips/mobile 2 is the second generation version of the SAFIS eTrips/mobile application. The app supports catch and effort tracking and electronic trip reporting for For-Hire and Commercial fishermen in the member states of the ACCSP. SAFIS eTrips/mobile uses your device's GPS facilities to track your location, but users should remember that continued use of GPS running in the background can dramatically decrease battery life.
Visit the ACCSP website for more information and to download the version of the app adequate for your device. You must have a SAFIS account to be able to use the app.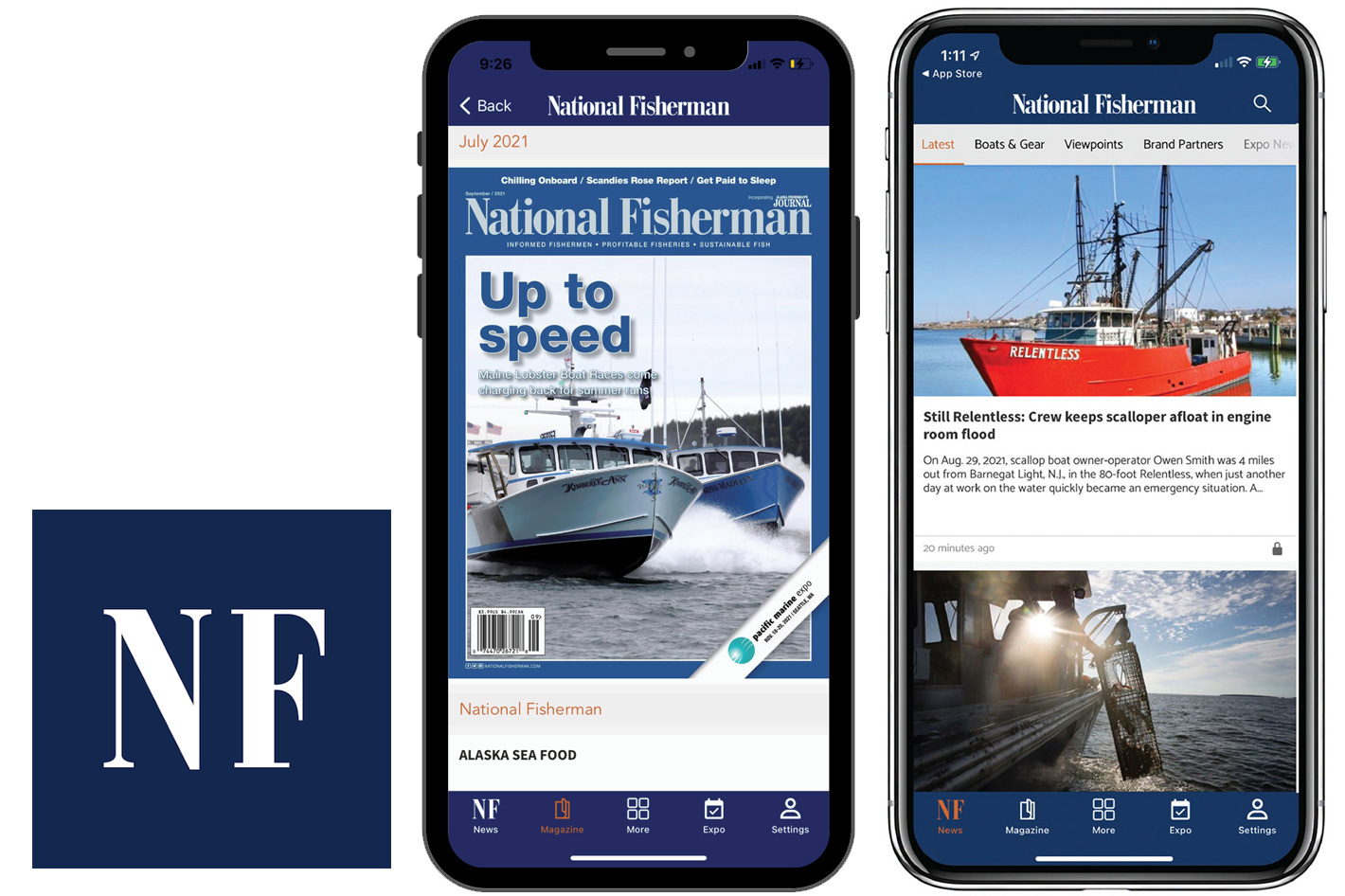 The National Fisherman app
Powered by NationalFisherman.com the app, available for iOS and Android, expands to a portable format the free online resource for commercial fishing professionals. Providing access to the latest news and information about the industry in a single place, the National Fisherman brand has been a trusted news resource, devoted to covering the U.S. commercial fishing industry, for more than 75 years. A printed magazine, a website and the app make it easy to keep updated, wherever you are.
The free app from Diversified Communications allows users to:
Browse news and read the latest from voices in the industry.
Download full issues of National Fisherman Magazine for offline reading.
Access our commercial marine marketplace for job postings, parts for sale and so much more.
PLUS navigate Pacific Marine Expo with our interactive exhibitor list, expo map, full schedule and more.
National Fisherman is part of a network of leading commercial marine resources and events including Pacific Marine Expo, WorkBoat Magazine, WorkBoat.com and the International WorkBoat Show. The free software for mobile devices is just the beginning for the National Fisherman Mobile App! Download today, create your free membership, join our community, and grow along with us!