Testimony from MCFA's Emily Coffin, Seafood and Fisheries Policy Coordinator, at BOEM's Gulf of Maine Intergovernmental Renewable Energy Task Force meeting in Augusta on May 10-11.
My name is Emily Coffin, I'm a 5th generation fisherman out of Brunswick and work for the Maine Coast Fishermen's Association. We are an industry-founded organization that advocates for fishing communities and we believe in stewarding our marine resources for a sustainable and vibrant fishing future.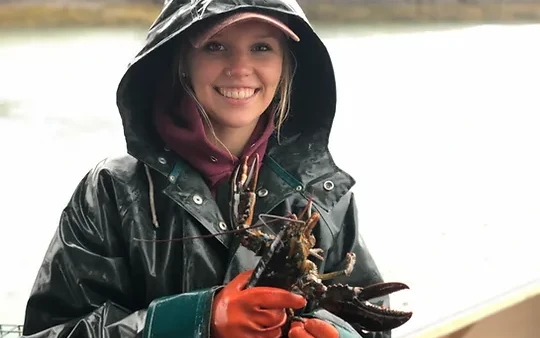 I'm here today to express my concern over the data collection approach with respect to the National Centers for Coastal Oceans Science (NCCOS) spatial modeling as well as the equity issues within the greater process of offshore wind development.
BOEM has asked fishermen for their fishing data, which is of high value, but the NCCOS model has not yet provided transparency about how exactly that data will be used.
If BOEM values community engagement, support from the industry sector, and stakeholder participation, they will make a more significant effort not only to include and invite but seek out fishermen who share their data and answer that effort by returning information on where that data goes and how much it matters.
Today we learned that there is or will be a weighting system. We want to know the exact weight that the commercial fishing submodel is given. I'd like to know if it will be given the same .5 weight as it received in the Gulf of Mexico or if that ranking will change in the Gulf of Maine. If that weight is undecided as of today, then I would like to know when it will be decided upon and when that information will become available.
We want this data collection process to go both ways; we aren't the Navy or a coral reef, we are people who are being submitted to a federal data collection process that is nebulous and often impersonal.
Interacting with the fishing community, going to fishermen instead of having them come to you, is an opportunity for BOEM to have a more personal exchange with the data they collect. I realize I'm echoing the previous calls for fishery engagement, but what I really want to advocate for is the quality of that engagement.
I also want to touch upon the significant equity issues that BOEM and the Federal government should address. When it comes to fishing in Maine, we have only small businesses, and almost all of them are owner operator.
That means you own the boat and the permit, and you are also running the day-to-day operation. On lobster boats, the owner is required to be on the vessel, in other fisheries, the owners are not required to be on the boat but usually are due to the small-scale culture of our traditional fisheries.
But BOEM is asking fishermen to engage in a process where they are at an extreme disadvantage. A single fisherman cannot hire a policy consultant to go through the process for him or her. BOEM is asking fishermen to negotiate with developers who are some of the biggest and best-financed companies in the world. The speed at which this process is moving is putting those small businesses at a severe disadvantage and is something BOEM should strive to create space and opportunity for more significant equity.
MCFA is an environmental nonprofit; we were started by fishermen who believe strongly in stewardship and who believe that through sound science, accountability, and management, we can rebuild and stabilize our ocean's natural resources.
There are numerous disruptions already taking place in our ocean, climate change being one of the most significant, and we cannot ignore that placing large-scale energy infrastructure on our ocean may impact the marine environment that we so greatly rely on.
The floating turbines may create new habitats… they may also cause a massive disruption within the ecosystem.
BOEM claims to seek the best available research and data. We have an opportunity with the Maine research array in the Gulf of Maine to collect information to understand the impact before we take the steps toward large-scale development, and we believe that the best course of action is to use the research array and protect one of the world's most productive ecosystems from long term harm.