Great equipment is critical for productive fishing, and high-quality deck boots are especially important for deckhands exposed to the elements, but difficult to select. The boots that made our list of the six commercial fishing deck boots you need to know about in 2022 share the common features of durability, excellent waterproofing, top-level comfort, great non-slip, and reasonable pricing.
We chose brands that while performing well in the minimum criteria listed above, also set themselves apart with unique features, clever add-ons, or by going above and beyond in any of these important categories.
The pull-up tabs around the rim of cheaper boots tend to pop off after a few months of heavy use, which Huk addressed with heavy-duty material on their latest deck boot model. Huk's Rogue Wave fishing and deck boots properly balance good insulation with a lightweight, easy slip-on feel. They're the cheapest model on our list, but what sets them apart is you wouldn't know it.
Huk boots are also gathering attention from the fishing world, and for a number of years the Huk brand has stood out for their reasonable pricing and good quality apparel. One the founding principles of the company was versatility; making fishing gear that worked in a variety of conditions. This focus on a more general-purpose design has led to a boom in popularity.
XTRATUF Trolling Pack 6 Ankle Deck Boots
XTRATUF's ankle deck boots were intended for recreational use, but the same design that makes them great sport fishing boots also makes them ideal for commercial fishing: Light weight, durable, highly waterproof. They achieve some of the best slip resistance on the market by using an SRA rated rubber compound only found in their products.
The one downside we found for this XTRATUF boot is the soft toe; by no means a dealbreaker, but worth taking into consideration if you plan on working on boats with heavier machinery.
XTRATUF boots have been mentioned as pretty much the standard in Alaska, and their efforts to make inroads on the East Coast are top of mind. The special features of this boot that add an additional layer of warmth along with printed pull tabs mean that it's one fishermen on every coast and beyond need to consider.
Simms M's Simms Challenger 7" Boots
This model prioritizes rugged durability and longevity. It's the most expensive 7" boot on our list, but the price tag explains the high degree of customer satisfaction for those willing to pay; by and large, customers reported the Simms Challenger to be extremely comfortable, long lasting, and worth the extra money.
Since their arrival on the scene in the 1980's, Simms has focused on the higher end of the fishing equipment market, which has built them a loyal following. The combination of ongoing quality (they include a substantial warranty package with their products) and long-lasting reputation keep the brand popular and in our sights.
The Deck-Boss line from Grundens is set apart by comfort and longevity. The Deck-Boss Ankle boot (not to be confused with the heavy duty Grundens Deck-Boss we feature below), is one of the thicker insoles available. The added weight isn't noteworthy, and they've also added anti-odor technology. Perhaps gimmicky at first glance, but it's a detail that might be appreciated once everyone is below deck.
As Grundens CEO Dave Mellon told National Fisherman this spring, their company philosophy is to produce variations of products only when it improves on what's already out there. This leads to incrementally better and better boots, so the commercial fishing world continues to pay attention to Grundens.
The Pursuit 6" wins the deck-boot style competition. First produced in 2021, these camo black sport boots very loosely resemble Converse All-Stars and also happen to perform excellently on the deck. They are one of the most popular and highly rated on our list, with a comfortable, durable feel, reinforced toe, and great non-slip. But like much to do with style, they're perfect if you're into that sort of thing, but the flashy design can be a drawback if you prefer a simpler look.
Since 2002 the Pelagic brand has found a niche combining fashion with high quality ocean equipment. Their deck boots remain in vogue because of their performance in tough conditions, but as with most products coming from Pelagic, the fishing professionals who choose their boots find an additional bonus in the style.
Grundens Deck-Boss 15" Fishing Boot
Not to be confused with the Grundens Ankle Boot, Grundens' 15" Deck-Boss model is the most heavy-duty model on our list. Similar in some ways to Grundens' ankle model, the 15" Deck-Boss is more robust with reinforced toes, the highest level of non-slip certification, and long-lasting insoles.
The large heel and 15" cover can feel closer to hiking boots, however, and the downside of such heavy-duty boots is the slight decrease in maneuverability. They're worth knowing about if you prefer extra protection and don't mind boots that are a little more cumbersome than other models.
As we mentioned above, Grundens wins over costumers with a focus on constant improvement, which leads to special features like the silicone bands championed by this rave reviewer. Its details like this that keep the company on our radar.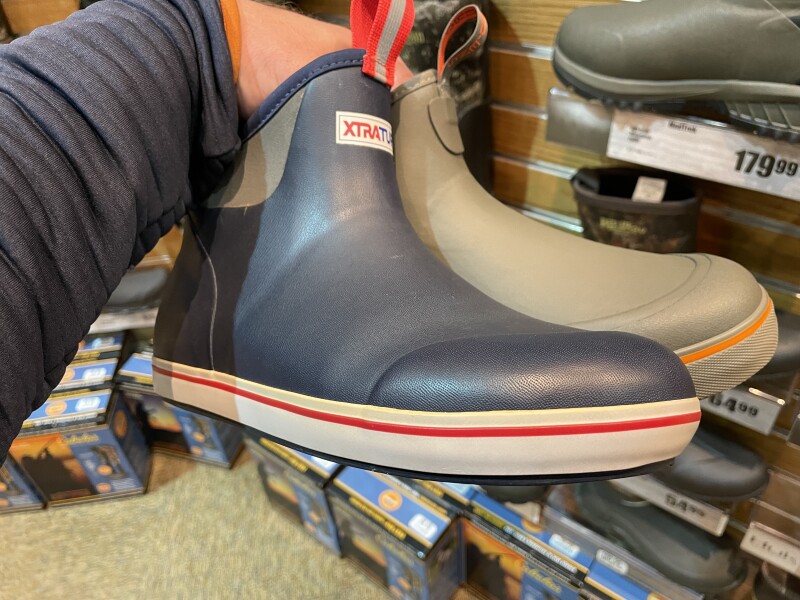 Tip:
When ordering deck boots remember sizes can run larger than typical shoe sizes to accommodate thicker socks or insoles. Not all companies do this either, so confirm their practices before buying online.
Conclusion
We researched the best deck boots and found six models that outperform the others with the following metrics: durability, waterproofing, insulation, weight, and sole non-slip.
Investing in good commercial fishing deck boots can seem unnecessary at first glance; many companies make similar-looking models with vastly different prices, and the higher-end boots can make you feel like you're overpaying, but once wear and tear begins the difference in quality instantly matters: cheap boots will start to fall apart by the time high-quality boots are just breaking in. Anyone with experience on the water chooses dry feet over saving cash any day.