Thanks to a history that stems from the 1960s, the XTRATUF brand is one extremely familiar to fishermen across the Pacific Northwest and Alaska. The company has won countless awards and been called out as "pretty much the standard in Alaska," highlighting the durability of the XTRATUF brand and products. However, a major shift happened with both in 2021 when the company was acquired by Rocky Brands, Inc.
This acquisition was unlike many that have come to define the modern M&E marketplace, which are solely focused on an outlook for growth and profit. While the deal nearly doubled the size of Rocky Brands' annual revenues, the company has a history that stretches back to a shoe factory that was set up in 1932, highlighting Rocky Brands' commitment to creating tough, comfortable products that are utilized in extreme conditions of all types. But how will that commitment impact the growth of XTRATUF across the commercial fishing segment? Will it mean we'll see the brand expand into regions beyond the Pacific Northwest and Alaska?
To find out, we connected with Mike Roundhouse, VP and General Manager of XTRATUF | Rocky Brands Inc. His nearly two decades of experience at Rocky Brands made him uniquely qualified to discuss some of the details associated with the acquisition, how customer feedback impacts the development of XTRATUF products, what the future holds for the XTRATUF brand and much more.
Jeremiah Karpowicz: Can you give us some background around the Rocky Brands company and products? What about this background made the XTRATUF brand one that was especially appealing to the company?
Mike Roundhouse: The company got started by the Brooks brothers in the 1930s because of their desire to both wear and use comfortable outdoor products. Our current CEO is 4th generation of the family, which shows what that commitment to footwear looks like across the eras.
We were the first company to do an all-camouflage hunting boot so we kind of created the hunting boot market. Those boots were the first time people weren't just wearing brown leather boots in those environments. They introduced elements like insulation and waterproofing which caused the entire market to explode. It cemented our name in the outdoor industry and helped us understand what it means to work with partners and create products that the consumer needs. All of it is function-based.
With all of the brands that we've acquired over the years, and what we've done under Rocky Brands, it's always been about function-based footwear. That's why the acquisition of XTRATUF was so perfect for us because it lines up with what we've done in other markets.
What else can you tell us about the acquisition? Was it more about the fit, the opportunity, or something else?
I mentioned that our current CEO, Jason Brooks, is 4th generation, and he has an incredible vision for the company. In 2021, all our brands were on an upward trajectory and we were debt free, which put us in a position where we could look at acquisitions. When the opportunity to acquire Muck Boots from Honeywell International came up, he was all over it, because one of the things he always had on his wish list was that brand. It's one of the best brand names in the industry.
As we got into conversation with Honeywell, we learned there could also be an opportunity with XTRATUF and it was something we jumped on. XTRATUF has a similar brand recognition, but to us what really resonated was the authenticity of those products. We knew that it was a true anchor in the commercial fishing industry because those users know it actually does what they need it to. It's the Alaskan sneaker. You can't fake that authenticity.
That combination of these incredible brands made the acquisition something that we couldn't pass up.
When it comes to growth potential that XTRATUF might offer into adjacent categories, is this more about an expansion of existing products to commercial fishermen outside of the Pacific Northwest and Alaska, or the creation of brand new gear?
What I want National Fisherman readers to know is that I'm committed to them as consumers and users of our existing XTRATUF products. Right now, I'm not worried about new products. I'm worried about making sure that when they go shopping for gear they can find the sizes and products they need. We've got to make sure we're taking care of the customers we already have.
Are we going to continue to develop ankle deck boots? Yes, and we're doing great with those. We've also got some new silhouettes, all of which are a lot of fun. There are different color palettes we get to play with. But the bread and butter of this brand is commercial fishing and our legacy collection. So we're going to do everything we can to make sure retailers have those shoes when they need them.
How does that connect to the retail support and expanded distribution you have on a practical level?
Our support comes from experience. We always try to think of our end users and our retailers as partners. And if we're not doing what's best for them we're not being a good partner. Our distribution network is set up to ship shoes, whether it's singles, doubles, case packs or whatever else. We're totally focused on shipping footwear, which sounds simple, but is distinct from many of our competitors. That way of thinking is what's at the core of our support.
Being able to think about both your customers and your retailers in that same vein is really important, because I think some companies fall into just selling for volume or just selling to stores, and that changes your perspective as far as the culture. We're working across the supply chain to make sure that we keep especially popular styles in stock so that retailers and customers can get them when they need them.
That goes back to understanding the needs of this audience: We understand that some of these commercial fishing folks are only making the trip down to buy gear once or twice a year. We need to make sure that when they make that trek they're going to be able to get what they need.

That reminds me of something we talked about at PME 2021, which related to how XTRATUF would now able to work with a "real footwear company" thanks to the acquisition and take the brand to the next level. What does that next level mean for you?
It goes back to that concept of us not only truly knowing the footwear industry but also being totally committed to it. We are set up to create and deliver shoes in a way the previous owners and even our competitors are not similarly driven. They're focused on doing so many other different things.
We don't have the financial power of a bigger corporation, but that can be a good thing, because we're not as hung up in the bureaucracy. Our CEO always jokes that we're too small to be big but too big to be small. But that allows us to navigate somewhere between those extremes, so that if a bigger partner needs a certain color in the next season, we can turn it around without getting caught up in bureaucracy but also having the capacity to deliver. We're footwear people, we know how to navigate every side of this industry.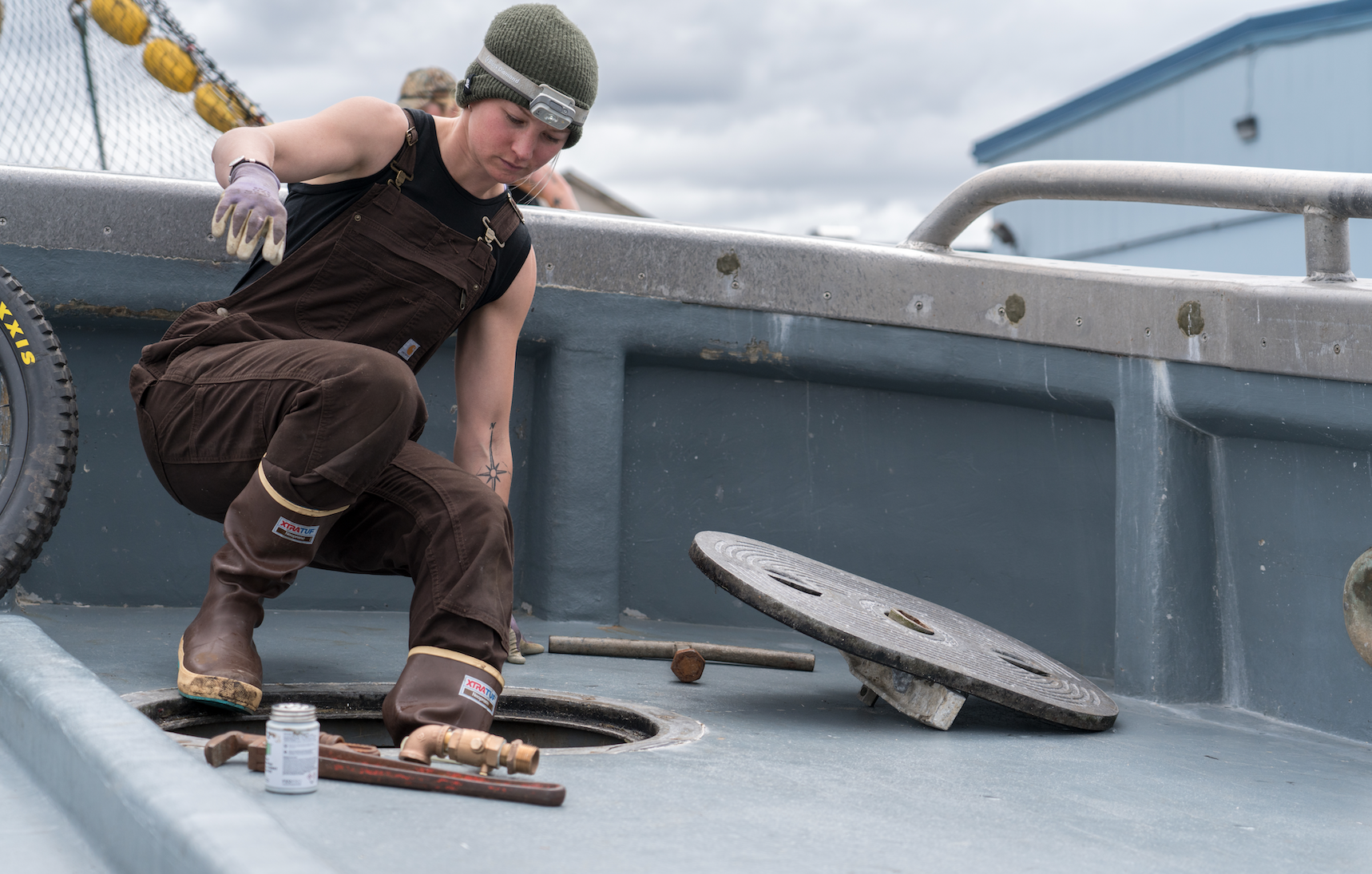 And is that connected to the concept of taking the brand to the next level?
It's more about how all of that highlights the commitment we've made to this industry. We're doing all we can to make sure that this brand and these customers have what they need. We could not be more committed to the XTRATUF brand and community going forward.
We're not doing anything to look pretty or to sell for fashion. That doesn't work. Can we do some linings with certain partners like the Salmon Sisters to create different patterns on the inside of the boot? Absolutely. Because that's just kind of a fun thing we do every season. But that's secondary to the core functionality of our products, which is what we're focused on as footwear people. We know that functionality is what matters and that's what we hang our hat on.
That next level is also about incorporating the feedback we get from commercial fishermen, and I have to say, I love is the honesty of this community. They're not worried about hurting our feelings and not getting more product, they're worried about making sure it works. And with a brand like XTRATUF, you can't mess with that DNA. If it doesn't keep you dry, or if it doesn't keep you warm, or doesn't keep you from slipping on a boat deck, what good is it? So the next level is about making sure we're not moving away from what got the brand here in the first place.
That's why our control over our production is so key. We own the factory that makes our legacy boots. We control the creation of our products from beginning to end. We're not depending on a source factory to do that for us. We have to control production quality to make sure everything maintains consistency. That ownership is what really helps us with our committtment to our current customers while also being able to explore that next level.
To me, the next level is always about something different, so maybe we could talk about some specific ideas there. Are any XTRATUF boots specifically designed to work with a given sock to enable maximum comfort for commercial fishermen? Or will they be?
That's a really good question, and it's tough because it's such a subjective question. I've been getting this question for a long time, especially in the outdoor area. "What's the best sock to use with my hunting boots?" It's hard because it's such an individual answer.
I can give you an easy answer in terms of the "worst sock" though, because your average white cotton, Walmart sock is the absolute worst thing you could wear. It's got no moisture wicking or moisture management. It's just going to soak up sweat to the point that you're going to think your boot is leaking.
I always suggest a wool blend, with a little bit of synthetic, because that's going to be the best sock you can get for the money. And it's going to be the most comfortable and durable. The problem is so much of that is about the details. What's your activity level? What's your circulation? What's your age? What's your natural disposition to cold and warm? What's the situation?
On my list of future initiatives, I would love to have an XTRATUF sock. That's going to come from some conversations in Alaska when we're able to talk to fishermen about their preferences. What's their current trusted sock? What do they love about it? What are the attributes that they look toward? Being in product development for well over a decade, I really want to explore how those fishermen are using these other products. I feel like we've got a good handle on the boot.
Whether it's a sock or any other piece of gear, whenever we launch something new, I want it to be the best. I want it to be at the same level as our boots and as trusted as that XTRATUF name is now. All of it has to be based on the performance.
Outside of those trips to Alaska, what are some of the things you're doing to take the pulse of your commercial fishing customers? How can people get in touch to provide this sort of feedback?
We have a really good pulse on the retailers. If you have something you'd like to see addressed or incorporated, I'd encourage you to get in touch with your retailer, because they almost always have really great relationships with our reps in the field.
We also do look at online reviews, although you have to have some perspective with those. If we see numerous comments, we'll connect with our quality team in the office to find out the return rate on a given item. Challenges there can just be about awareness though, as the men's and women's sizes that we have are very different. It's not unisex sizing since the products were developed distinctly. We know the calves are different, the ankles are different and the widths are different. So if there's a woman that struggles with the women's fit, they can easily transition to the men's and have a little more grip on the calf.
That means you're developing some pretty specific fits and products.
It definitely raises the SKU count, but also helps really get the fit that that customer needs. And on this footwear, that's just not something you can fake. We have the different heights, the different compounds, different safety toes, etc.
If you look online, you're going to see everything we've got. We have low lace-ups and products like the Legacy Leather Chelsea or 6" Legacy Deck Boot for men and women. And the physical catalog breaks everything down further. We have pretty much something for everybody, no matter how specific the need.
Anything on the immediate horizon that your customers can look out for?
We're popular on the edges of the country, but I really want to see us grow inland, so that's what I'm going to be focused on. The Northwest region is essentially XTRATUF country, but I think of Maine and the Northeast as something we can tap into. Why isn't this gear more popular there? I want to play on the equity of that concept of XTRATUF being the "Alaskan sneaker" to highlight how people doing similar jobs can get the same performance out of it. I'm really focused on growing this brand to reach the maximum potential while still serving the core customer.
What's one thing you want people to know about the XTRATUF brand and products in 2022 and beyond?
What I really want people to know is that we're really not changing anything. We didn't buy this brand name to slap it onto shirts and hats. We bought it to maintain its legacy as a performance commercial fishing boot and a trusted brand in the industry. If we grow in certain adjacent markets that's great, but that's just part of the bigger whole. The reason we can play in those markets is because we're staying true to the one that got us here.
To me, this brand is just so fun, and I hope everyone sees that. I love the authenticity of the brand and that's something we're totally committed to keeping and cultivating. We've been in the footwear business for 90 years, and God willing, will be in it another 90. As part of that, we're going to take this brand as far as it can go because of what's been done before and what we can do now. And that's the difference because it's not something we just see as a line item on a spreadsheet.