Howard Makela at Makela Boatworks in Fort Bragg, Calif., has a well-earned reputation for keeping older West Coast wooden fishing boats fishing. He's been doing it since the early 1980s when he took over the shop from his father and uncle, Fred and Nick Makela, who built their first boat in 1947. The boat currently at Makela Boatworks is the 39-foot Claire H, a wooden salmon troller built in 1952 by Tripple & Everett Marine in West Seattle, Wash.
Makela says the 71-year-old Claire H has been "well kept. A labor of love, I guess." But the bow deck was in rough shape, which is why the Claire H is at Makela Boatworks. He's removing the 1950s planked and caulked deck and replacing it with two layers of 3/4-inch marine plywood.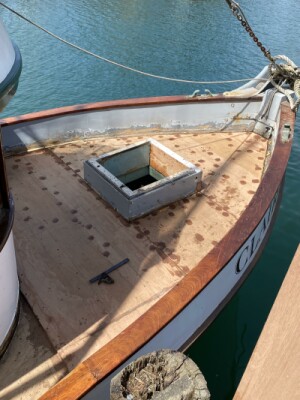 The original deck was fastened with galvanized spikes, "and there were a lot that weren't holding anything anymore," says Makela, and "there were some rotten places. It was due (to be removed)." The original deck beams are still in good shape and don't need to be replaced. Makela pulled the galvanized spikes that held the planking down and put wood plugs in the deck beam holes where the spikes had been, "so there wouldn't be any voids."
Makela had the bottom 3/4-inch layer of plywood down in mid-May, running it fore-and-aft from the stem to the aft end of the wheelhouse and half the top layer in place, going side-to-side. Epoxy is between the two plywood layers, which are fastened down with stainless steel screws to the deck beams. The finished deck will be covered with a water and waterproof coating.
Makela expected the deck work to be completed by the end of May. Granted, the 2023 West Coast salmon season for chinook salmon has been closed from Cape Falcon to the Mexico border, so the Claire H won't be salmon fishing any time soon.
"The owner," says Makela, "is hoping that in the next couple of years, the salmon season opens up again. He'll just hang tough."
Once the work on the Claire is completed, Makela doesn't have any immediate major work lined up. A boat arriving in August is another troller that will get new ribs from the trolling poles aft.
"I'll remove and replace all the ribs with Oregon white-oak ribs," says Makela. There will also be some new planking, and the bulwarks will probably be rebuilt on both sides of the hull.