A Prince William Sound fisherman keeps his classic wooden State Boat in pristine condition for her 104th season
An even 50 wooden commercial fishboats got hauled out in Washington's Port Townsend boatyards this spring. Most of them were down to Puget Sound from Alaska, many as old or older than their owners.
One that checks all of those boxes was the bright red 56-foot seiner Indiana, built in 1917, in one fishery or another all of her 104 years, that was nearly derelict when Marty McCallum bought her 33 years ago. He's her fourth owner. The second-generation commercial fisherman knew what to look for in old wooden boats, saw potential, and he could afford her.
He nicked along fishing her that first season. He's fished her every season since, and made improvements in every off-season. In June, the Indiana was about to steam north again, once more better equipped for seining Prince William Sound's pink salmon.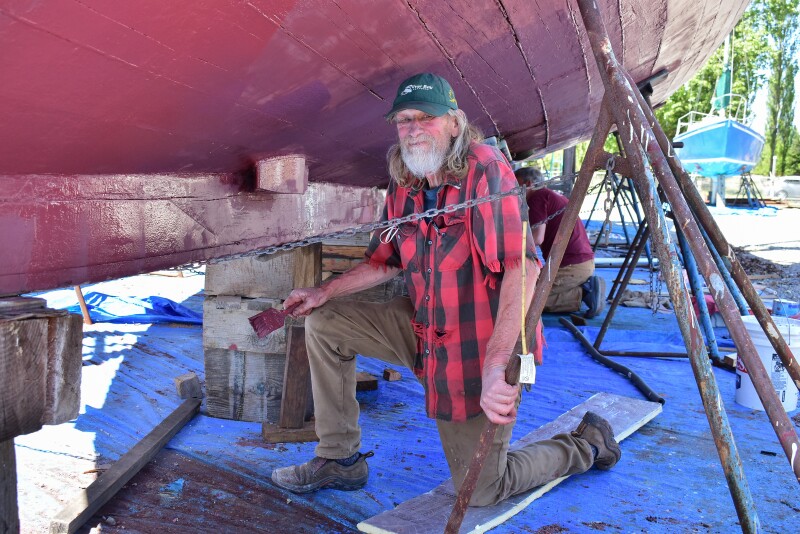 In 1988, because the Indiana was affordable without a loan, McCallum had money for upgrades that might have gone to pay off a lender for a modern metal vessel. His boat's configuration and gear are now up to date after this fourth extensive round of work in Port Townsend's Boat Haven. She's seen a lot of smaller upgrades under McCallum's pay-as-you-go plan, many done in Alaska. But this time, the boat was out of the water for seven months because of a taffy-pull getting materials during the pandemic
The big jobs in PT have been spread over years, so still no banker owns a piece of the Indiana. Healthy pink runs in Prince William Sound have certainly helped, and they show no sign of slacking. McCallum, who grins remembering several three-broom days, said he'd be happy if anything over 30 million fish come into the sound: Alaska fish biologist Jeremy Botz said 50 million fish were expected this year. As of press time, the region had seen more than 64 million.
In the yard
Blocked up stem to stem with the newer, also red, also wooden seiner the Wonderland, the Indiana this year got a new coach roof, including framing to support the new top house (her first), plus new galley joinery and equipment, several new Douglas fir planks forward, a new toilet.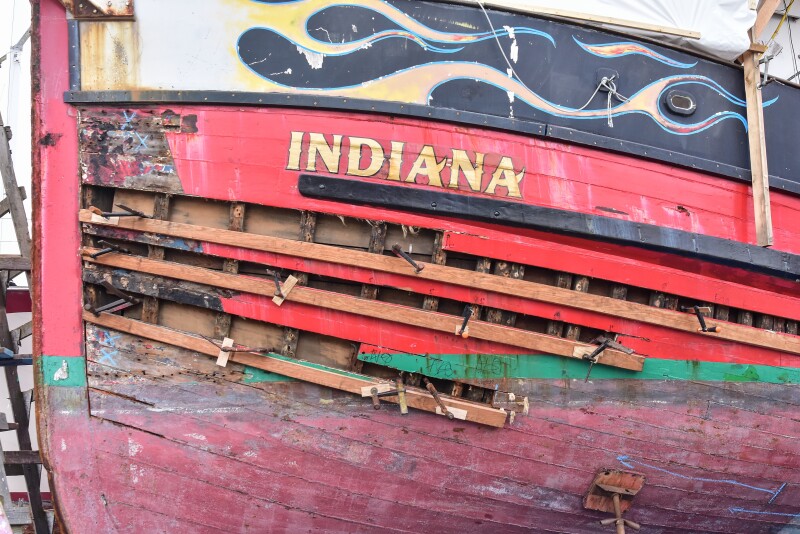 Removing the last piece of her original gear — her rusty old windlass — was a momentous change.
"It has been working reliably for the last 30-plus years. Original equipment, it would be 104 years old, still operating but losing features; [it] doesn't freewheel, clutch doesn't work, but the hydraulic motor whines the gear in and out," McCallum wrote on the boat's Facebook page.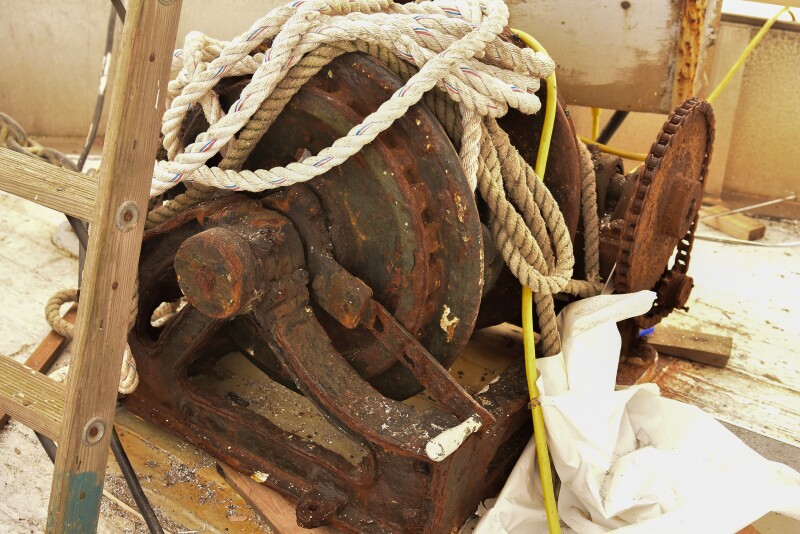 "This is a new era, [with a] top house, self-pursing winch, combined with an earlier installed Marco power block, a sliding boom," he said, adding that the only original piece on the boat now may be the keel.
During earlier big jobs, the Indiana was shortened some 8 feet — to 56 — which incidentally put her within limit-seiner rules. A new stem, forefoot, framing and planks forward got rid of several bad timbers. But then she trimmed down by the stern, so in 2014, McCallum replaced her hold, reducing its capacity to 21,000 cubic feet, now plumbed for refrigerated seawater. With the new hold snugged up to the engine room bulkhead, there was room aft for a new 800-gallon fuel tank.
Knowing the new hold, fuel tank, a new, lighter main engine, and now the new coach roof and top house affected trim and stability, McCallum contracted with local designer Antonio Salguero of nearby Coastwise Marine Design, who applied his laser and CAD programs.
"He got her spot-on," said the skipper.
It's costly to ship to Alaska all the heavy gear, parts and other things a full-service boatyard needs, plus it's cold working outside. The choice for big jobs is often to steam south to Puget Sound — plus McCallum lives only 15 minutes from the Port Townsend yard. Also, it would be hard to find another with so many marine trades in one place capable of handling just about any job on any kind of vessel under some 300 tons of any material, but especially on traditional wooden vessels. Few other yards let you do your own work or pick and hire your own help.
This year the Indiana had plenty of company in Port Townsend's Boat Haven: Shannon Meehan, in charge of haul-out scheduling, said in May there were 29 larger fishboats and power-scows hauled, 14 of them wooden, and of the 38 smaller commercial boats, including McCallum's, 36 were wooden.
Local marine trades employ some 400 people and provide 20 percent of the county's tax revenue, according to an economic impact study completed by international port specialist Martin Associates three years ago. The study was commissioned by the Port Townsend Marine Trades Association when it appeared gentrification could mean the end of the boatyard.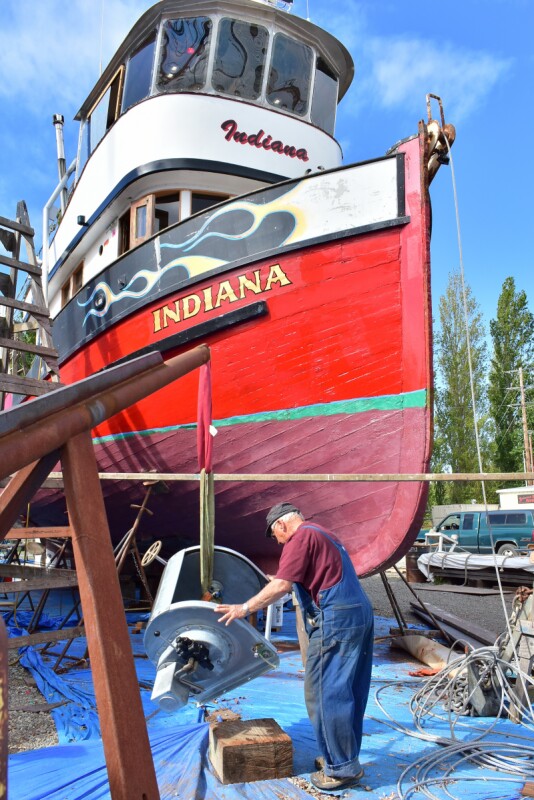 Voters and civic leaders were surprised by the Martin report, by the robust health and contribution of local maritime enterprises. Efforts hostile to the trades ceased, and a revamped Port administration fostered practices that brought even more business to the yard and trades even before this year and last — both banner years for the yard and trades apparently in part because of the pandemic.
Since commercial fishermen are vital food suppliers, repairing their boats was declared "essential business" early in the pandemic, said retired local shipwright Diana Talley who remains active in the trades association. A number of Alaska canneries and processor vessels became covid-19 spreader hot-spots and closed midseason last year, making it a good time to get major boat work done.
"The yard [has been] at about 95-98 percent occupancy all year," Talley said, with Alaska boats representing most of that state's fisheries on the hard through spring with more tied to work docks.
With so much work competing for craftspeople, McCallum had a local-boy and repeat-customer advantage in finding the right people for his many jobs, the Indiana again blocked up next to his friend Dave Thompson's shop.
A dean of local shipwrights, Thompson knows the appropriate freelancers and companies for whatever the task, McCallum noted. Fortunately, all those boats in the yard meant people working on Indiana could find other work while waiting for materials this year, so the Indiana didn't lose them and McCallum did not have to pay them for make-work.
Planks got replaced and caulked by independent contractor J Galloway. Shipwright Erik Falstrom of Compass Woodwork ripped out the old galley and built a new one. Carpenter Davee Bolt insulated and paneled out the new top house. "Alan Kats did the new roof top and fly bridge replacement, after that I had Antonio Salguero do the design and stability work for the top house. Dylan MacKay did the fitting and welding," McCallum said. "The metal was precut by Alaska Copper and Brass using Antonio's lofting program." Electronics were the work of Joe Smith of Ocean Systems from the other side of the sound.
State boats
The Indiana is a "state boat," McCallum said, explaining that near the end of World War I, our federal government wanted to boost food production, improve the war-torn economy "and provide jobs for returning soldiers — and there was all this highly skilled labor and excellent timber in the Northwest." Plans for a typical Northwest seiner of the time were drawn up and supplied to several regional builders, each boat to be named for a state. McCallum believes 42 were built by Puget Sound yards. His and maybe three others — the Wisconsin, Vermont and Kansas — survive with their original names.
The Indiana was built in Tacoma almost entirely of "beautiful old-growth fir," her skipper said, though he isn't sure which yard — information lost in the mists of time along with her designer's name, though he knows she was first fished by one Tony Anaich.
A sheet from Tacoma builders Barbare Brothers dated 1917 called for "a typical Puget Sound salmon seiner of 22 tons displacement measuring 65' on deck with a 16' 6" beam, an 8' hull depth and a 6' draft fully loaded" — or what the designer considered fully loaded. He didn't count on McCallum's practice of plugging the hold with pinks until the work deck's nearly awash.
Plan and profile drawings from the era show a long, low, narrow hull, a flush deck, low bulwarks, a small boot-heel pilothouse well back, a net platform on her stern and a skylight over the foc's'le. The Indiana's original house was replaced in 1965 with one of similar layout, a bit larger and now without the boot heel roofline. The boats were to be fished with sheer-leg, tackle and double-drum winch by a crew of nine. Now she's fished with four with a lot more complicated gear.
The design called for Douglas fir over double-sawn Doug fir frames, and a 2,500-cubic-foot hold. State boats were to carry 3,000 gallons of fuel, 400 gallons of water and be driven by an 85-hp unspecified engine.
McCallum said he replaced a Detroit 8V71 in 2014 with a digitally controlled 330-hp John Deere 6165, burning 5.5 gallons per hour instead of the Screaming Jimmy's 8.5 gpm. It's considerably smaller and lighter than the Detroit but still drives through the same 514 Twin Disc gear.
Among her modern electronics is a Raymarine Axiom chart plotter with Real Vision 3-D sonar — "a game changer," McCallum said when it came aboard in 2017; now there's a repeater in the new top house — at 74, McCallum was tired of being cold on an open bridge — along with port and starboard joysticks, throttle, shift, and redundant electronics on each side.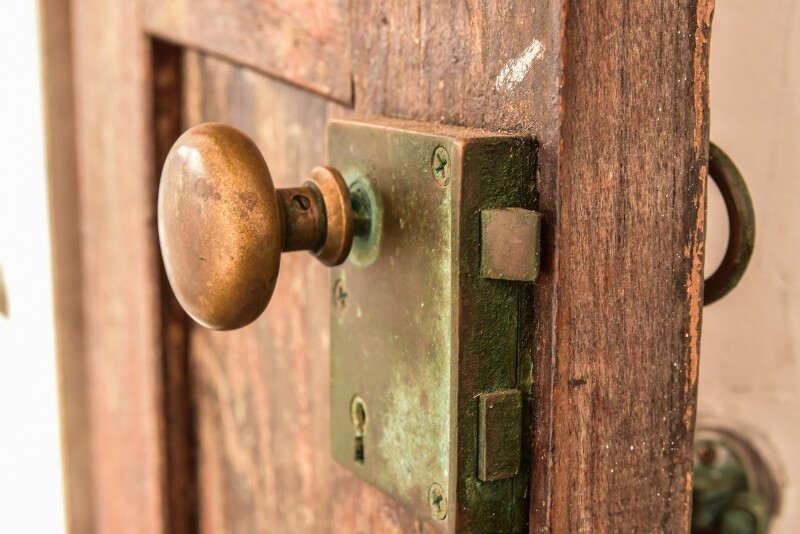 A family affair
The Indiana's crew are mostly old friends now. McCallum considers them family, but for four or five years in her earlier days, he said the crew was literally family. His wife, Rosemary, worked the deck and cooked.
"She's a wonderful boat cook. We're noted for being a good restaurant," he said, recalling many raft-ups. His son Sam was on deck from age 5 or 6 hanging out, then he ran the deck from around age 12, and Sam's sister Monica was the skiff driver beginning when she was 13.
"She was a good skiff driver," he adds. His grandson Cyrus has also fished with the family; all have become successful adults..
Name a West Coast fishery, and chances are Marty McCallum worked it — salmon and halibut in Southeast, herring on San Francisco Bay, some Dungeness crabbing. He skippered a power-scow as a young man and owned a 38-foot aluminum gillnetter.
McCallum said he began seining pinks in the sound in 1978, then grins recalling hauls when he had to call the buyboat over to vacuum his catch off so he could keep going, making sets while the sun shined.
Brooks Townes was an editor for National Fisherman in Maine 45 years ago and is now retired in the Pacific Northwest.