David Peterson specializes in repairing wooden fishing boats, working out of Zerlang & Zerlang Marine Services, a boatyard in Samoa, Calif. across Humboldt Bay from Eureka. His biggest job this year involved the 43-foot Rambler, a transom-stern crabber and salmon boat out of Charleston, Ore., that he worked on this summer. The Rambler was built in 1937 and has been fished by the same family since 1941.
The Rambler was rebuilt about nine years ago, mostly with Douglas fir, but over time a lot of that wood started to rot. That included "the guards, covering boards, everything from the house forward," says Peterson, plus, the upper part of the stem and forward bulwarks were also rotting.
Peterson replaced the Douglas fir with Alaska yellow cedar, which is known for its durability, and the boat's owner hauled down to Zerlang & Zerlang. The work also involved sistering a few deck beams and replacing 5 or 6 planks on each side of the hull.
Framing for the planks was Port Orford cedar, "so the framing was pretty good," Peterson notes, and only required inserting a Dutchman in some of the frames' damaged areas. Port Orford cedar wood, named after the city in southern coastal Oregon, is native to southern Oregon and northern California and known for its strength and decay resistance.
The original stem had been replaced with western purple heart cedar, which normally has a good reputation for rot resistance, "but it was still rotten," notes Peterson. He cut out and replaced a 6-foot stem section with Alaska yellow cedar. At the end of October, the Rambler was in Coos Bay, Ore., being readied for a season of crabbing.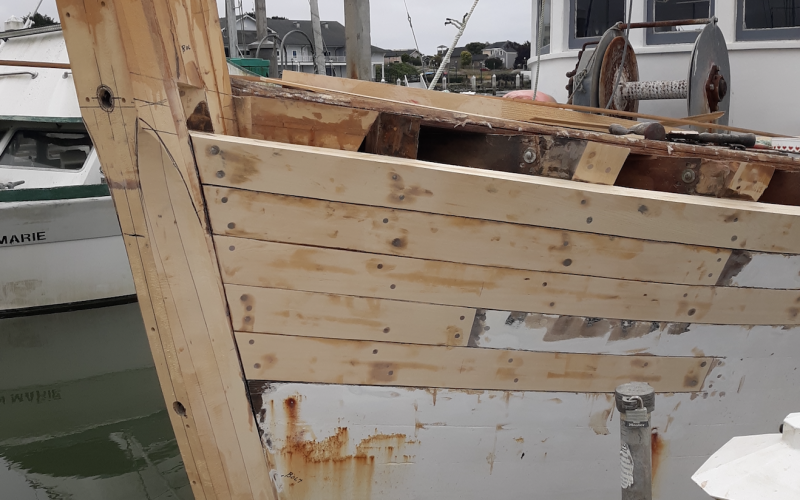 Peterson often works on older wooden boats in stages. This past summer he finished work on the 55-foot crabber and shrimper, the Keku Queen, which is also out of Charleston, Ore. A number of rotten planks in the foredeck and side decks were replaced, sheeted over with Hydrotek marine plywood and glassed with epoxy and non-skid.
A year earlier, he had focused on the Keku Queen's port side, sistering several ribs, replacing the covering board and rebuilding the break timber. In 2021, when the work started, the 56-year-old Keku Queen's starboard side received six planks, 20 sistered ribs and three deck beams.