A Gloucester, Mass., surf clam vessel sank suddenly Wednesday, throwing three crewmen into the water where they survived for 45 minutes hanging onto a floating hose from the boat's clam dredge.
The 55-foot Bing Bing, which was totally rebuilt in 2018 for owner Monte Rome of Intershell International Corp., was underway when "the whole boat flipped over," crew member Joe Roderick told television station WPRI in an interview from his hospital bed where he was being treated for hypothermia.
Roderick said he swam furiously to escaped suction from the sinking vessel, and spoke of "being in the water trying to save your own life. It was traumatic."
[Read 'Bing Bing: Gloucester fisherman rebuilds a cherry of a clam boat,' NF December 2018]
A woman working in her home office in Scituate called the town's public safety dispatch office at 2:36 p.m. to report seeing a fishing vessel capsize and sink about one mile off Humarock Beach. It was the only reported sighting, according to Scituate police.
Police and fire units were dispatched, and "simultaneously boats got underway from the SPD Marine Unit, Scituate Harbormaster's office, and Marshfield Harbormaster's office," police said.
With guidance help from emergency responders on shore, the rescue boats located the three survivors in the water amid a slick of diesel fuel, hanging onto a floating section of 6" hose used to deliver pressurized seawater to the boat's hydraulic dredge.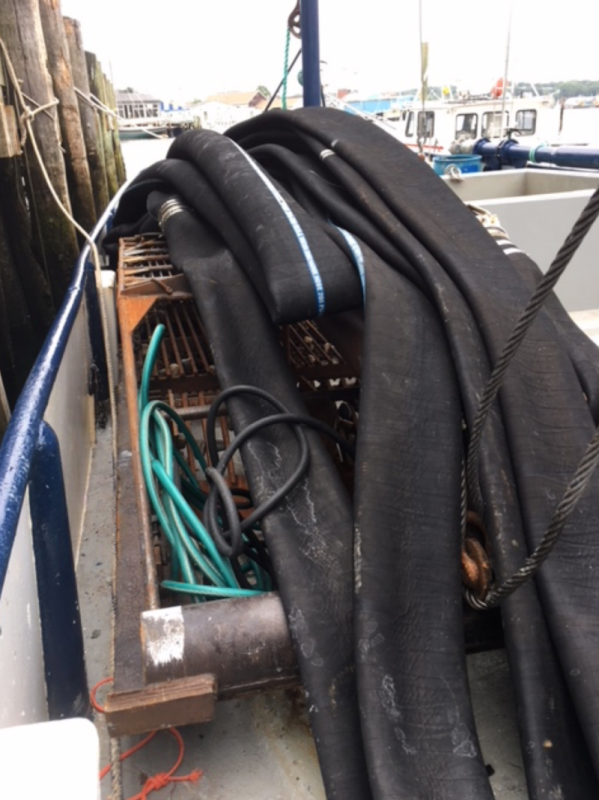 None were wearing life jackets or survival suits and had been in the water for nearly an hour. An aerial drone video by Scituate firefighters showed rescuers trying to get life rings to the fishermen in rough seas before the severely hypothermic men were finally pulled aboard.
They were rushed to the harbormaster's office and taken by ambulance to the hospital.
Built in 1977 at Moss Point, Miss., the Bing Bing was rigged as a scallop boat when Monte Rome bought it in 2017 and began a complete overhaul at Rose Marine in Gloucester.
"We took her down to bare steel," Rome told National Fishermen at the Bing Bing's launch party in July 2018.
The refit included a new 405-hp 3406 Caterpillar main engine and a 210-hp 3306 Cat powering a 3,500-gallon-per-minute pump to send seawater through up to 350 feet of hose down to a manifold on the dredge.