[Editor's Note: This story ran in NF December 2018, after the Bing Bing was overhauled.]
Few ports are as identified with the American fishing industry as Gloucester, Mass. Agawam, a Native American fishing village, existed for thousands of years at the head of Gloucester's harbor before English colonists established themselves here in 1623. In the ensuing years, Gloucester has played host to the best times of New England's cod fishery and ranked in the top 10 U.S. ports for landings until 1989.
While the iconic Fisherman's Memorial statue — a fisherman in his oilskins holding the spoked helm of a schooner — still identifies Gloucester's fisheries heritage, since 1993 the city has fought to keep its economics in line with its image, and that fight continues. On July 23, 2018, under cloudy skies, Monte Rome, owner of the Gloucester based Intershell International Corp., and some of the city's leading lights gathered to celebrate the launch of Rome's new clam boat, the Bing Bing, and more.
"This isn't just about the boat," says Rome. He stands with the freshly painted white 55-foot vessel behind him, spreading his arms to the crowd and inviting them to feast on the catered food and free beer. "This is to honor the people and tradesmen of this city who made it possible," he says. Essex Clambake has set up an array of seafood dishes, including Rome's signature stuffed clam recipe. "I just want to mention, maybe I shouldn't, I don't know," Rome says. "But a recent study has revealed that couples that eat more seafood have more sex." Everyone laughs and chows down.
The Bing Bing floats alongside the intershell dock, fully rigged and ready to start fishing. Built in 1977 by James K. Walker Marine in Moss Point, Miss., as a surf clam dredger, the then Paula Jean had been transformed into a scalloper when Rome bought her in New Bedford in 2017. Rome brought the boat to Gloucester's Rose Marine and started a massive rebuild.
"I've rebuilt a lot of boats, but never like this. We took her down to bare steel. Everything on her is new," says Rome, showing me around the boat, beginning with the deck layout. "We can put six cages in the clam tank," says Rome, looking down into a larger open well that can be flooded to keep the clams cool. "And have eight on deck," he adds. "That's a tractor trailer load."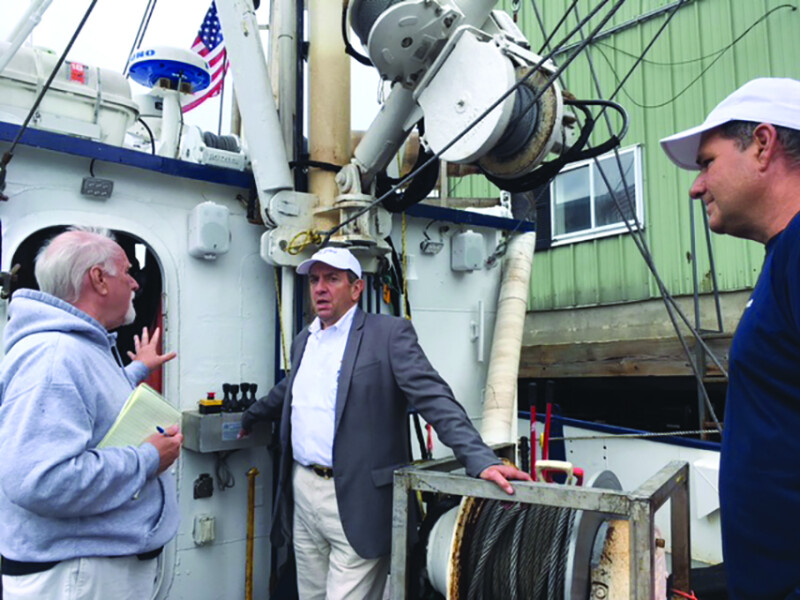 Rose Marine's welders rebuilt the hull, with parts manager Marty Balcome doing the specs on a lot of the systems and hull finish work. "He knows everything," says Rome. Gloucester's Guy Crudelle installed all the new power systems based more or less on the original design. "We knew the gear, the power, the gear ratio, so we just redid it according to those specs," says Crudelle.
Down in the engine room, dominated by a new 405-hp 3406 Caterpillar main engine and a 210-hp 3306 Cat that will run the 3,500-gallon-per-minute pump that sends seawater down to a manifold across the mouth of the dredge. "It fluidizes the sand," Rome says, "so it's easier to get the clams out." Moving forward in the engine room, he smiles proudly. "Look at this hydraulic system," he says pointing to an array of valves. "Pine Hill did this. It's state of the art."
A 30-kw Next Gen genset supplies electric power. "Joe McGinnis of Compass Marine did all of the wiring, and he setup all of the electronics too" says Rome. Vito Ciaramitaro did the finish carpentry. "He did all the crew's quarters the wheelhouse, everything," says Rome. "It was a lot of work. So many carpenters I know, they do a boat and say 'never again.' But he was great."
One unusual aspect of the design becomes apparent as Rome climbs out of the engine room into the crews quarters. The hatch opens through the deck, just below the access to the wheelhouse, and if it were ever to be open when someone stepped down without looking, it would be a long hard fall. "I'll have to keep that locked," says the Bing Bing's new captain, Paul Hunt, who together with his daughter Denise stands in the wheelhouse admiring the array of screens, including a Furuno radar and sounder, a Nobeltec Navigator plotter, and two GPS units.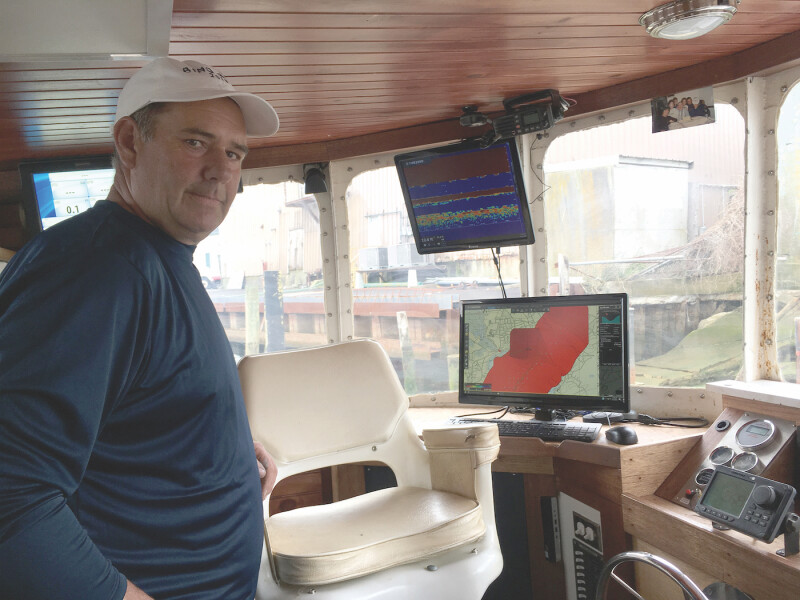 Hunt and his crew will tow their hydraulic clam dredge in depths of up to 30 fathoms. The 350-foot-long, 6-inch pump hose feeds the manifold of jets that help force clams into the dredge. "We tow at about 1.5 to 2 knots," says Hunt. "The dredge comes up here," he adds, pointing to a boom and winch on the starboard side. The clams are dumped into cages and put into the clam tank and flushed with cold water drawn through a 60-foot intake hose that reaches well below the surface. Once he's filled the clam tank, Hunt and his crew will stack the cages on deck and hose them down with the deep-drawn seawater. "I just hope we can find some product," he says.
Retaining access to productive fishing grounds is part of why Monte Rome, whose company ships product all over the world, has gathered the mayor of Gloucester and other political figures here. "We're nervous about the regs," says Rome. "This omnibus essential fish habitat amendment could shut us down." Rome is concerned that essential habitat may include sand bottom around Stellwagen Bank and other areas vital to his business plan, and he wants to make sure local decision makers know what's at stake. Other problems include red tides and the contamination of clams with the plankton that causes paralytic shellfish poisoning and that could further reduce available fishing areas. "Between Provincetown and Gloucester is some of the healthiest bottom there is," says Rome.
The surf clam fishery was one of the first fisheries to fall under individual transferable quota management in 1990, and Rome has quota to keep most of his boats working. But with the Bing Bing, he hopes to target Stimpson's clams, also known as Arctic surf clams, which are found in harvestable quantities on Stellwagen and the Northern Edge of Georges Bank. While surf clams and quahogs fall under the sea clam ITQ program, Stimpson clams have no such restrictions. Rome just needs access to the bottom.
According to its summary, the Omnibus Essential Fish Habitat Amendment 2 "revises essential fish habitat and habitat area of particular concern designations, revises or creates habitat management areas, including gear restrictions, to protect vulnerable habitat from fishing gear impacts, establishes dedicated habitat research areas, and implements several administrative measures related to reviewing these measures, as well as other regulatory adjustments to implement these measures." Though it allowed a 1-year exemption for sea clam harvesters, the amendment could put a damper on Rome's business plan and further affect Gloucester's working waterfront.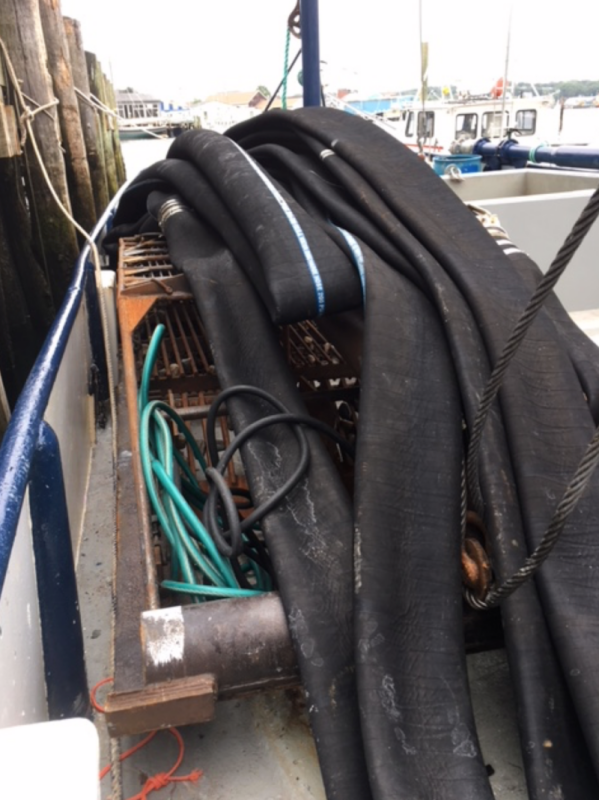 In early October, Rome reports having attended the September New England Fishery Management Council meeting with positive results. "We went to the [Plan Development Team] meeting before that. We had about 12 clam people there, and we showed them eight years of track marks where we fish," he says. "Our argument is that nothing else lives there. This bottom is always changing, it's all sand waves." Rome feels confident that, with the information the clammers have provided, the council might extend the exemption.
Surf clams are not overfished. "We haven't caught the quota in years," says Rome, largely because of the condition of the vessels. There used to be around a hundred, now it's closer to 30. I talked to another guy, he can barely keep his boats running."
Nonetheless, Rome is expanding his fleet and being lauded as an example of the kind of seafood businessman who strengthens Gloucester's working waterfront. Speaking at the Bing Bing launch party, Gloucester's no-nonsense mayor, Sefatia Romeo-Theken told the crowd that Gloucester wasn't going away.
"Those of you who work in the trades, look at your hands," she said. "We're not afraid of work." Like the other speakers, state Sen. Bruce Tarr, and U.S. Senate candidate Beth Lindstrom, Romeo-Theken praised Rome's grit and tenacity, as well as his contribution to the city's fishing industry. State Rep. Ann-Margaret Ferrante also saluted Rome for following a longstanding tradition of naming boats after strong women.
"My wife is Yi Bing, our daughter is Rose Bing. This is the nicest boat I ever built, and I built it for them," Rome explains. At the end of the event, Yi Bing Gao-Rome smashes a bottle of champagne across the bow and everyone cheers. I grab two of the last of Rome's clamcakes for the road and head home.
Inside the Bing Bing
Owner: Intershell International Corp.
Builder: James K. Walker Marine, Moss Point Miss.; rebuilt at Rose Marine, Gloucester, Mass.
Length: 55'
Beam: 17'
Depth: 8'
Tonnage: 50 tons gross
Gearbox: Twin Disc 5114
Propeller: 50" four-blade
Shaft: 3.5" Speed: 8.5 knots
Fuel consumption: 14 GPH
Freshwater capacity: 150 gallons
Hold capacity: 18,000 pounds
Crew: 3 Electronics: radar, Nobeltec Navigator, Furuno Sounder, GPS units and two radios

Monte's Top Shelf Stuffed Clams
2 pounds cooked surf clams, chopped, shells reserved for serving
1 small onion, diced
1 medium fresh green pepper, diced
2 teaspoons salt
1/2 teaspoon white pepper
1/2 teaspoon crushed red pepper
1 teaspoon granulated garlic powder
1 tablespoon parsley, chopped
1 pint clam juice
3 large eggs, lightly beaten
1/2 cup butter, melted
1/3 cup Ritz crackers, crushed
1 cup plain bread crumbs
Paprika for garnish
Heat oven to 350 degrees. Sauté onion and pepper in a tablespoon of oil, add seasonings and remove from heat. Stir in clams, juice, eggs and butter until combined. Then add crackers and crumbs. Divide into 12 clam shells and bake on a sheet or in a muffin tin for about 20 minutes or until golden brown. Garnish with paprika and serve warm. Yields approximately 12 6-ounce stuffed clams