Sunday, July 30, was the date for the Harpswell lobster boat races, race number 7 out of 11 in Maine's 2023 Lobster Boat Racing circuit. For some of the 36 boats that traveled to Harpswell, it wasn't a question of powering over a couple of miles from a nearby harbor.
It amounted to a bit of a trek; a good example is Randy Durkee and Audrey May (Holland 38, 425-hp Cummins) that steamed down from Islesboro, an island off the mid-Maine coastline, about 70 miles away. It must have been worth the trip, because at Harpswell, Durkee and Audrey May won Class E (336 to 435 hp, 24 to 33 feet 11 inches) at 28.3 mph.
A race that got a lot of attention was Diesel Class N (40 feet and over, 751-hp and over) with three boats entered. In terms of horsepower the three were fairly evenly matched. Andy Johnson's Whistlin' Dixie, a Holland 40 has a 1,000-hp Cat, and Tom Clemons 4 Ladies, a Wesmac SW46, also packs a 1,000-hp Cat, while the third boat, Chip Johnson's Five Stars, a Calvin Beal 42 was the low guy on the power scale with a 750-hp Renault-Mack.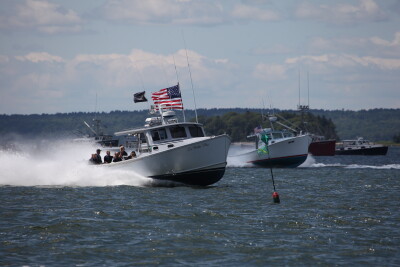 "Whistlin' Dixie has always been a dominate boat down there," says Jon Johansen, president of Maine Lobster Boat Racing, and she continued the dominance, being the first to finish the mile-long course, hitting the line at 38.4 mph, followed by 4 Ladies and then Five Stars.
Unfortunately for Whistlin' Dixie that was a short-lived streak as Whistlin' Dixie came in second to Jeff Eaton's La Belle Vita (Northern Bay 38, 815-hp FPT) in both the Diesel Free-For-All and the Fastest Lobster Boat Afloat races. La Belle Vitae won them both at just over 44 mph.
Things don't always go smoothly in these races. The Harpswell race was the first time Steve Johnson showed up this year with the Lynn Marie, a Sisu 26 with a 632 Chevy. He took first in Gasoline Class E at 41 mph but, surprisingly, did not come out for the Gasoline Free-For-All. The reason: "the manifold wasn't smooth," says Johansen, "so shooting flames out of the side and was hitting the side of the boat. They were afraid it would melt the fiberglass." Once Johnson gets the engine repaired, Johansen figures Lynn Marie "should be hitting close to 50 mph."
In recognition of the fact that some lobster boats are a whole lot slower than others, Harpswell not only has a race for the Fastest Lobster Boat Afloat (won by La Bella Vita at 44.1 mph) but there's Race 29 for the "Slowest Boat." Isaac Mitchell's Captain Lue, a Stanley Greenwood 30 with a 130-hp GM won that race at 11.6 mph.
On Aug. 6, a week after the Harpswell races, it was time for the Jonesport-Beals Island races, originally scheduled for July 1 but had to be cancelled because of fog. Eighty-one boats had signed up for the July race but only about 50 showed up for the rerun.
"There was a good contingent of skiffs," says Johansen, "which is usual" for the Jonesport-Beals Island races. A skiff that hasn't missed a race in 20 years is Ralph Davis 16-foot Alpex with a 90-hp outboard that races in Class B (Inboard, Outboard or Outdrive, 31 to 90 hp). "Since 2002 he's won every race." There was one time Alpex was beaten by two skiffs, "but they were cheating and got caught," says Johansen. The two skiffs had outboards with cowlings that had 90 hp painted across them. "But they were 115 hp or something."
The Jonesport-Beals Island race was the first race this year for Heather Thompson's Gold Digger (Wayne Beal 36 with 675-hp Scania), which, in the past "has always been considered a force in Diesel Class J (551 to 700 hp, 36 feet and over)," says Johansen. Gold Digger won its race, hitting 36.2 mph.
The fastest boat on the course was Jeremy Beal's Maria's Nightmare II (Wayne Beal 32, 1,000-hp Isotta) that won the Diesel Free-for-All and the World's Fastest Recreational Lobster Boat at 57 mph. The World's Fastest Working Lobster Boat race was won by Eric Beal's Kimberly Ann (Calvin Beal 42, 750-hp FPT) at 38.1 mph.
What has been notable at this year's races is the lack of wooden boats. That was especially true at the Jonesport-Beals Island races, a part of the Maine coast that many have always considered to be Maine's and even New England's center of wooden boat building for boats under about 40 feet.
"What was shocking," says Johansen "is mine was the only wooden boat there." That would be the Sari Ann I, A 40-foot John's Bay with a 375-hp 3208 Cat.