After Florida's voters outlawed most commercial fishing nets in the November 1994 election, sportsmen rose in unison across the Gulf of Mexico. Marshalled by the sport-fishing industry's Coastal Conservation Association, recreational anglers in Alabama, Mississippi and Louisiana demanded that their own states Ban the Nets!
With a "global fish crisis" media campaign as backdrop, hysteria over a threatened invasion by out-of-work commercial fishermen from the Sunshine State presented sportsmen in the three central-gulf states with a once-in-a-lifetime opportunity, and they knew it.
The battles raged over the spring and summer of 1995. Fishery managers in Louisiana and Mississippi buckled under the sportsmen's incessant clamoring, and the future looked bleak for Alabama's family fishermen as well.
Then the cream rose to the top.
Virtually every one of Alabama's institutions, including its natural resource management agency, media, legislators, even the governor, did their parts to help preserve the public's sustainable fishery. And in so doing, they made this characteristically hidebound state appear downright progressive.
Veteran fisheries journalist, author and former commercial fisherman Robert Fritchey's new book, "A Different Breed of Cat," documents landmark disputes between the recreational and commercial fishing industries with an insider's perspective and an emphasis on fishery allocation and its relation to our environment, economy and food supply. His other books include "Wetland Riders," "Missing Redfish," and "Let the Good Times Roll."
In "A Different Breed of Cat," he chronicles the battles over nets from the mid-1990s onward in Alabama, where the state's resource-management agency brokered a compromise that was hailed as the beginning of a new age in managing the state's coastal fisheries.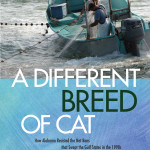 A Different Breed of Cat
Biologists at Alabama's Division of Marine Fisheries monitored a complex of 13 fish species in 1994 and weren't hesitant in stating clearly and often that those stocks were healthy. That the fish populations were in good shape — after two centuries of harvest by both sport and commercial fishermen — was testament to the abilities of the state's fishery managers. It also helped that Alabama's coastal fisheries were confined to the waters within Mobile Bay and along the state's limited coastline. But if their compactness made them easier to monitor, it also made them more vulnerable.
When managers attested to the vigor of the fisheries, they made it clear that their data applied only "under current effort."
If too many of Florida's displaced net fishermen crossed the border to set up shop, Alabama's fisheries could be stretched to their limits. The question was, how best to address that problem?