Ahoy there, fellow fishermen!

As a fisherman myself, I know firsthand that cooking up a delicious meal on board can be a challenge. That's why I'm sharing one of my favorite recipes that's perfect for small space cooking - Grilled Wild Salmon with Caesar Salad and Homemade Croutons.

First, let's start with the croutons. Don't worry, this is a simple and quick recipe. All you need are 3 ½-inch thick slices of French bread, cut into ¾-inch cubes. Remove the crust and toss the cubes in a mixture of melted butter, olive oil, grated Parmesan cheese, and minced garlic. Bake them in the oven for 15 minutes, and voila - delicious homemade croutons that will take your salad to the next level.

Next, let's move on to the dressing.

In a blender, combine garlic, anchovy fillets, lemon juice, Dijon mustard, Worcestershire sauce, mayonnaise, sea salt, black pepper, and olive oil. Blend until smooth, and you have a creamy, tangy Caesar dressing that will make your taste buds sing.

For the salad, all you need is a head of romaine lettuce torn into pieces, more grated Parmesan cheese, and of course, the homemade croutons. Toss everything together with the Caesar dressing, and you've got a tasty and nutritious salad that compliments the grilled salmon perfectly.

Now for the star of the show - the wild salmon fillets. Brush them with some olive oil, season with salt and pepper, and grill them for about 3-5 minutes on each side until they're just cooked through.

The result? – Moist, flaky salmon that pairs beautifully with the Caesar salad.

And there you have it - a delicious and healthy meal that's easy to make even in small spaces.

My handy tip for the galley? Make extra croutons and store them in an airtight container for future use. They're perfect for adding some crunch to any salad or soup.

Until next time, tight lines and happy cooking!

Grilled Salmon and Caesar Salad with Croutons: Serves 4

For the croutons:
3 ½-inch thick slices French

bread, crust removed and cut into ¾-inch cubes

1 tablespoon extra-virgin olive oil

2 tablespoons butter, melted

3 tablespoons Parmesan cheese,

grated

2 large garlic cloves, minced

for the caesar dressing

2 large garlic cloves

3 anchovy fillets

½ teaspoon lemon juice

½ teaspoon Dijon mustard

½ teaspoon Worcestershire sauce

2 teaspoons mayonnaise

⅛ teaspoon sea salt, or as needed

¼ teaspoon freshly ground black pepper

¼ cup extra-virgin olive oil
For the salad:
1 large head romaine lettuce,

washed, dried and torn into pieces

½ cup Parmesan cheese, grated

freshly ground black pepper
For the salmon:
4 (6-ounce) wild salmon fillets,

skin and pin bones removed

extra-virgin olive oil for grilling

sea salt

freshly ground black pepper
Make the croutons:
Preheat your oven to 350
degrees. In a large bowl; combine the olive oil and butter. Stir in Parmesan cheese and garlic. Add
bread cubes and toss until coated. Spread the bread in a single layer on a shallow rimmed baking sheet
and sprinkle with a little salt. Bake for about 15 minutes or until croutons are golden, stirring once. Set aside.
Make the dressing:
In a blender, combine the garlic, anchovies, lemon juice, mustard, Worcestershire
sauce, mayonnaise, salt and pepper. Mix until well combined. Add oil and blend until smooth.
Make the salad:
In a large salad bowl, combine lettuce and croutons. Pour dressing over lettuce
mixture; toss lightly to coat. Add ¼ cup of the Parmesan and toss well.
Make the salmon:
Preheat a grill or stovetop grill pan to medium-high heat and lightly oil the grates.
Season the fillets with salt and pepper. Grill the fillets skinned side up and cooked for 3 to 5 minutes.
Turn fillets over and grill until fish is just cooked through, about 3 minutes more.
Divide Caesar dressing among four plates and top with a salmon fillet. Garnish with Parmesan and serve.
Variations:
Use 2 cups purchased croutons.

Substitute grilled halibut for the salmon.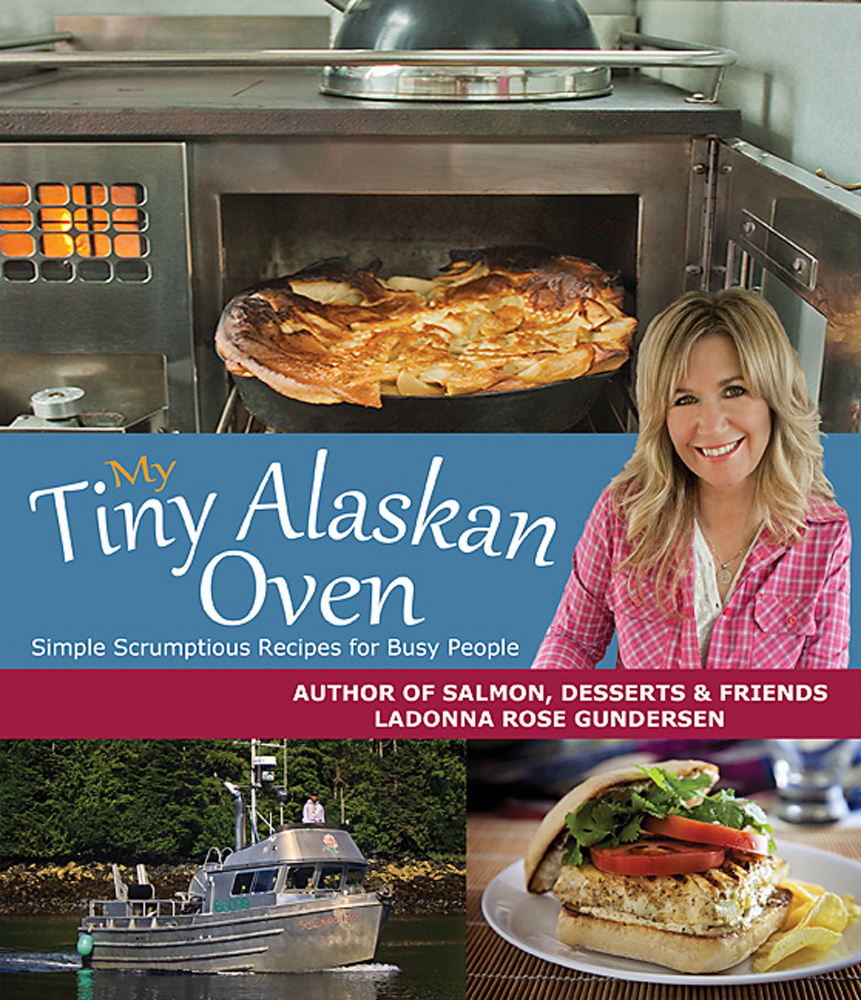 To find more delicious recipes for the boat.