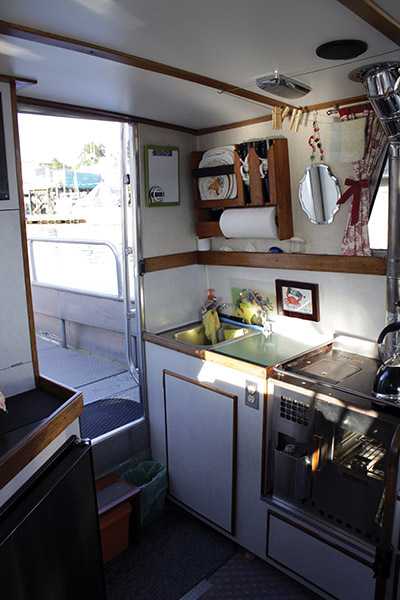 As a commercial fisherman, fishing for salmon out of Ketchikan, Alaska with my husband Ole, I've had plenty of experience cooking up scrumptious meals on a small fishing boat. One of my favorite dishes to make is Soft Spring Rolls with Crab. Not only are they delicious, but they're also easy to make in a compact galley.
To start, you'll need some fresh crab meat, rice paper wrappers and your choice of fillings. I like to use avocado, shredded carrots, red cabbage and cilantro, but you can use whatever you have on hand.
Simply lay out a wrapper, add your fillings and roll it up tightly. One tip for making spring rolls in a tight space is to have all of your ingredients prepped and ready to go before you start rolling. This will make the process much smoother and less cluttered.
Another tip is to use a damp towel to cover the rolls while you're working. This will keep the rice paper from drying out and cracking.
Once your spring rolls are rolled, they're ready to be devoured. Dip them in the rich and savory peanut sauce, infused with ginger and hoisin, which adds a harmonious blend of flavors in every bite, elevating your taste experience. Serve them with a cold beverage and enjoy a satisfying meal perfect for a fisherman after a long day on the water.

Soft Spring Rolls with Crab - Makes 10-12
3 ounces thin rice noodles, cooked
12 round rice paper sheets
1½ cups crabmeat (if using king or snow, slice into small strips)
1 large avocado, sliced into strips
2 cups red cabbage, shredded
2 cups carrot, shredded
½ cup cilantro leaves
½ cup mint leaves
½ cup basil leaves
6 green onions, cut into thin strips

Peanut Dipping Sauce
⅓ cup creamy peanut butter
1 tablespoon low-sodium soy sauce
2 tablespoons hoisin sauce 2 teaspoons Siracha hot sauce
1 teaspoon ginger, grated
6 tablespoons hot water, to thin Peanut Dipping Sauce

In a bowl, mix together the sauce ingredients until smooth.
Arrange all the ingredients separately around a large cutting board or tray set before you.
Set out a platter to hold the finished rolls, as well as a large shallow bowl filled with very warm water.
To make each roll, slide one sheet of rice paper into the pan of warm water and press gently to submerge it for about 15 seconds. Remove it carefully, draining the water and place it before you on the cutting board.
Line up a horizontal row of each of the following ingredients on the rice paper sheet, starting on the lowest third of the sheet and working away from you: a small amount of crab meat, a tangle of noodles, a few avocado slices, a row of cabbage and carrots, a row of cilantro, mint and basil and a row of green onion slivers on top.
Fold the bottom half of the wrapper over the filling, hold the filling in place, tuck in the sides and roll tightly. Repeat with the remaining filling and serve with the dipping sauce.