One of the simplest yet most satisfying meals has to be shrimp. It's one of those quick walk-in-the-door, last-minute meals that you can make anytime with fresh or frozen shrimp. They don't take but a few minutes to cook and they are such a treat!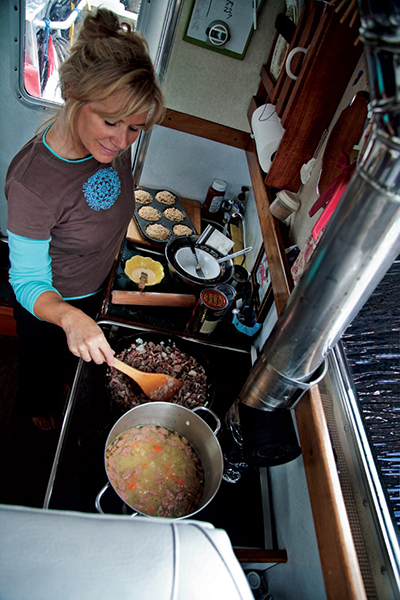 This is hardly a recipe at all and it's one of my favorite methods to produce perfectly even cooked shrimp. The hands-off method is foolproof and ridiculously easy. And that's exactly why I wanted to start my first column with it. This recipe is perfect for those of you on the water, whether you're a commercial fisherman like my husband Ole and I, or just enjoying a day out on the boat. When we're out on the water for weeks at a time, I have to get creative with my ingredients and cooking methods. I've learned to make the most out of a small 4x5' galley kitchen, often contending with the swells and swallows of the sea. Despite the challenges, this recipe is a staple on our boat. The shrimp emerge hot, juicy, and exploding with flavor, thanks to the rosemary and thyme infused oil. They can be served with potatoes, pasta, rice or a simple salad. Or, if you want to get sassy, pile them onto a hoagie roll with some spicy mayo, lettuce and tomato and call it a Shrimp Po'Boy! You can use whatever size shrimp you can get your hands on and if you have time, take the shrimp out of the freezer the night before cooking to let them thaw in the fridge. Or place shrimp in a colander and run cold water over them for a few minutes. Possibly the best part about this recipe though… the fact that it is so easy, dinner in under thirty minutes. I am positive you will love this recipe and will never serve shrimp other than this way again.
Serves 4 as a starter or 2 as a main course
INGREDIENTS
½ cup extra-virgin olive oil

3 large fresh rosemary sprigs, halved

4 fresh thyme sprigs

freshly ground black pepper

1½ pounds medium or large shrimp, peeled, leaving tails intact

½ teaspoon sea salt
Preheat your oven to 400 degrees.
Pour the oil into a 9 x 13-inch rimmed baking dish. Add the rosemary, thyme and 1 teaspoon pepper and bake until the mixture is fragrant, about 10 minutes. Add the shrimp to the dish and toss with tongs until coated. Bake the shrimp until pink and firm about10 minutes. Add a sprinkling of salt, toss well and serve.