Even though the Pacific Northwest is surrounded by many different bodies of water, few people consider that could translate to a lucrative career in the maritime industry. Getting out on the water usually means a day of play. Yet all kinds of employees are needed to keep the marine industry afloat, both out on the water and back on land.
From entry level to midcareer jobs that pay up to $223,000 annually (according to ZipRecruiter) at sea or on the shore, there's a career to suit a variety of needs and wants.
Colette Royer, age 22, plans to become a Washington State Ferry captain, which pays an annual average salary of $98,430 according to Salary.com. She's currently enrolled in the Seattle Maritime Academy and will graduate this June and then participate in an at-sea internship.
When asked if she thought she could get a job right away after her internship, Royer says,"Definitely. They have a desperate need for people in maritime."
Of course, she'll need to work her way up to ferry captain. She'll start as an able-bodied seaman and progress to mate and then captain. A go-getter, she's already been studying for some of the tests she'll need to take. Then she'd like to be promoted to Puget Sound pilot, captains that navigate big ships from other locations into the Seattle port.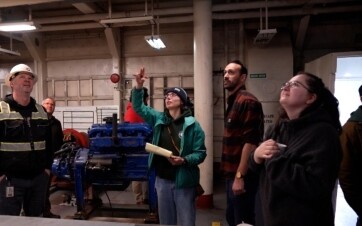 "The maritime industry needs people from every single community at every level — and opportunities exist for everyone," says Ann Avary, director at NW Center of Excellence for Marine Manufacturing & Technology in Anacortes.
Washington state has created a statewide plan addressing the workforce maritime needs called the Washington State Workforce Development Pathway, says Avary. The state wants to raise awareness of the industry needs including those involving boats, shipbuilding, ship repair, fishing and seafood, transportation tugs, ferries, and more.
Avary says the industry is growing, creating more capacity for education and training. Free apprenticeship opportunities are also in the pipeline as a means for breaking down barriers for rural communities in the state.
Another good place to start gathering information about these careers is WashingtonMaritimeCareers.org. There you'll find a variety of pathways for your career journey. Many marine occupations only require a certificate. But your route might take you to a community or technical college, an earn-while-you-learn apprenticeship, a four-year college or university, Compass Courses, or in Royer's case, a one-year stint at the Seattle Maritime Academy.
"My brain likes that we learn something one day and get to practice it the next day," Royer says. "That way you can see what can go right and what can go wrong. We also learn survival skills and that makes me feel better."
Historically, maritime has been a male-dominated industry. But that is changing, in part due simply to changing attitudes but also due to the rise of technology as an integral part of the industry.
"Autonomous tech is making a real difference in the industry," Avary says. "There's welding tech (robotic welding), materials and stealth tech. Technology is influencing how the industry is evolving."
Royer also comments on the tech component of her schooling, saying that she gets to step inside a simulator to learn steering, staying on course, and reading electronic charts.
A more diverse and inclusive work environment is better for employees, and will help create a more robust workforce. This is needed in order to fill all the jobs coming available. Whichever pathway you embark on, be ready to enter the industry immediately, says Avary.
Scholarships and grants may be available to fund your studies in the maritime sector. Royer was pleased that her entire program at the Maritime Academy only cost $10,000. She chose this field because she likes being on the water, grew up sailing, and this is a beautiful place to be, she says.
"Locally, we are very fortunate to have such a robust training platform for entry into the industry," says Avary.