National Geographic's Wicked Tuna wraps up season number twelve this Sunday, June 25, with the season finale revealing who will be the G.O.A.T. (Greatest of all time). Rumors swirl that the quota is dwindling fast, and it has been a tight race to the finish where every catch matters in the quest to end up on top.
After chatting with Michelle Bancewicz, Wicked Tuna's newest member back in March, we were able to touch base with another cast member, Dave Marciano, in an exclusive interview. After eleven years of filming the show, the trials and tribulations he has undergone as a commercial fisherman and a realty TV personality are on full display in this episode.
Back before Wicked Tuna first aired in 2012, Marciano knew nothing about how a reality TV show could change his commercial fishing career. His passion for fishing wasn't from generations of fishing heritage it was a passion that was rooted in him from the ripe age of 11 years old. He got himself involved in fishing charters and party boats while his father and his sisters made their living selling insurance in the Gloucester, MA area. He then became a WT cast member but has remained the same weathered fisherman as he was before getting involved in the show – which is something that still confounds his family.
"The other fishermen thought I was crazy from a young age," Marciano told National Fisherman. "I was always bouncing around gillnetting and longlining in the middle of January. They would always poke fun at me and say I could just stay on shore and drive a Lincoln to work everyday if I followed in my dad's footsteps. It shows I was meant to be on the water, but just like those other fishermen, my father never understood it. Between my three sisters and me it's basically a family joke now. No one thought I'd be the one to bring notoriety to our name. I was always just 'the fisherman'."
As Marciano grew up dabbling in many different fisheries, his only goal was to bring in a paycheck for himself and his crew. He saw WT as an opportunity to do the same.
"We were going to be fishing for bluefin tuna anyway, so to a fisherman like me, it was a no brainer," Marciano explained. "We treat the checks that we get for participating in the show as any other check. Just like we are landing a fishing or bringing in lobsters to sell."
Marciano has always considered himself just a fisherman and takes pride in that on and off the water. That's what makes him so relatable to the audience that has been following him through all twelve seasons of the show. But how does he relate to others that are featured on the show or out on the water with him?
"I've always known who all the guys out there way before the show was a thing, and it's been a lot of fun working with these guys, but I wouldn't consider myself close to one person," Marciano said. "I've known that boats like F/V Tuna.com have always caught fish and there are no secrets to who's catching what out there. I'd be lying if I were to say that I haven't clashed heads at one time or another with each person out there. That's fishing, on or off the show. We all have our individual ways out there."
Those individual ways factor into Marciano's position on the topic of commercial tuna fishing. For him, it was never about a long season to catch a decent number of fish that would eventually add up but was instead about a short period of time catching a lot of fish. That stance is distinct from others featured on the show.
"I guess I've always looked at it differently," Marciano admitted. "The other Dave from F/V Tuna.com thinks of it differently. Tuna fishing is his passion and hobby, and for me it's just another means of making a check."
However, those differences of opinions and perspectives aren't just about tuna fishing. Marciano mentioned that he doesn't look at life the same way as the other cast members. It can be a challenge as he struggles to take the competition aspect seriously and believes that real commercial fishermen see fishing in the way of being successful together.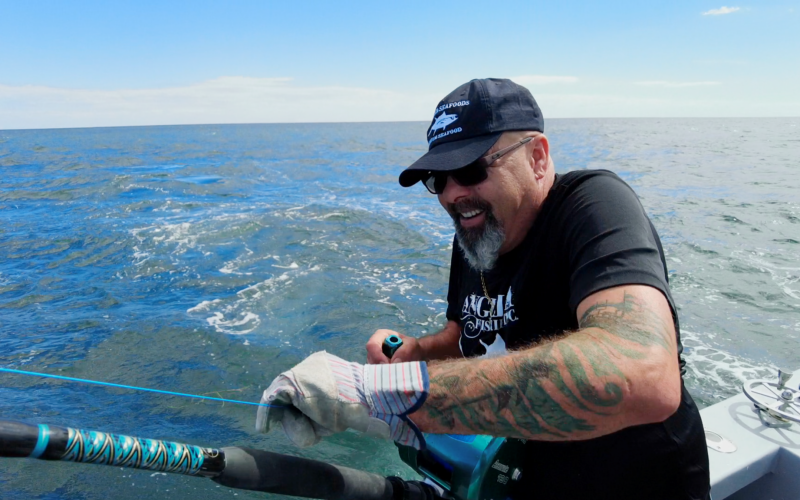 "We compete, but in a different way," he said. "Ultimately, all we get for winning at the end of the season is a pat on the back. It's always about bragging rights, and I think a lot of the guys make fun of me for not caring about that aspect. I've always been a fisherman and that's all I'll ever want to be."
The importance of that identity is part of the reason he wants to actively support to the future of the commercial fishing industry itself, as Marciano has strong feeling about the developments of offshore wind. He has made a huge name for himself around the Gulf of Maine area due to his fishing career and WT and has a desire to use that in a way that protects the people and life that define the area.
"I am 1,000% against offshore wind, Marciano stated. "I think it is very ill-conceived, and I have been as active as I am able in my opposition. In Gloucester, you'll see a 1/3 failure rate of windmills, but they are still proposing to put 2,000 windmills offshore. If that same failure rate occurs, who is going to clean up that mess? It shows what kind of hypocrisy we're dealing with. They say fishermen have damaged the seafloor, but then they are going to dump an estimated 20 billion tons of concrete on the bottom. I think it is going to have devastating affects to everyone, not just the fishermen. This is a hill I am willing to die on in the fight against offshore wind."
While Marciano has one eye on the future of the industry, his real attention associated with what he's doing in the present, and he mentioned that being part of Wicked Tuna has been an opportunity of a lifetime. It's why he's happy to close out another season with all the other participating boats and looks forward to congratulating each member of the WT family. He recognizes how hard this past year has been and is eternally grateful to still be out on the water.
"It changed my perspective on life a lot," Marciano said. "Life's short and have fun. The competition shouldn't matter."
Wicked Tuna's season finale airs on National Geographic June 25th at 9/8c, past seasons now streaming on Disney+.