Season 12 of Wicked Tuna aired on Feb. 26 with Captain Michelle Bancewicz and first mate Lea Pinaud debuting as the first all-female run boat on the show.
Bancewicz is not only making waves in an industry that is primarily male but is living up to her boats name, F/V No Limits. Since she was a teenager, Michelle has worked on boats. She's always found more interest in untraditional jobs, and fishing certainly fell under that category.
In 2015, Michelle went out on the boat with an old friend and caught her first tuna. From then on, she was hooked and would go out with anyone that would take her. Many fishers will tell you there's nothing like the feeling of catching your first bluefin.
Bancewicz caught National Geographic's attention in 2021 by going viral with a video of her reeling in a monster tuna. This tuna weighed 800 pounds and was 109 inches. As one of the only female captains fishing the waters off from New England for bluefin, it was well deserved that she joined the new season of the show.
Wicked Tuna is primarily filmed in Gloucester, Mass., and carried into offshore waters where the cast of this popular reality show battle to see who can make the biggest buck on bluefin. Eight captains are competing this season for the title of G.O.A.T. (Greatest of All Time), and Captain Bancewicz looks forward to bringing the heat against the boys.
Michelle mentioned when she started bringing in fish she was always with a guy. Girls aren't typically itching to get out on the water and catch some tuna, so it was always the guy that would get the credit for the fish.
"Whether it was a guy's first time out or not, when we caught a fish, they would always get the credit for it. I needed to get a girl on the boat." Bancewicz noted. "There are not enough women that get up and go out and do the same thing a guy can do. You can do it if you put your mind to it."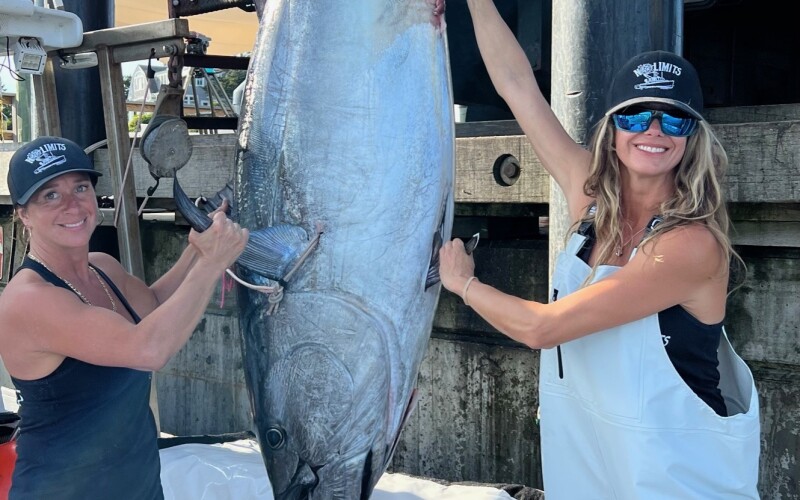 All captains running charters off from their own boat must acquire a captain's license. According to captain demographics, only 34.6 percent of captains are women. Though Michelle's plan at the time wasn't to do charters the bragging rights to her dad and brother was the most important. Now, Bancewicz can boast, hey, I got a license too.
One fish can bring in a paycheck that's worth up to $20,000, and as the largest of the tuna species, bluefin can weigh up to 2,000 pounds. Even with government restrictions limiting the boats to one fish per day, and limited days per week, Capt. Bob Cook of F/V Fat Tuna holds the victor title from season 11.
The tuna fishery has been struggling with new regulations put into place over the past few years like many other North Atlantic fisheries. All Wicked Tuna participating boats must hold an Atlantic high migratory species charter/headboat permit, as well as have commercial sale endorsements to be able to sell Atlantic bluefin to dealers.
Michelle and first mate Lea not only share the love for fighting bluefin but are both single moms with teens. There's nothing like seeing these two compete against the male captains that have been on the show since the start.
"There are very few fisherwomen out there and that basically gives you a bigger opportunity." Bancewicz is an inspiration for other women interested in the fishing community. Michelle and Lea will bring a new perspective as the only female run boat.
Bancewicz is living her dreams out on the water and with two daughters at home, it will be so important to show that fisherwomen can certainly do what fishermen have done for centuries.­­­­ Michelle also offers charter services for tuna and haddock on her website at F/V No Limits. Each day is different out there, and for the ladies of No Limits, they can find their peace out on the water.
On March 26th catch the new episode of Wicked Tuna on National Geographic.