The Pacific Hunter is the newest boat to come out of Maritime Fabrications in La Conner, Wash. The fiberglass 46' x 16' hull was built by the Canadian boatbuilder Millennium Marine in Miramichi, New Brunswick, and finished off by Maritime Fabrications for a Westport, Wash., crabber. It has an 800-hp Volvo D13 for power.
This was the first time Maritime Fabrications had finished off a hull from the Canadian East Coast says Maritime Fabrications' Isaac Oczkewicz. The work was completed in time for the Pacific Hunter to start crabbing in January.
"The owner liked (the boat) a lot," says Oczkewicz. There were some uncomfortable sea conditions but he said, "it felt stable."
Speaking of boats like the Pacific Hunter from East Coast boatbuilders, Oczkewicz says, "they have their advantages as far as efficiency and sea-keeping, but they don't pack as much as our hulls do."
Maritime Fabrications has several Bristol Bay gillnetters in for repair work, including an aluminum gillnetter that "had a bunch of damage from a control malfunction and then running into a pier," Oczkewicz says, adding the collision didn't cause the gillnetter "to lose its watertight integrity, and he fished the whole season." But after arriving at Maritime Fabrications the gillnetter required the replacement "of a bunch of hull plating in various places above the waterline."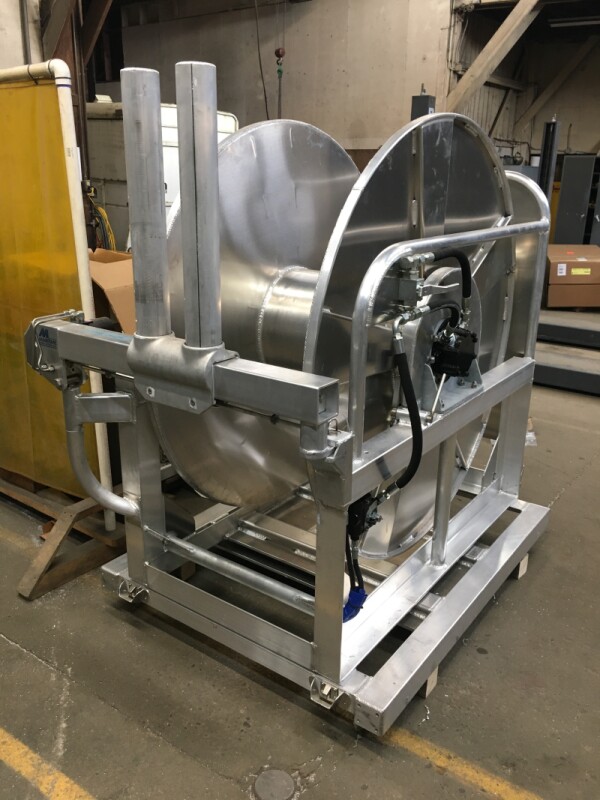 On the deck machinery side of Maritime Fabrications worklist is an improvement to gillnet drums for through-pickers, where the drum slides beneath a raised wheelhouse going from the bow to the stern and then is rotated, depending on if the gillnetter is setting or hauling back.
Oczkewicz says this winter "a lot of effort went into designing and fine-tuning that rotator function, and now customers are liking it a lot." The turning resistance was the biggest issue to overcome, especially when the drum was wrapped with 400 to 500 pounds of gillnet. "Then it's a lot heavier."
The solution was to build the gillnet drum with a slew bearing, similar to ones used on excavators and deck cranes to support heavy, slow turning loads. A bushing pad was also added to help stabilize the drum.
The redesigned gillnet drum is on a gillnetter Maritime Fabrications previously built and will be on new gillnetters built by Rozema Boat Works in Mount Vernon, Wash.