I could see that longlining wasn't going to be able to provide for my family like it had been," says Alaska fisherman Rich Wheeler. "I had been thinking I wanted to go to Southeast because I wanted to have my family with me, like a lot of fishermen do. I had the dream of having a boat with all my kids on it. So, fortunately, someone talked me into buying a boat and a permit on Prince William Sound."
That move set the stage for Wheeler's family to launch a new business and be able to spend summers fishing together. But the groundwork was laid two generations before on the rocky coast of Norway.
When Lars Jangaard emigrated to America in 1938, Europe was on the verge of war. By 1940, his homeland of Norway would be invaded by German troops that would occupy the country for five long years. So when an older Jangaard brother who had already emigrated sent word saying there was fishing work to be had in America, Lars left for Seattle. The 23-year-old fisherman from Volderoy, a small island on the seaward side of Norway, came over around the same time as one of his younger brothers, Otto.
During the war, the brothers prospered by fishing for sharks, the livers of which were in demand for their vitamin A. It was believed that the vitamin improved night vision for pilots, so these commercial fishermen fulfilled their war effort at sea, with nets.
While they also fished for tuna, sardines and cod, Lars and Otto Jangaard ended their careers as veterans of halibut longline fisheries in Alaska, Lars with the 83-foot Cape Flattery and Otto with the 70-foot Alrita, both house-forward, wood boats built on Puget Sound.
After settling in Seattle, Lars married a young Swedish descendent, Linnea, with whom he had three sons and one daughter. The daughter, Mary, married Art Hodgins, who was neither Scandinavian nor a fisherman, although he quickly became one of the latter after getting a chance on his father-in-law's boat. After many years on the back deck and with natural aspirations for the wheelhouse, Art considered the possibility of taking over the Cape Flattery when Lars retired. But for that he was corked by Mary's younger brother, Steve. However, Uncle Otto was also about to retire — and had no sons. So Art moved over to the Alrita, where he worked on deck for a season before moving up to the wheelhouse when Otto retired. Art immediately added blackcod gear and started targeting that increasingly valuable fish.
Art and the Alrita did well, especially after inheriting the Alrita's rich catch history when quota shares were handed out for halibut and blackcod in the '90s. He fished both until 2000, when he devised an unusual retirement plan: He made a deal with his crew to sell them most of his large quota share. If they could come up with the money for the quota, he would give them the boat. But the deal had to include the boat's new inbreaker: Rich Wheeler, who had recently married Art's middle daughter, Sena.
After getting his boots wet from fishing for two seasons in Bristol Bay, Rich had eagerly taken a spot on the Alrita when offered by Art in the late '90s. But he hadn't been onboard long when he and the rest of the Alrita crew bought Art out. Rich and Sena Wheeler were just married, she was in graduate school, and they would have to borrow a huge amount of money. All shares cost the same.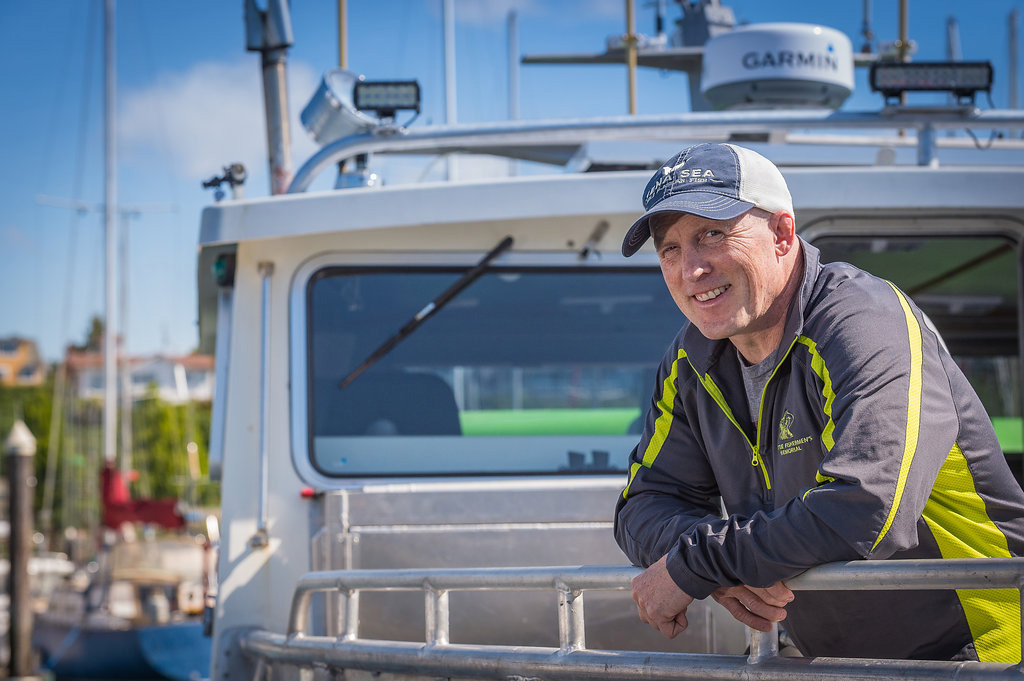 "It was an enormous leap of faith," says Sena, who had just enrolled in a master's degree program at Oregon State University, where Rich had gone to undergraduate school on a wrestling scholarship. After getting a bachelor's degree in Food Science from Central Washington University, she and Rich moved to Oregon, where she spent a year in Corvallis and a year in Astoria testing albacore and writing scientific evaluations at the OSU seafood lab.
With a master's degree in food and fermentation science in her portfolio, Sena went to work doing product development and quality control for Continental Mills back in the Seattle area. Rich continued to fish, and they dreamed of ways they could go into business together. Meanwhile, Rich scratched another itch in 2010 when the former carpenter hand-built a house in the mountains of central Washington. Officially, home became Entiat, Wash.