Last Set: Dutch Harbor, Alaska Taylor Strout and Ross Noy pick and mend the net in Dutch Harbor on the 150-foot pollock midwater trawler F/V Northern Defender for Global Seas out of Seattle.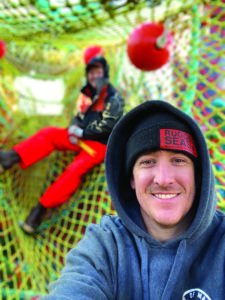 Photo by Taylor Strout / www.ruggedseas.com
Send us your Last Set and Crews Shot images Here also follow us on Instagram, Facebook, and Twitter and for daily updates posted to our website.
*By submitting photos for publication in National Fisherman you are stipulating to us that you own copyright to these photographs or have permission from the copyright holder to submit these photographs.