An original, fully restored Bristol Bay sailboat set off July 5 to retrace the route commonly used to get these double-enders from Homer, Alaska to the village of Naknek located on the Kvichak River.
The route of the Libby 76 involves sailing 100 miles across Cook Inlet to the Alaska Peninsula, where the boat will be hauled 15 miles to Lake Iliamna, a 77-mile-long lake.
Coincident with this historic crossing is the expectation of an all-time record return of 75 million sockeye salmon, with a harvest set at 60 million.
As the boat launched from Homer, so did the record run launch in the Nushagak District. On June 30 commercial fishermen set the record for a single day harvest in the Nushagek District with 2.46 million sockeye salmon.
As noted by area biologists, it is remarkable to be setting records after 137 years of fishing that began with 30-foot sailboats. Through July 3 the Alaska Department of Fish and Game shows a harvest of 29.9 million sockeye with over 10 million coming from the Nushagak District.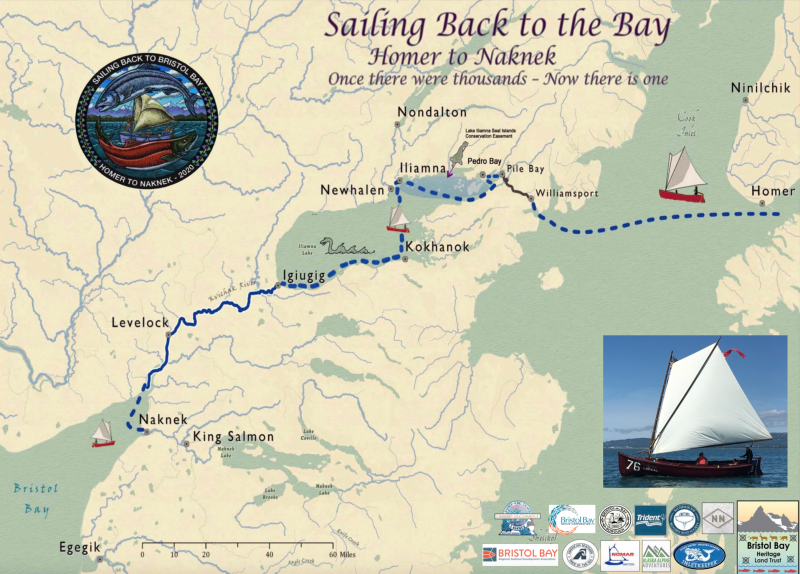 .As the Libby 76 reaches each village along the way, starting at Pedro Bay and ending at Naknek there will be shoreside celebrations.
The voyage is also promoting the conservation effort to raise $20 million to purchase strategic easements from Pedro Bay Native Corporation that would essentially close off the road access route for developing the Pebble Mine.