Before we get to the checklists: Consider rewarding crew that think of ways to improve safety on your vessel. Money is one way, but during fishing, I find sleep to be a more valuable commodity. An extra hour in the rack can be worth about a million dollars some days.
The following is a companion to the feature story Staying Safe in Bristol Bay
Safety Gear
First Aid Kit
Ditch Bag (waterproof kayak bag with handheld VHF, handheld
EPIRB, flares, small first aid kit)
Man Overboard Sling for retrieval
Man Overboard retrieval system (Game Hoist, self-locking, 4:1 reduction, 500-lb maximum lift, @ $30)
Deck-hose extension with quick-connect for dewatering (long enough to reach into your foc'sle as well as your lazarette. Also can be used to assist in dewatering of other vessels)
Water-activated PFDs for ALL crew to wear during unloading, rough weather, and while on the bow tying up and anchoring.
Damage Control Kit (wooden plugs, inner-tube rubber in 1-inch rolls and 4-8-inch sheets, splash zone)
Check all running lights, deck lights, engine room lights.
Replace/repair as necessary.
Have waterproof flashlights with fresh batteries stored in key locations ready for use (engine room, foc'sle, lazarette)
Test ALL alarms (bilge high water, smoke, carbon monoxide, etc.)
Inspect anchor gear. Replace worn anchor rode, wire all shackles with SS wire.
Maintenance on all water-tight deck hatches (grease rubber seals and mechanical opening/closing handle, adjust for water-tight integrity)
Compliance
Drill Instructor Card
Current First Aid Card
Current Flares
Current Renewal of life raft (if applicable)
USCG-approved life ring with minimum 90 feet of line
USCG-approved survival suits (with current battery for lights)
EPIRB if required (current registration/battery)
USCG-approved fire extinguishers
Carbon monoxide detectors in living areas
Smoke detectors in living area, engine room
In-Season
Develop and maintain a culture of safety. Making Safety A Habit should be the ultimate goal of everyone on the boat. Remember: Good Habits are Bad to Break.
USCG required Drill Instruction by qualified instructor every 30 days (man overboard, fire, flooding, grounding, mayday)
Develop communication protocols for deck. Example: Skipper: "Set!" Crew: "Setting!" EVERY command should be verbally acknowledged by crew loud enough to be heard by skipper. Call/Response method of communication minimizes confusion, increases efficiency, and allows for a vessel to operate with consistency that leads to increased safety.
Review safety protocols for ALL deck activities (delivering, anchoring, tying up, balling off, running the net, retrieving the ball, etc.) Example: PFDs required for ALL crew while unloading, Anyone going to the bow for any reason wears a PFD. One crew ONLY gives commands to crane operator while unloading.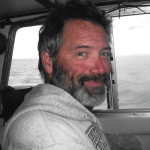 Michael "MJ" Jackson owns and operates the F/V Kelley J. He has fished in Bristol Bay for more than 30 years, is a board member of the Bristol Bay Regional Seafood Development Association and lives in Bellingham, Wash.