August 29, 2022
What connectivity benefits do small satcom solutions provide commercial fishing vessels?
Intellian
The benefits of staying connected at sea are widely understood by commercial fishing crews and vessels of all types. Being able to communicate with a processor or cannery to advise around their ETA can save time and money, while the ability to quickly call home resonates on a much deeper level with commercial fishermen. However, the limited technology and form factor has long kept them out of the reach of many. Products like the Fleet One and v45C from Intellian have been able to completely change the paradigm around both factors.
Enabling simultaneous voice and data connectivity up to 150 Kbps, Fleet One is being used on everything from small fishing boats to entire fleets. The v45C is enhancing connectivity in especially remote regions. Fishermen and salmon camps all along the West Coast from Seattle to Homer to Anchorage have come to rely on these solutions to manage staff and allow crews to ascertain all-important weather information – but the value these products are creating is about so much more.
Enabling Communication and Windy.com Access
For anyone used to home and cellular speeds, the 150 Kbps of Fleet One might sound slow. However, that's enough to give users the ability to check email, do a web search and even send iMessages or WhatsApp back home and between boats. Such basic capabilities are what most fishermen are focused on when it comes to maintaining connections between the shore and the water.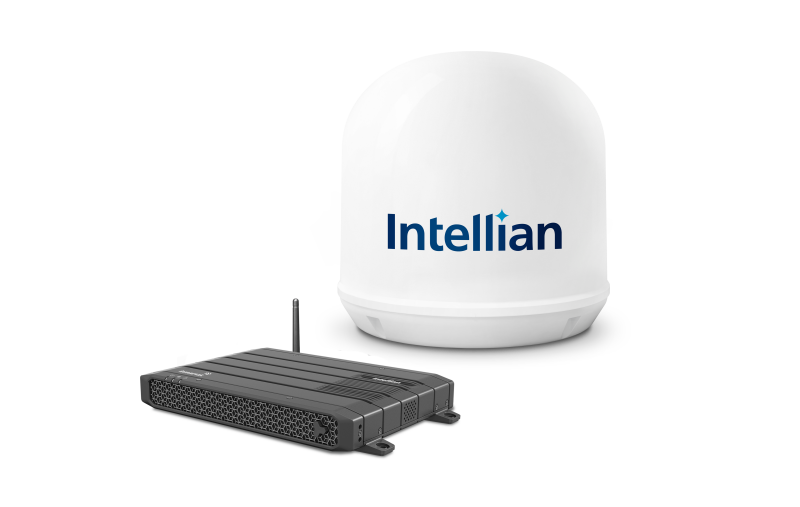 "The biggest thing that we hear from fishermen and crews is how important it is for them to stay in touch with family and friends," said Paul Comyns, Sr. Director Channel Sales at Intellian. "With the Fleet One, many of them are basically using voice over Internet or voice over data so they're not using any of their minutes. They can use their low data apps and services just as they would anywhere else. Plus, a lot of the boats are using it to communicate with each other without allowing everybody else to listen in."
Connectivity with home is clearly a top priority, but what's most useful to the fishing community is the ability to access and download weather information, much of which takes place through the windy.com app. In fact, many fishermen in the Alaska region rely on this source of information almost exclusively. Fleet One has made these connections seamless, providing crews with the up-to-date information they need to make plans or change them as the weather does.
"I've been around Kodiak, Homer and actually right in Bristol Bay talking to the fishermen about their seasons," Comyns mentioned. "Nearly everyone I spoke with talked about how they upload or view info from windy.com thanks to our products. 'Can it do wind?' is the question I heard over and over. Of course, the answer is 'yes,' which is why so many of those conversations were so positive. Everyone's very happy with it."
On the logistical front, the Fleet One is a very simple piece of equipment to install, with a single cable installation and Ethernet over coax setup. A web server that's accessible via the Wi-Fi connection provides users with options, while service fees can be switched on or off based on when they're being used, becoming a flexible tool for fishermen to stay connected and communicate.
Fleet One allows fishermen to get necessary weather updates and calls home as needed but some smaller boats and vessels need enhanced connectivity. That's exactly what the v45C is designed to enable.
Taking Connectivity to the Next Level with the v45C
Called the v45C on account of the 45-centimeter satellite communication antenna that defines it, Intellian's compact Ku-band VSAT antenna provides high-speed throughput and connectivity thanks to how it can utilize the Intelsat network. When connected to the high-throughput satellite beams that are available in most fishing grounds, users can get 6mbs per second down and about 2mbs per second up. That allows users to get a more home-like Internet experience that many have come to rely on.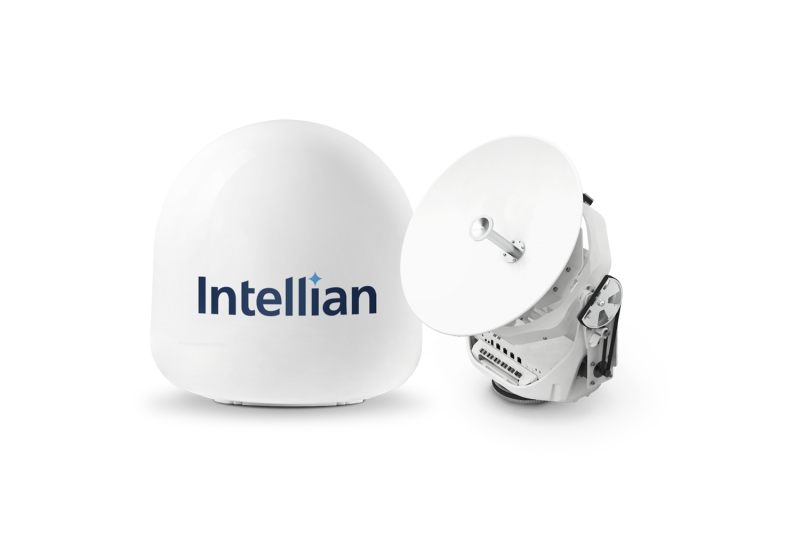 "Because this product is a smaller antenna, it can be installed on a smaller fishing boat that may still have quite a few crew on board," Comyns said. "Those boats don't have the space for larger antennas, so this opens up connectivity options for smaller boats that are still going offshore. It's not going to be a replacement for the TV (that's a whole other product line!) but it will provide better crew welfare by allowing video calls, social-media activity and plenty more."
As well as crew welfare, safety services and business operations are also more efficient with faster internet speeds. Comyns noted that when using the v45C, he was able to download and get the weather update in less than 10 seconds. Getting weather information and data in a faster and more complete manner showcases the multiple benefits of better connectivity that mimics what many are used to when onshore. It has changed crew expectations for the better.
"Providing these crews with a similar level of connectivity when they're offshore as when they're onshore has really been key," Comyns continued. "Whether they're talking to the cannery or just calling home, it's making their life much easier and that extends to tasks like ordering parts because you can just do that instead of having to wait until they come ashore."
Better connectivity is a simple concept but the difference it can make to a crew of one or for an entire fleet is significant. The benefits in being able to be connected when at sea as when you're ashore have changed the way crews do everything from accessing weather updates to receiving NOAA notices to calling home, highlighting the range of opportunities that products like Fleet One and the v45C are directly enabling.