At Rozema Boat Works in Mt. Vernon, Wash., the boatbuilding projects are very different than they were a year ago. That's when Rozema Boat Works' Dirk Rozema thought he had some deals for Bristol Bay boats.
What happened next, he remembers, "was a hesitancy among some of the buyers. They were nervous about parts and pieces and what if we had to shut down," and they backed out. He refers to it as the "covid hesitancy." Now, "that hesitancy appears to be going away in a big way, and some of the guys who backed off are back. We're back in the fishing business in a big way."
That explains signing contracts by the third week in September for three aluminum Bristol Bay gillnetters, as well as two — and maybe more — seine skiffs.
The 32' x 15' Bristol Bay gillnetters are an elevated pilothouse design with the house aft. That allows the gillnet reel to slide stern to bow beneath the pilothouse for setting off the stern and hauling back over the bow. Two of the reels are from Maritime Fabrications and one from Kinematics Marine Equipment.
The gillnetters will be powered with twin 600-hp Cummins 8.3 diesels matched up with UltraJet 340HTs. That power combination should get them into the "upper 30-knots," says Rozema, and allow them to carry 10,000 pounds on plane. Beneath the deck hatches, "there's easy storage for 20,000 pounds," to be kept chilled with a 10-ton RSW system.
Accommodations in the fo'c'sle include four berths, dinette table, galley, refrigerator, propane stove, sink and engine room access. One of the supporting pilothouse towers has a head and shower. The other is for storage and engine room access.
Rozema calls the skiffs "the Rozema classic 20-foot skiff. It's been well proven." Both 20' x 15' skiffs are powered with a single 330-hp John Deere 6068 with a steerable Kort nozzle and a 28-inch fixed propeller in a tunnel. One of the skiffs will be fishing Southeast Alaska and the other Prince William Sound.
Bristol Bay gillnetter gets first Hill waterjet
Aliotti Enterprises in Bellingham, Wash., is another builder of aluminum gillnetters with boats to build. Work has started on four Bristol Bay gillnetters that will be completed by the 2022 Bristol Bay season. As of the third week in September, three of the boats had been sold, and one was still available.
The 32' x 15' 6" house-forward design remains very much unchanged from the Aliotti Enterprises gillnetters built the past couple of years, with one major exception for two of the boats. These will be dual-purpose boats. When not gillnetting, they will be going crabbing, says Aliotti Enterprises' Tom Aliotti.
The changeover that's required consists of quickly installing hauling davits, removing the gillnet reel and plugging in the hydraulics for crabbing. Seattle Marine "is doing all our hydraulic packages to make it more multifunctional, so we can set it up easy for crabbing."
On the hull's starboard side is a shield to protect the hull when hauling pots. Aliotti doesn't know how many crab pots will go on the deck. "We haven't figured that out yet, but we'll know shortly." Hold space for crabs shouldn't be an issue as "we've got lots of hold space with PacWest RSW," says Aliotti.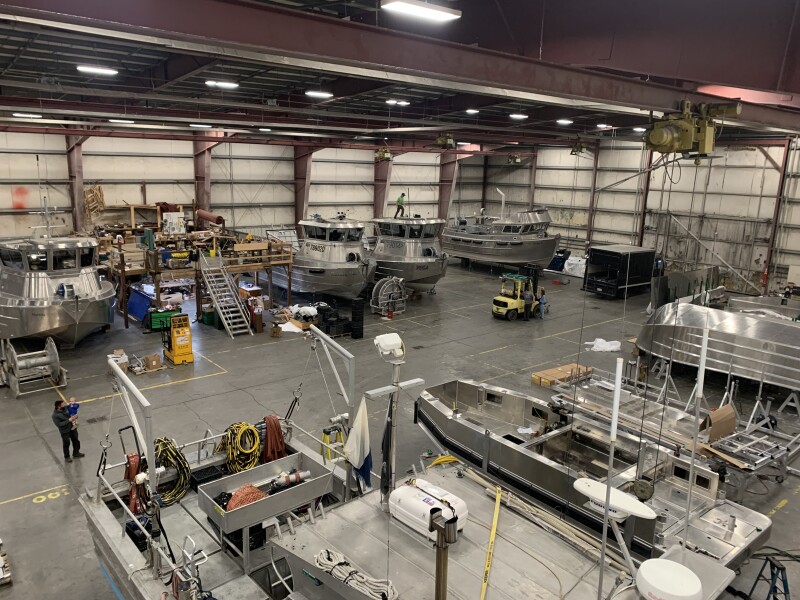 A pair of 530-hp FPT EVO diesels matched up with waterjets will provide the power for each of the four gillnetters. The waterjets on two gillnetters will be Ultrajet 340HTs; one gillnetter will carry Doen jets, and one gillnetter will be the first to pack a pair of the new Hi400 jets from Hill Innovations, which were designed by Leonard Hill.
The advantage of the Hi400 jet over a high-speed jet is increased thrust, says Hill Innovations' Jason Hill. The gillnetter powered with the Hi400 "is not going any faster than the boats with the high-speed jets, but between 15 and 20 knots there's 25 to 30 percent more thrust."
He estimates that the Hi400 jet on the Aliotti gillnetter "will increase the total weight on-step by 5,000 to 7,500" pounds more than what a gillnetter with high-speed jets can pack. "What we are doing with the Hi400 is giving more reliability and better weight carrying on plane with less power."
Fo'c'sle accommodation space includes room for four bunks, a full galley with refrigerator and freezer, a dinette table, along with a large TV in the galley.
Besides the current Bristol Bay building projects, Aliotti says he's trying to "get into other markets for other fisheries, but that's in the developmental stage."