The evolution of vessel design comes down to the survival of the fittest, and that's just the vibe Justin Roeser wants with his concept for the Battleship, the latest wrapped Bristol Bay boat built by Tom Aliotti.
Last year Roeser, territory manager for Motor Services Hugo Stamp – MSHS – unveiled the Killer, a gillnetter covered in a vinyl wrap made to look like a salmon. "During COVID there were no shows," says Roeser. "We had a promotion budget, but how do we sell FPT engines? Every boat is a canvas, right? So we decided to wrap a boat to draw attention to our engines."
This year Roeser unveiled the next level of the wrapped boat idea by parking the wrapped gillnetter, Battle$hip, at the entrance to the Pacific Marine Expo. The boat looks like it's been through hell and survived, and that's the idea.
"It's got a patina of rust, rivets, and what looks like a hole in the side where you can see the engines. It comes from films like Mad Max, Weird Science, and Terminator, where you're in this competitive wild environment where fishing has become apocalyptic and dangerous. I imagine this woman captain, really street smart, she knows how to protect herself and her crew and catch a lot of fish. The survivors are the ones who catch fish, and you need a battleship to do that."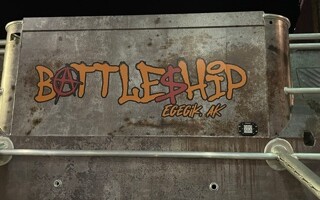 With the imagery and the story, Roeser intends to raise the profile of FPT engines. "The Battleship is getting a pair of 530-hp FPT N67 570 EVO engines," he says. "FPT went back to the factory and redesigned the engines with this configuration of power-to-weight ration and keel cooling, just for the Bristol Bay boats. This is the only company to retool just for this fishery."
The 15.5-foot wide Battleship arrived at PME in the early hours of Nov. 17, escorted down Seattle's cold, empty streets with a police escort. It all fits the image.
"I think this boat does the job of selling FPT better," says Roeser. "The FPT logo is bigger. It's got a lot of detail for people to engage with."
As Roeser says, every boat is a canvas, and the art form of the wrapped boat is evolving.