Measuring the extent of microscopic ocean plant life around Hawaii could reliably predict bigeye tuna catch rates four years out for Hawaii's deep-set longline fleet, according to a new study by researchers at the Pacific Islands Fisheries Science Center.
"Bigeye tuna are the primary target species of Hawaii's most valuable commercial fishery, a longline fishery with landings that are valued at over $100 million and that account for nearly half the United States tuna landings," NMFS scientists Phoebe A. Woodworth-Jefcoats and Johanna L. K. Wren wrote in their study, published July 22 in the journal Fisheries Oceanography.
"A reliable predictor of targeted species catch rates could help the fishery time fishing activity and plan capital improvements. It could also potentially inform adaptive management and facilitate ecosystem‐based fisheries management."
Using routine oceanographic measurements including satellite data for sea surface chlorophyll and temperature, the researchers calculated the median size of microscopic plants, called phytoplankton, over the calendar year and the extent of the fishery area around the Hawaiian Islands.
Phytoplankton are a building block of the ocean food web. They are grazed by zooplankton, tiny animals that drift on the ocean currents and are food for young bigeye tuna.
"When there is more large phytoplankton, there is likely more large zooplankton and more high-quality food for young bigeye tuna," according to a statement from NMFS describing the researchers' findings. "And when young bigeye tuna have better food, more of them survive to reach adulthood. These fish are then available for capture by the Hawaii fishery."
Hawaii longliners set hooks around 300 to 1,200 feet deep in daytime. In recent years the boats set an average of 2,700 hooks per set; total fleet effort increased steadily from 20 million hooks in 2000 to 58.5 million hooks in 2018, according to science center data.
Woodward-Jefcoats and Wren determined catch per unit of effort – the number of bigeye caught per 1,000 hooks – from vessel logbook records maintained at the science center along with data from dealers.
Another recent study by center scientists found that high catch rates of small bigeye two years old "precede peaks in overall catch rates by two years. This relationship is due to the age structure of the longline catch, which is dominated by 4‐ to 5‐year‐old fish," the researchers note.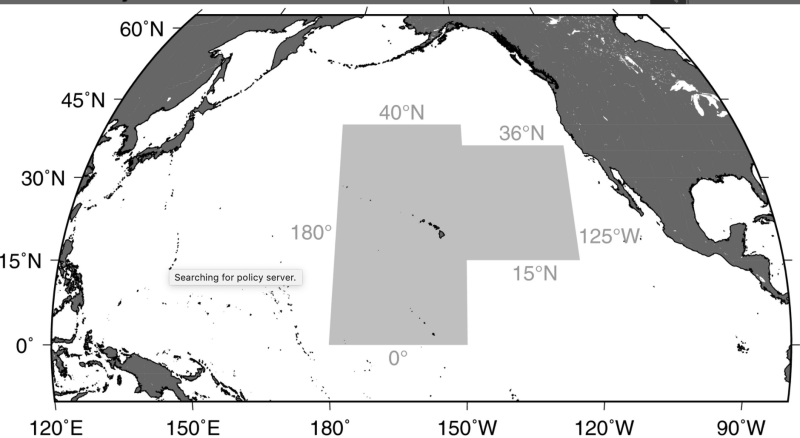 With that understanding of how recruitment works in the fishery, Woodward-Jefcoats and Wren tested their forecast method against catch and fish weights recorded from 2002 and 2018 and found close matches.
"The ability to forecast the weight of the catch is particularly encouraging because this fishery is managed on an annual tonnage quota," according to NMFS. "This information could help the Hawaii longline fishery plan for the future. Scientists may also use this information to improve stock assessments of bigeye tuna and other species caught by the fishery.
"Such improvements could be particularly useful for bigeye tuna because research has identified overfishing of some Pacific bigeye tuna stocks in recent years. Knowing in advance how fish populations may fluctuate could help managers and the fishing industry adjust quotas or catch to changing environmental conditions, potentially reducing the risk of overfishing."