The Alaska Symphony of Seafood held its first round of judging in Seattle this week and unveiled the results at Pacific Marine Expo on Friday, Nov. 19.
Julie Decker, executive director of the Alaska Fisheries Development Foundation, was on hand to announce all winners with a panel of seafood leaders on the Main Stage to encourage more product development in Alaska's seafood sector.
"I've seen very many smaller, independent companies enter, and they have some of the best, innovative ideas," said Lilani Dunn, a panelist and marketing director for the Bristol Bay Regional Seafood Development Association.
A partnership between the BBRSDA and AFDF led to a new category this year — Bristol Bay Choice — in addition to Retail, Foodservice, Beyond the Plate, Salmon and White Fish.
"Our fishermen know the product better than anyone," Dunn added. "The BBRSDA is there to help support. You can use our media library, digital or print."
Echo Falls Smoked Salmon by Ocean Beauty won first place in the Retail and Salmon categories.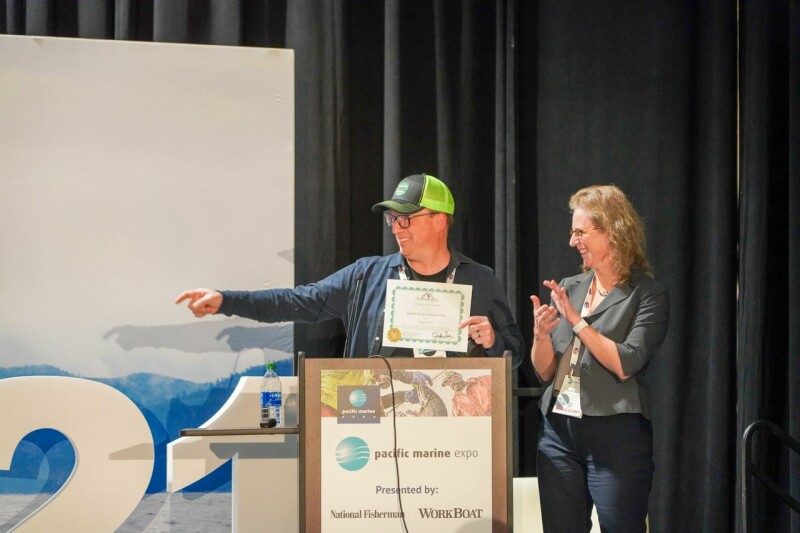 Alaska Grown Ribbon Kelp by Seagrove Kelp Co. took first place in the Foodservice category.
First Place in the Beyond the Plate category was Deep Blue Sea Bath Soak by Waterbody.
Wild Alaska Pollock Jerky by Neptune Snacks took the White Fish category.
"Driving innovation is a really important part of the seafood industry," said Jeremy Woodrow, executive director of the Alaska Seafood Marketing Institute. "The primary goal of ASMI is to make sure that the Alaska seafood resource continues to increase in value."
The inaugural winner of the Bristol Bay Choice category was Alaskan Leader Bristol Bay Sockeye Salmon.
"I used Trident Seafoods sockeye salmon," said Keith Singleton, who heads the Value-Added division for Alaskan Leader. "So obviously they did their part right. And the Bristol Bay fishermen did their part right. And we're standing on the stage getting a trophy."