Some fishermen are drawn to wooden boats, and some just can't escape them. When his old wood and ferro-cement boat started to fall apart, southern California fisherman Keith Andrews and his wife went looking for a steel boat.
"In 2018 we drove 70,000 miles looking at boats," he says. "From southern California to Oregon.
"I wanted a steel boat," says Andrews. "I've had a lot of wooden boats and I know what the maintenance is like."
But the wooden boat habit is hard to break, even when you want to. For Andrews, his connection to wooden boats started innocently enough.
"When I went to trade school my roommate used to get WoodenBoat magazine," he says. "While I was there, I built a dory to go on the lakes, then I came home and built a bigger one to go on the ocean."
After a while, he found he needed a bigger wooden boat. "Mick Kronman, who wrote for National Fisherman, gave me his old boat. A Monterey double ender."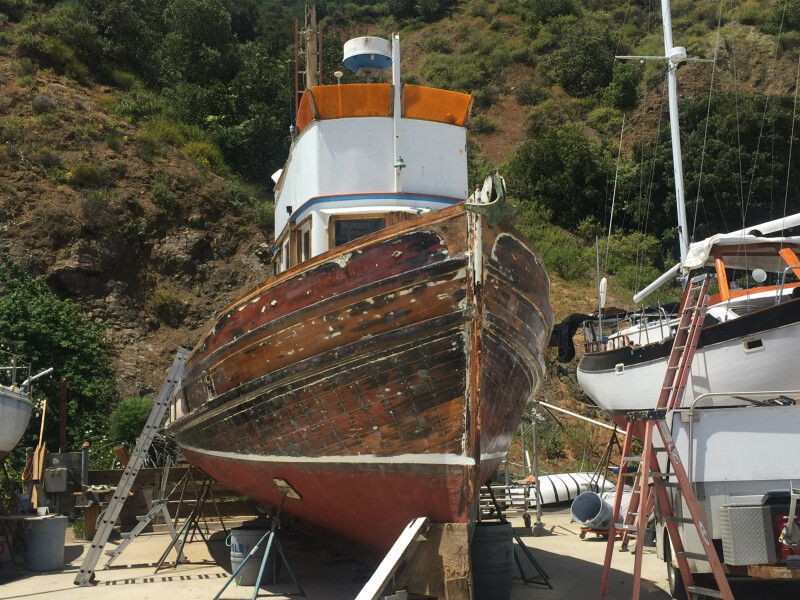 Andrews went through a few boats before he bought the Alamo, a 40-foot, 1947 Monterey trawler that had been coated with ferro-cement.
"There was an oil spill up north, and I was fishing close to it. I hauled out and the boat was covered with oil." In cleaning the oil off his boat, Andrews damaged the coating on the ferro-cement.
"Water got in there, and the cement started coming off in big chunks," he says. "I knew I had to get a new boat."
But the boat he got is far from new. Andrews ended up buying the Leonilda, a 42-foot wooden trawler built in 1929. Restoring the vessel turned into a 22-month project, as replacing the bulwarks expanded into sistering frames, refastening the entire hull, and adding support to the deck.
"About two months into it, I woke up asking myself, 'what the hell am I doing?'" says Andrews.
Boatyards all over the world are littered with wooden boats that people intended to fix up. The demands in time and money often overwhelm the faint of heart, but not Andrews.
"At first I was looking at a steel boat, which was like my dream boat," he says. But he found so many problems that his wife finally told him, no way, they weren't buying that boat. "It was more of a recycling project than a boat," he says.
"Finally, we went up to San Francisco and found the Leonilda at Fisherman's Wharf. To be honest, it was the first boat we looked at that the engine started, it shifted, and steered. It's the only one that could leave the dock under her own power. And in theory, I could transfer my halibut permit to the Leonilda.
"But I told the owner, I'm not buying until I look at the bottom. We took her across to Richmond – there was a yard there where they'd hauled her before – he said no problem if you don't mind waiting a couple of days. So, we just stayed there on the boat. When we finally hauled her, everything looked good."
The Leonilda is a 42-foot by 14-foot fantail hull, built nearby at San Francisco Boatworks in 1929.
"They said she drew four feet, but with all the wood and gear we put on her, it's more like six now," says Andrews.
Late in 2018, Andrews paid $12,000 for the nearly century-old boat – which he believes is built of cedar planking on oak ribs – and took her south under her own power.
"We stopped in Santa Cruz for fuel and it was a little rough and she banged against the dock and tore off all the bulwarks on the port side. They just laid right down. And I thought, oh my God."
With the venerable craft hauled out at Port San Luis Boatyard, Andrews started thinking about how to turn her into the halibut trawler he wanted.
"I took a Sawzall and cut off all the rotten bulwarks flush with the deck, and stacked 4 by 8 pine, to make new bulwarks 20 inches high. A cabinet maker friend said we could probably do it in two or three long weekends, but in the end, it was five or six months," he says.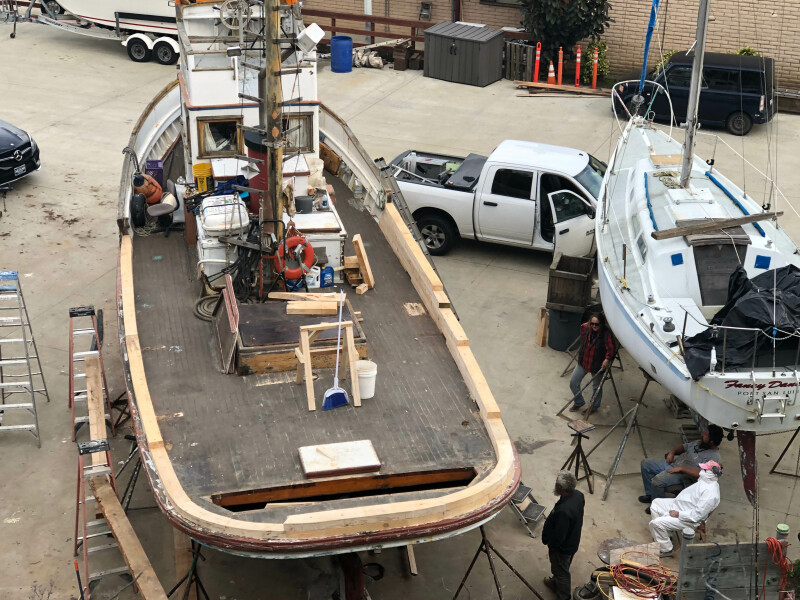 Andrews priced construction-grade lumber for the job and found it would cost more than he'd paid the boat. "A friend of mine knew a guy who milled fallen pine from Yosemite. I called him up and he said the wood was a little soft, but if I was going to coat it in epoxy it should be fine – and it was $10,000 less."
Andrews doused the salvaged pine with 5:1 fiberglass resin.
"I bet we used 40 gallons of resin just on the bulwarks," he says. "I could have ordered good boat wood from back east, but it would have cost me $60,000," he says.
Using the same recipe of epoxy-impregnated lumber, Andrews turned the Leonilda into something akin to a West System cold molded boat. "I bought the West System book on restoring wooden boats," he says, but he used it more as a rough guide than strict formula to follow.
"We just used what wood we could get. I bought the resin from Fiberglass Hawaii down in Ventura. Their 5:1 marine epoxy is the same as West System, but cheaper."
According to Andrews, once he got the bulwarks finished, he realized he needed to sister the ribs on the starboard side of the fish hold.
"Usually, the easiest way to put sisters in is from up top," he says. "But I had just epoxied all that, so I put all the sisters in from the bottom," Andrews notes that the bilge is filled with concrete, so he cut slats 3 inches wide and a ¼-inch thick and, working from the concrete up, laminated them in next to the existing ribs – ten layers each.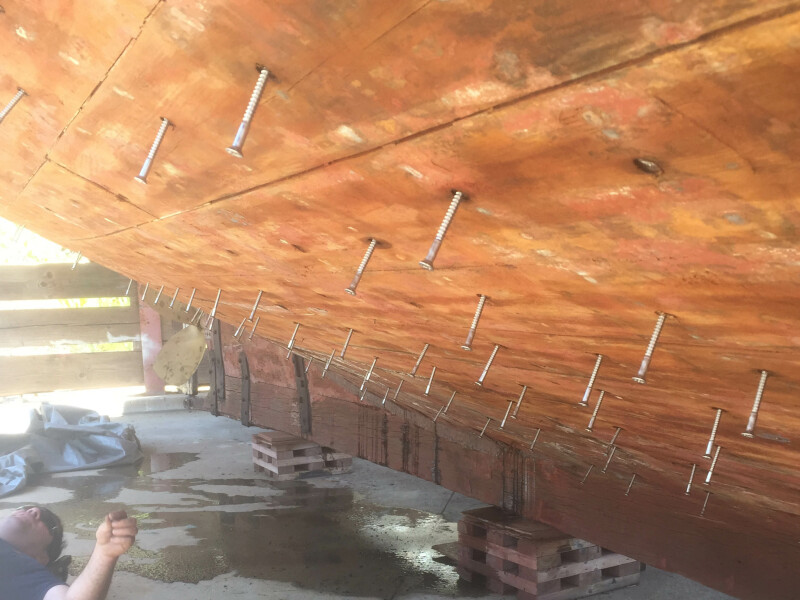 "I ordered 3/16 stainless steel screws to put it all together, and after we got that done, my friend who was helping me said, we really ought to refasten this, so I ordered another 8,000 screws. The boat had already been refastened once, so we just put on of those big ones between the screw holes on each plank."
But the learning experience wasn't over for Andrews: "We were finishing up putting those stainless screws in when one of the marine surveyors came by and asked about it. He said we should have used galvy [galvanized]. He said stainless is not good below the waterline and we better cover them up well. So, I went through, and rather than put wooden plugs in, I filled them with epoxy and Cabosil."
According to the West System book he'd bought, Andrews should have used a circular saw to clean out all the seams. "But I didn't do that because most of the seams were good and a lot of them were wood on wood. We just sanded it down and I filled the seams where I could with the epoxy and Cabosil."
With the hull sound, Andrews turned his attention to the deck, which would have to handle trawl winches, a gantry, and a net reel. "I fortified the deck, it was in good shape, it was replaced twenty years ago. I talked to an old guy who worked at San Francisco Boat Works and he said that when they replaced that deck, all the wood was one size up from the original, so instead of two inches thick, the deck is two and a half inches thick."
Andrews notes he did the same with the deck beams, going from the existing 3x6 beams to 4x8.
"It's all fir, the decking, and the deck beams," he says. "But I didn't want to crush anything down, so I put 4x8s upright from the engine bed to the bottom of the deck beam, and around the fish hold and winches."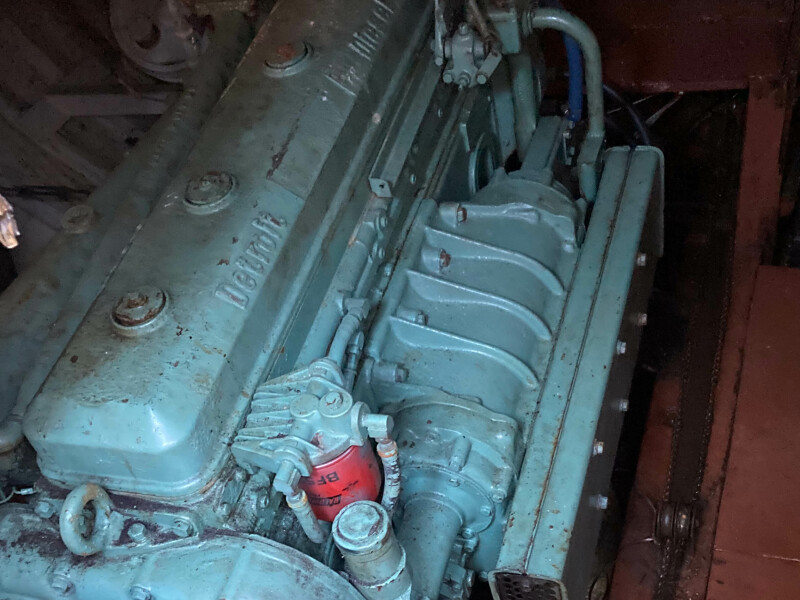 The Leonilda's powerhouse is a roughly 200-hp GM high-block 671. "That was one of the selling points," says Andrews. "The engine was rebuilt at Shoreline Diesel in San Francisco and only had three crab seasons on it. It has the old Twin Disc 3:1 crash box gear."
The engine turns a 2.5-inch stainless shaft. "It's stainless where it goes through the horn timber," says Andrews. "The intermediate shaft is wrapped in some kind of tape and I'm guessing it's just regular steel. It's got a four-blade Navy surplus propeller," which are around 33 inches in diameter.
Andrews bought the boat thinking it had a 30-gallon hydraulic pump, but upon closer inspection found that it was only eight gallons. "So, I put a 30-gallon pump on the back of the engine, and built out from there," he says. "Thank God for trade school."
The Leonida will tow a 50-foot net with 3- by 6-foot homebuilt V-doors, and the hydraulic system will power the net reel and winches salvaged from Andrews' previous vessel, the Alamo. "The labels are all worn off. I think the winches are Colstrand, and the net reel is from Canada."
For electronics, Andrews went with all Garmin. "I got the 36-mile radar, fathometer, 7000 series plotter, auto-pilot – it's all Garmin, stem to stern. It's all wired together and displays on the big plotter screen. I took out the old transducer and put in a new one. They were pretty much the same size, but I took off the fairing block and re-bedded it."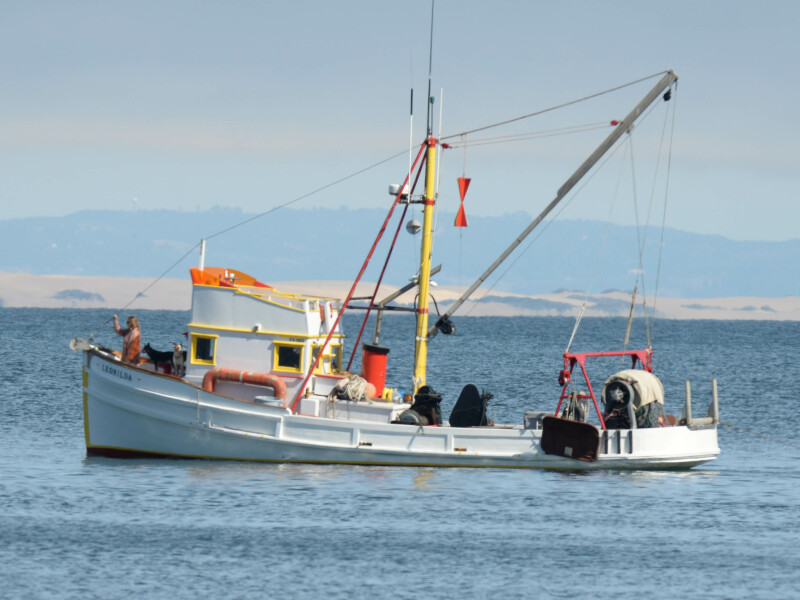 The Leonilda will be day fishing, and crew accommodations are minimal. "The cabin is pretty small," says Andrews. "There's a little stove and sink, and a fold-down table. Four bunks down in the bow."
Andrews points out that he earns just enough to keep fishing. He likes it more than a 9-5 job. "You got to be a little bit gnarly to fish a wooden boat," he says.