As climate changes create numerous threats for fishermen, aquaculture offers a viable solution to keep working in the industry. In Maine, an idea imported from Japan is helping to diversify the seafood harvesting business.
Although the data available indicates that the scallop population in the Atlantic Ocean is healthy, the mass of scallops has declined from record high levels of several years ago, so Atlantic scallop 2023 landings will continue to decline. The East Coast scallop fleet is expected to land around 25 million pounds in the 2023 fishing year – about half of the landings from 2018 through 2020 that exceeded 50 million pounds, according to the New England Fishery Management Council.
As National Fisherman noted last December, "those boom times were driven by exceptionally big 2012-2013 year classes of scallops. Now the 2022 survey results show biomass is at its lowest since 1999. Yet scallops are not overfished and the stock is healthy, although the biomass has been coasting down with lower recruitment since 2013, according to a summary of the council's Dec. 5-9 meeting at Newport, R.I."
Faced with climate changes that contribute, among other things, to keep lobsters at bay, Maine's wild fisheries, that have become very focused on the lobster industry, have had to look elsewhere and aquaculture appears to offer a solution. Farming sea scallops in Maine offers, according to NOAA Fisheries, "an opportunity to diversify the seafood harvesting business and increase resiliency for coastal communities built around seafood production."
On a recent visit back to Maine, Sen. Angus King expressed his support for aquaculture as a way of diversifying our seafood industries. "This is really a part of the future of Maine," he said.
The farming of sea scallops in Maine is not new, in fact it has been developing for about 20 years. More recently, though it has become more popular, as the industry, pressed to find alternatives, has come to the conclusion that aquaculture offers new opportunities for former and existing commercial fishermen.
With support from Coastal Enterprises, Inc., a community development financial institution in Maine that has a long history of supporting fishing and aquaculture, new projects are thriving in Maine.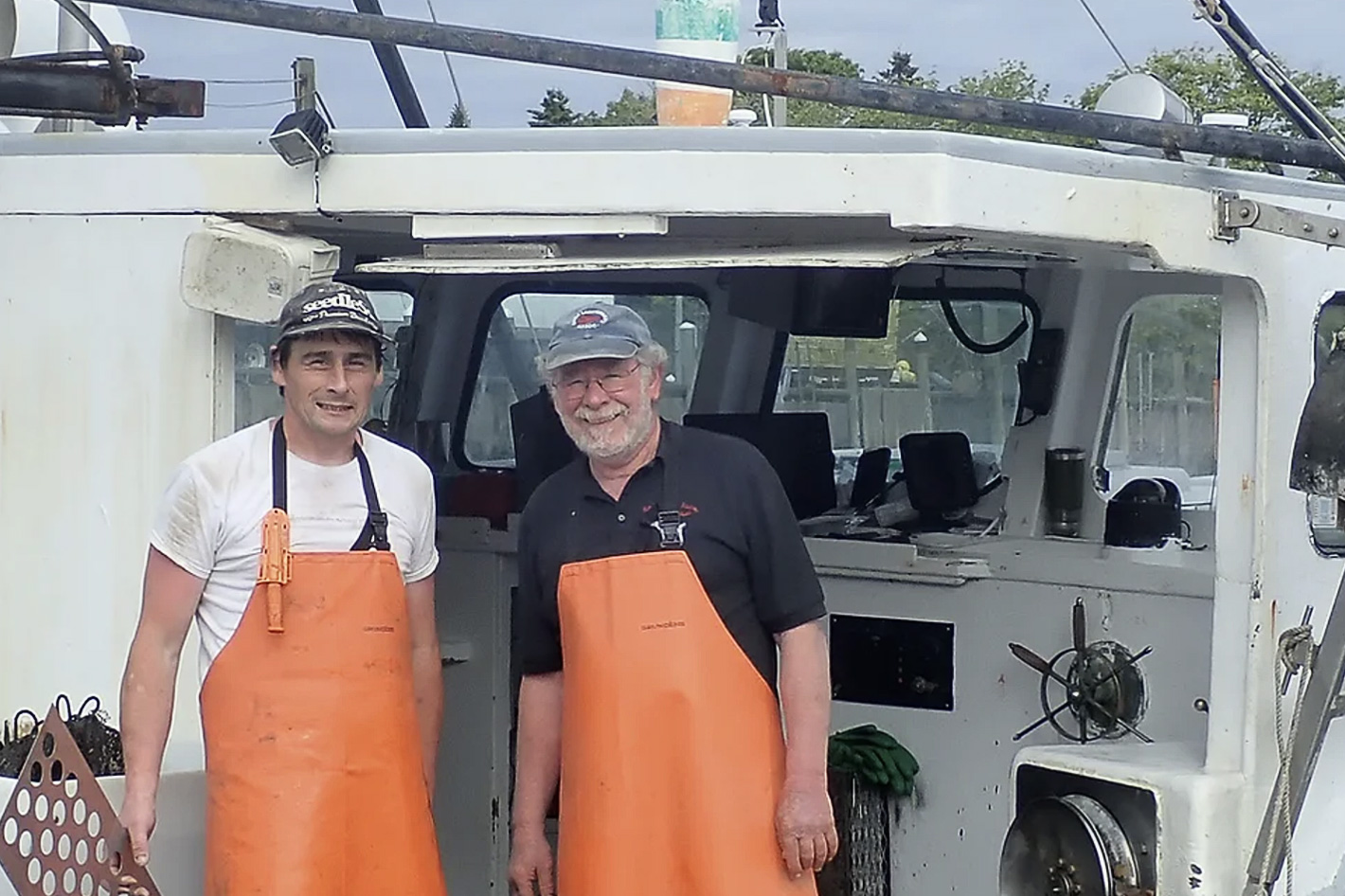 True pioneers for farmed scallops
Fisherman in Maine have, for the past three decades, raised mussels, oysters, clams, kelp and more recently scallops. After years of regulations limiting scallop harvest to wild-caught adductor meats only, farmed young whole scallops are once again available and Maine is at the forefront in the area.
The history of aquaculture in Maine is tied to a company, PenBay Farmed Scallops, and a local family who is leading when it comes to sustainable scallop aquaculture. It all started when fishermen Marsden Brewer and son Bob traveled to Mutsu Bay to check out the scallop farming industry in Aomori, Japan.
Marsden Brewer is a fourth-generation fisherman who still fishes for lobster. However, reduced fish stocks and an increase in commercial fishing regulations have led to a decrease in fishing opportunities. As Marsden's son, Bob, wanted a career working on the ocean, Marsden looked for other opportunities and saw the potential in sea scallop farming. Japan, which is a reference in the area, was the next stop.
"Having my son working with me, in my life daily, that is a special gift," says Marsden. "Watching Bobby grow up here has moved me to work for a future for the fishing community."
Fish, shellfish, sea plants - aquaculture has been practiced in Asia for millennia. Since the wreck of the Bath-built Chesborough off the coast of Shariki in 1889 there has been a Maine-Aomori sister-state relationship, so it made sense to start there.
The Brewers and the Maine delegation of fishermen and aquaculturists learned about the latest techniques, machinery, environmental factors, scientific and management support and everything else that has made Japan's scallop aquaculture industry world leaders. Father and son have collaborated with scientists and worked on scallop spat collection and stock enhancement for over 15 years together.
Hugh Cowperthwaite, CEI Senior Program Director for Fisheries and Aquaculture, said about the visit: "Marsden and Bob Brewer are true pioneers for farmed scallops. When we visited Japan in 2016 I knew the wheels were turning in their heads and to see their progress today is truly inspiring! It's not easy to implement new farming techniques from the other side of the globe but the Brewers' work is so important for the future of Maine's fishing and aquaculture industry."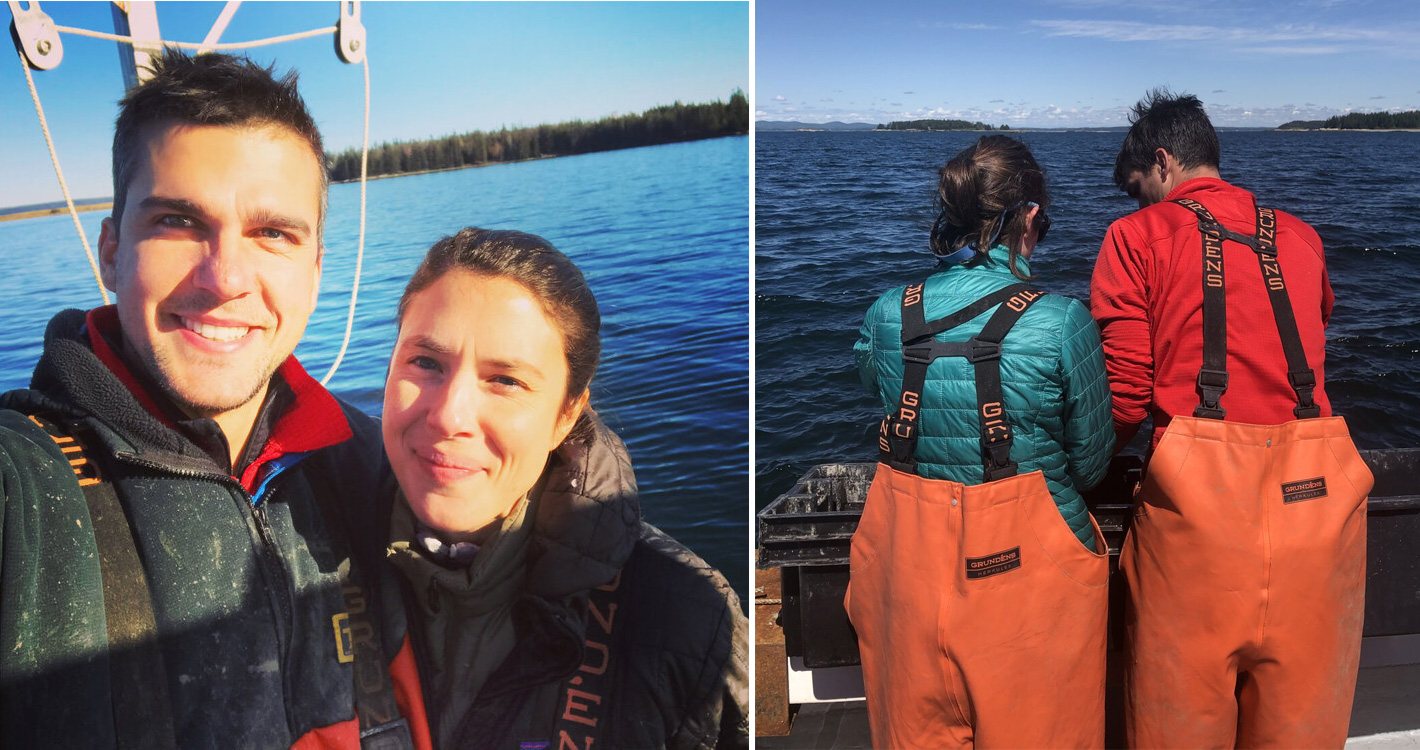 Small family operations
One thing they learned in Japan is that of approximately 2,000 individuals employed on the water there, many are family operations. Commonly the boat crew consists of husband, wife, and one or more of their children. A coincidence, or maybe not, Vertical Bay, another aquaculture project, is owned by a husband and wife team, Andrew and Samantha Peters, who live in Belfast, Maine.
Andrew has experience in a variety of industries focused on production, sales, and being on the water. After several years as a sternman on lobster boats and working at Patagonia, Andrew co-founded Vertical Bay in 2017 to continue his pursuit of making of living from the ocean. He has a degree in Geology from Middlebury College and when not on the water, he works as a plumber. Samantha leads scallop handling operations with the company's team of volunteers when out at the farm. She holds a BA in Dance from Mount Holyoke College and a Masters in Nursing from Columbia University and works as a nurse practitioner for a local community health center.
Vertical Bay Scallops are grown deep below the surface of the ocean, in the cold, clean waters of Penobscot Bay. The husband and wife team say that "our scallops are guaranteed to be as fresh as they come - we harvest each individual scallop to order. This means we only take from the farm the scallops that will be sold on any given day, guaranteeing superior quality and flavor. No need to use any moisture retaining preservatives that can negatively affect taste and mouthfeel."
A book with Recipes Ideas for Farmed Sea Scallops
The small family company is committed to developing a fishery that supports the marine ecosystem and economy of its coastal Maine communities, saying that "Vertical Bay exists to foster healthy sea-life in Penobscot Bay and to provide ocean-positive seafood to those in Maine and beyond." In fact, aquaculture is not just about the business: as filter feeders, scallops continually clean the waters of the bay, collecting the nutrients they need to grow from the ingoing and outgoing tides. Feasting on phytoplankton, algae, and organic matter in the water, they work to create a healthier and cleaner habitat for their sea dwelling neighbors.
The passion for scallops has led to the creation of one book with recipes. With a foreword by Master Chef Barton Seaver, the "Recipes Ideas for Farmed Sea Scallops", book, written by Marsden Brewer and Marnie Reed Crowell, explains what to do with your whole farmed scallops, with international recipes for readers to try.
One final note about farmed scallops. According to Hugh Cowperthwaite of CEI, "sea scallop farming in Maine will not compete with wild scallop harvesting volumes in New England. It will also not impact the trends for demand and prices of wild harvested sea scallops due to the differences in harvest and distribution scales, market demands, and production costs.
"A farmed scallop is not meant to compete or displace wild fishery scallops. It's simply a different product offering."