A boat that has been working the fishing grounds off the U.S. East Coast for 42 years has earned the name F/V Relentless. Originally built in Panama City, Fla., in 1978 at what is now Eastern Shipbuilding Group, the Relentless started as a dragger.
"When I bought her in 2002, she had these big winches and a net reel," says owner and captain Owen Smith of Barnegat Light, N.J. "I bought her from Walter Allen. I think they were fishing the deep water looking for orange roughy. But they never found any."
In February of 2020, Smith had the Relentless hauled out at Garpo Marine Services, on New York's Staten Island.
"We've been coming here a long time," says Smith. "They treat us really well." Over the years that Smith has been bringing Relentless to Garpo, he has done everything from repowering with an 850-hp Mitsubishi S12A2 in 2006 to rebuilding much of the boat over the years.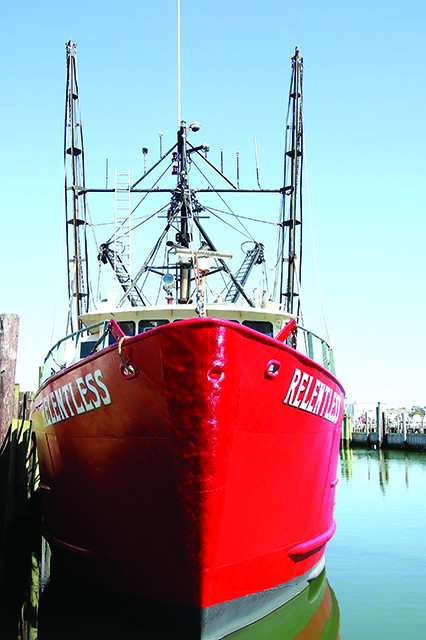 "She's a well-built boat. She's all half-inch plate on the work deck, sides, and bottom," says Smith. Nonetheless, four decades and more of service take a toll on a hard-working boat. "I wouldn't say we've replaced 50 percent of the steel," says Smith. "But I'm sure we've done 40. Last year we put in a new shaft log, a new bearing and redid the doublers." Smith considered building a new boat when he saw how much steel he was putting into the Relentless, but decided to keep going with the boat he knows. "She's a good sea boat," he says. "I was very happy to get an Eastern Marine boat."
The major focus of this year's work is installation of a new auxiliary engine to run the hydraulics, primarily two Pullmaster H30 main winches for hauling the dredges, and two Pullmaster H12s for dumping the dredges.
"We used to run 15s," says Smith, referring to the width of the dredges. "Now we use 14-foot turtle drags. They're configured differently. There's no bars in the triangle, and there's like a mat in front that's supposed to keep the turtles out. They pull harder, we use 10 to 20 percent more fuel with the 14s. If we stayed with 15s (with mats), we'd be swilling fuel."
Workers at Garpo started by cutting a sizable hole in the bow of the steel hull. They took out Smith's old Detroit 8V71, and slid in a new 6-cylinder John Deere 6090, 9-liter engine rated at 325 hp. "John Deere's been good to us," says Smith. "We got one genset, a John Deere 4039 with over 75,000 hours on it. If this one can treat us that well, we'll be doing alright."
A 325-hp auxiliary may seem like a lot to run a hydraulic system, but Smith has an excuse. "I'm power mad," he says. "But really, you need power and speed. We wanted a system for high flow, high volume." He's got that in the two Pullmaster H30s. Each one has a maximum operating pressure of 2,500 psi and a maximum oil flow of 115 gpm. The 14-foot dredges can weigh 5 tons when full of scallops and rocks, and Smith notes that he has had loads in the dredges that have nearly stopped the H12 winches, which are rated at 12 tons.
"We have two inline 50-gpm commercial shearing pumps," Smith says. "The limiting factor is the control valves. Ours are 41 gpm. That's where the pinch is."