Even with the weekend's past snowstorm blowing through Rockport, Maine, New England's fishing community came together to discuss policy, new regulations, and their fishing heritage. When the hotel rooms were open for reservations, the forum sold out in about a week and a half. People of the local fishing communities were just itching to get back to the annual festivities of the Maine Fishermen's Forum (MFF).
We were able to celebrate Chilloa Young's 25 years of hard work organizing the MFF. Young served on the board for years before taking on the role as coordinator. Though this was her last year before retirement, all guests were able to give Young well wishes and welcome the new executive director, Kathleen Gilbert.
This weekend was full steam ahead for some arriving Wednesday evening to attend the early Thursday morning seminars. This included an all-day seminar focused on fisheries engagement in offshore wind development. (MFF will post all seminars after the weekend.) I arrived Thursday evening just in time for the seafood reception. All food served at dinner was donated by local farms, fishermen, aquaculturists, and other businesses that buy directly from the boat. MFF board president Steve Train facilitated the silent auction that was open throughout the buffet-style dinner. The money raised during the auction was donated to this year's eight scholarship winners.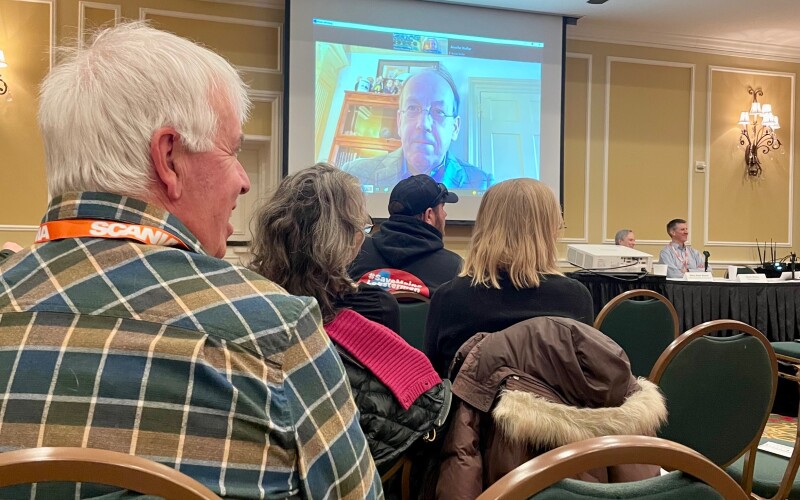 Adding to the toolbox
Friday morning consisted of more seminars, including the Maine Lobstermen's Association 69th annual meeting. People from the MLA board, lobster dealers, fishing families, and scientists all congregated to hear this past year's updates. These updates were on offshore wind development concerns and on the legal process of regulations that Maine lobstermen must follow regarding North Atlantic right whales.
Executive director Patrice McCaron said that the MLA will be working on innovative gear solutions, saying, "we must add something to the toolbox that we don't already have now." The MLA has raised $2.5 million towards their $10 million goal and will continue to keep fighting. MLA president Kristan Porter introduced the new COO, Amber Jean-Nickel, who is eager to stand with the MLA and save Maine lobstermen.
Graying of the Fleet
The graying of the fleet is quite literally the number of gray hairs we have out on the water now. The average age of New England groundfish and lobster captains is over 55 years old. Passing on the traditions in fishing families has dramatically decreased due to the number of changes in the fishing industries. Though there is an opportunity for the older generation to show people the ropes, the number of student licenses has declined.
During this seminar, Training the Next Generation of Fishermen, many local New England organizations such as, New England Young Fishermen's Alliance, NOAA and Maine Sea Grant, Eastern Maine Skippers, and Marine Resource Education Program (MREP) spoke on how they are trying to integrate the younger generation into the fishing industry.
The reality of getting youngsters involved is complicated. It is much more extensive than just jumping on a skiff and fishing. The future for some fisheries is unknown and access to permits and licenses is expensive. The Young Fishermen's Development Act of 2020 was put in place to address the Graying of the Fleet and provide training, education, outreach, and technical assistance. This act provides a federal grant to winning applicants to put towards all fishing and boat needs, excluding harvesting rights, quota, and licenses.
The past few years have shown how tough it can be to sell your own catch directly off the boat. It is crucial to be able to market your own product and make the connections to help you sell. The New England Young Fishermen's Alliance will take you step by step to form a business plan from deckhand to captain of your own boat.
MREP will help connect you with scientists and fishery managers to engage in the policies for different fisheries. Their program extends up and down the East Coast to the Caribbean and the Pacific Coast. MREP is a great resource to get fishermen more involved with policies they face in their fishery. President of the Maine Lobstermen's Association, Kristan Porter, spoke on behalf of MREP and how it got him more involved with the boards, he's on now.
Training the next generation has proven to be a complicated matter, but with programs such as those above, it is easier to find the resources needed to get involved in the fishing community.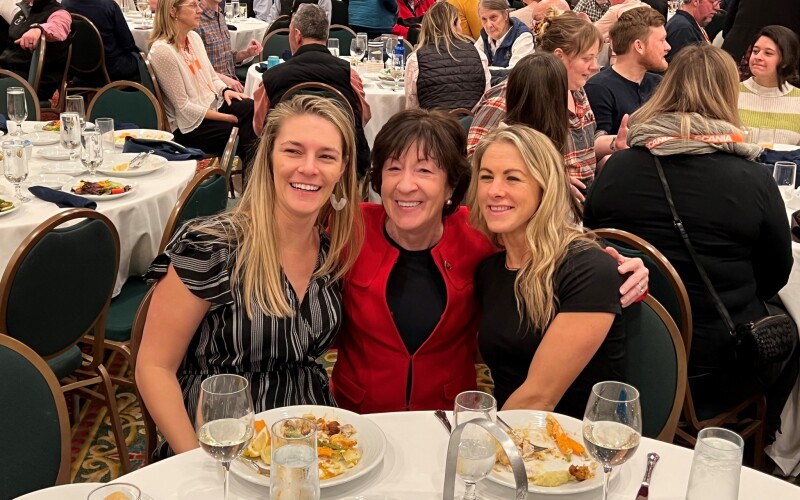 Connecting with familiar faces
Like I stated earlier on, people were itching to get back to the tradition of the MFF- even if it meant being snowed into the Samoset Resort with those from all walks of the fishing community. I was able to connect with Caitlin Townsend of Net Your Problem, who is not only an amazing advocate for sustainability among fisheries but taking care of our oceans as well. Net Your Problem's mission is to connect with partners to recycle end-of-life fishing gear and use it to make recycled plastic products. Another crowd favorite is Rugged Seas. Not only do they recycle old fishing bibs to bags, but they donate a portion of all proceeds back to Maine Coast Fishermen and the Maine Lobstermen's Community Alliance.
I was able to connect with numerous fishermen up and down the coast of New England, and they all had concerns for the future of their fisheries. Concerns ranging from offshore wind to whales, to closures, to just the pure concern of being able to see their offspring fish. Growing up in the fishing community didn't only point me in the direction of what I wanted to advocate for, but it showed me the true meaning of hard work. The Maine Fishermen's Forum has always just been a small part of our country's fishing heritage; however, the passion that these fishers, scientists, and legislatures have for this community will always be inspiring.
Senator Collins not only poked fun at a fisherman she's known for at least a decade but talked about the many sleepless nights it took to pass regulations to protect Maine lobstermen. Nonetheless, this is only a piece in protecting the state of Maine's lobster heritage, and it shows our state's commitment to these industries. "The Maine Congressional Delegation joined with the Governor was an all-hands-on-deck effort to prevent this catastrophe," Collins stated at the Friday night live auction and fish dinner.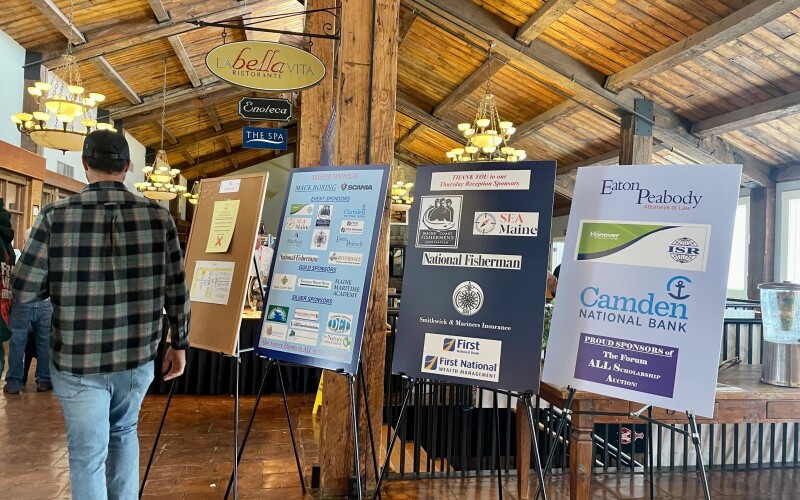 The Maine Fishermen's Forum not only brings our state together but provides an opportunity for those from surrounding states to bring their prospects and concerns. The Massachusetts Lobstermen's Association and the Cape Cod Commercial Fishermen's Alliance were just another two organizations I was able to connect with. There is much on the horizon for all New England coastal communities, but this weekend was a comfort to know that we have the in-person MFF to connect those near and far.