The Winter Harbor and Merritt Brackett (Pemaquid) lobster boat races on Aug. 12 and Aug. 13 marked the next to last weekend of Maine's lobster boat racing season. Ninety boats showed up at Winter Harbor.
The races started at 10 a.m., which gave racing crews plenty of time to digest the blueberry pancake breakfast served at the local Masonic Temple. The races and the breakfast were part of the Winter Harbor Lobster Festival, which included a craft fair, art displays and and plenty of food, including, of course, cooked lobster. Of course, most of those that came to race were probably also thinking about winning a winter cruise to the Caribbean.
Making his first appearance this year was Alfred Osgood with Starlight Express III (Willis Beal 36, 1400-hp MAN). Racing in Diesel Class L (901 hp and over, 36 feet and over), Starlight Express gave Marie's Nightmare II (Wayne Beal 32, 1,000-hp Isotta) its only loss of the season at 46.1 mph. (The GPS reading on Starlight Express pegged its speed at 54 mph, says Jon Johansen, president of Maine Lobster Boat Racing, which he feels is probably more accurate.)
Class N (40 feet and over, 750 hp and over) had to be split into two heats after 15 boats signed up to race. In Class N's first heat, Todd Pinkham's Terrie J. (South Shore 42, 1,000-hp FPT) and Ryan Lemieux's Obsession (Young Brothers 40, 1,000-hp Caterpillar) lead five other boats down the course, with the Terrie J. taking first at 38.1 mph and Obsession second. In the second heat Dana Beal's Natalie E. (Libby 41, 1,000-hp FPT) beat 7 other boats, crossing the line 35.8 mph.
In the Class N finals, which was made up of six boats — three fastest from each race — the Terrie J. was first at 40.1 mph with Obsession second and Natalie E. in third place. The three boats have been racing each other throughout the racing season, with Natalie E. the dominant boat until beaten by Obsession at the Jonesport races by half-a-boat length, says Johansen. "This time Terry J. beat Obsession by about the same and Natalie E. was right on the transom of Obsession."
Some race venues have an event that's a one of its kind. For Winter Harbor it was Race 26 — Lady Skippers.
That was also the center of a "big argument", says Johansen that resulted in one racer being disqualified because she "was an apprentice and did not have a lobster license," which is what the rules required, even though she made her living lobstering. Next year, he says, the rule "will say that you have to make your living in that boat," not that you need a license. Michaela Byers Navigator (Duffy 31, 315-hp Isuzu) won the race at 28.1 mph.
Osgood and Starlight Express did not stick around after proving it was faster than Marie's Nightmare II, enabling Marie's Nightmare II to win both the Diesel Free-for-All at 49.1 mph and the Fastest Lobster Boat race at 46.8 mph. In both races Jeff Eaton's La Bella Vita (Northern Bay 38, 815 FPT) and Nick Wiberg's Witching Hour (Northern Bay 36, 815 hp) finished second and third.
Mark Freeman's Foolish Pleasure (Custom Riley Beal 30, 650-hp Stroker) won the Gasoline Free-for-All at 38 mph.
After the last race it was time for the "drawing." Anyone who raced that day had the opportunity to have his name dropped into a hat. Then 10 names were drawn, each one winning a winter cruise to the Caribbean.
The next day at Pemaquid's Merritt Brackett races (named after a local mechanic who repaired lobster boats) 56 boats signed up to race. Andrew Taylor's Blue Eyed Girl (Morgan Bay 38, 900-hp Scania), which previously had only competed at the Boothbay races where it hit 49 mph, made an appearance and immediately became the dominant boat of the day.
Blue Eyed Girl won all three of its races: Diesel 801-hp and over, 28 feet and over; Diesel Free-for-All, 24 feet and over, and the Fastest Lobster Boat Afloat. Blue Eyed Girl hit 45 mph in the last two races. Blue Eyed Girl's closes competitor was La Bella Vita, "but La Bella Vita just can't get by him," says Johansen.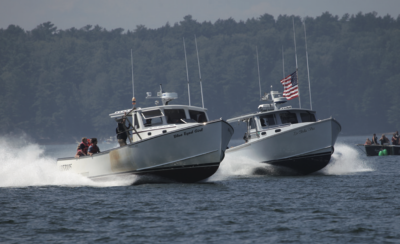 One lobsterman who was undoubtedly quite happy with his results would have been Jake Dugas with Guilty Pleasure (Mitchell Cove 32, 380 Cummins), which was entered in Race 11 Diesel 351 to 450-hp, 28 to 39 feet 11 inches and under. Competing against three other boats, "he won his race," says Johansen. "He had never won before." Guilt Pleasure crossed the line at 28 mph.
The day's first three races were for Clamdiggers and Lobster Pickers in skiffs and mostly outboard powered. The first race was restricted to those age 18 and under. 25 skiffs were signed up for the three races. The fastest skiff was Mason Vintinner's Screen Time, a Cordon 16 with a 90-hp Mercury that hit 42 mph in the third race.
Next up is Aug. 19 and Aug. 20, the last two races of the season, first at Long Island and then Portland's MS Harborfest.