Sunday, July 9, at Stonington, was the scene of race Number 4 on Maine's lobster boat racing circuit. It should have been race Number 5, but the previous race at Jonesport was postponed until Aug. 5. "A lot of people love going to Stonington," says Jon Johansen, Maine Lobster Boat Association president. "It's one of the biggest races on the coast."
That's because Stonington can put on a good show, with dances the night before in downtown Stonington and food trucks and vendors at the docks on race day with a multitude of offerings.
It doesn't hurt that Stonington has cash prizes for winning a race and "lots of prizes on the docks," says Johansen.
Despite early morning fog that cleared off around 10 a.m., 73 boats showed up to race, with one lobster boat coming up from Cutler, which, Johansen says, is about a five-hour steam. That's the homeport of Ryan Lemieux's Obsession, a Young Brothers 40 with a 1,000-hp Caterpillar that would be racing in Class N (40 feet and over, 750 hp and over).
The Gasoline Class races, of which there are five, continue to have the fewest participants. Only three boats signed up for the five Gas Powered Work Boats 24 Feet and Up races. Still, two of those boats, Mike Dassett's Saving Grace and Lindsay Durkee's Black Diamond, put on a good show. They were in two different classes but raced together.
"They were real close, within a boat length of each other at the finish line," says Johansen. Saving Grace took the first race at 33 mph. They met again at the end of the day for the Gasoline Free For All and Saving Grace won that one as well. However, that win came at a cost: "He was smoking pretty bad," says Johansen, because Saving Grace blew a head gasket trying to stay ahead of Black Diamond. He hoped to have the damage repaired the next day because like all the other lobster boats in the races, Dassett has traps to haul.
In Race 27, Diesel Class N, Lemieux's Obsession was up against five other boats and took second to Dana Beal's Natalie E. (Libby 41, 1,000-hp FPT), which crossed the line at 40.1 mph.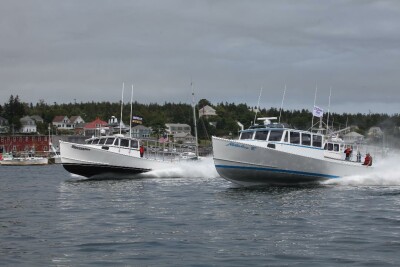 A race that garnered a lot of attention was the Andrew Gove Memorial Cup — Fastest Working Lobster Boat, with six boats entered. The two fastest were Nick Wiberg's Witching Hour (Northern Bay 36 with 900-hp Mack) and Jeff Eaton's La Belle Vita (Northern Bay 38, 815-hp FPT). "It was very close," says Johansen, but then La Bella Vita's engine shut down, giving the race to Witching Hour.
La Belle Vita came back for the last race of the day, Race 32, the Fastest Boat Afloat, completing the run down the course and hitting 45 mph. But it wasn't fast enough to beat Maria's Nightmare II (Wayne Beal 32, 1,000-hp Isotta) that crossed the line at 54.3 mph. Witching Hour took third.
The next race is at Friendship on Sunday, July 23. After that, there are six more races.
Check out the full race schedule here