New York Gov. Kathy Hochul and Interior Secretary Deb Haaland marked the start of shoreside construction for the South Fork Wind project Friday in East Hampton, N.Y., future site of the junction for the export cable landfall for energy from 12 planned offshore wind turbines.
"The harsh impacts and costly realities of climate change are all too familiar on Long Island, but today as we break ground on New York's first offshore wind project we are delivering on the promise of a cleaner, greener path forward that will benefit generations to come," Hochul said of the $2 billion project.
Being built by partners Ørsted and Eversource 35 miles east of Montauk, the array of Siemens-Gamesa 11-megawatt turbines will have peak capacity around 130 MW feeding into the Long Island Power Authority grid. It's the opening gambit in what New York energy planners hope will grow to 9,000 MW of offshore wind by 2035, about one-third of the state's energy needs.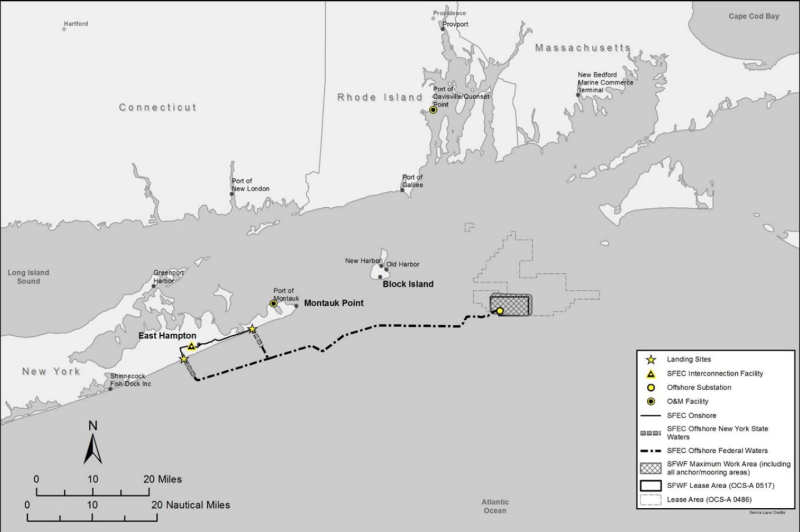 The policy is to seek renewable sources to replace aging onshore power plants including the Indian Point nuclear station, finally pushed to shutter by the administration of former Gov. Andrew Cuomo after years of pressure from environmental and anti-nuclear advocates.
"America's clean energy transition is not a dream for a distant future – it is happening right here and now," said Haaland. "Offshore wind will power our communities, advance our environmental justice goals, and stimulate our economy by creating thousands of good-paying union jobs across the nation."
Elected officials in New York stress that connection between offshore wind development and their political allies in labor unions. The groundbreaking event was in the Wainscott section of East Hampton, where members of the International Brotherhood of Electrical Workers have started construction on a cable interconnection.
"As our state's first offshore wind project, South Fork is helping to usher in the grid of the future as New York continues to build the most robust offshore wind project and supply chain in the nation, strengthen workforce development and partnerships with labor to provide a pipeline of talent for these critical projects, and establish the green economy that will power New York for years to come," said Doreen Harris, president and CEO of the New York State Energy Research and Development Authority.
Outside the groundbreaking event, a small demonstration by commercial fishing supporters warned those new jobs will come at a cost of long-term damage to their industry.
"You don't destroy the environment to save it," Bonnie Brady, executive director of the Long Island Commercial Fishing Association, told Newsday.