Traditions and new thinking make Gloucester thrive
In Gloucester, Mass., it is easy to get the impression that its recognition as one of America's oldest seaports is something that residents and those who make a living here do not take for granted. It is also not hard to feel far away from Boston – even though only around 20 nautical miles (or 40 miles by car) separate the cities.
Locals you meet in Gloucester are likely to mention the annual St. Peter's Fiesta, where crowds have gathered since 1927 to celebrate St. Peter, the patron saint of netmakers, shipbuilders, and fishermen. For some, the centerpiece of the city-wide party is The Greasy Pole contest, where men of all ages, from teenagers to elders, climb out along a greased-up telephone pole extending from the pier, 25 feet above the surface of the ocean to capture an Italian flag at the end – without slipping and dropping into the water below.
While the St. Peter's tradition brings together the close-knit community, there are other local connections and networks running throughout the city of about 32,000 residents, including some multigenerational women. The women are all active within the fishing industry and their leadership, advocacy, creativity and entrepreneurial spirit are central to Gloucester's evolving fishing culture and community.
Cape Ann Fresh Catch: a CSA for fish
On a hot, sunny and excoriatingly humid day in late July, Melissa Marshall, 41, has her baseball hat pulled low, to keep the sun out of her eyes. She is standing near a loading area with a couple of her employees. The group is huddled around longtime lobsterman Gus "Gussie" Contrino. Or, more accurately, Gus, who is wearing white ankle height rubber boots, is regaling the assembled group with anecdotes from his decades of fishing around Gloucester.
Today, Contrino is at Marshall's business, Cape Ann Fresh Catch, to pick up salmon parts, which he uses to bait his lobster traps. He swings by weekly, often trading his stories for the salmon scraps. For Marshall, this connection to Contrino is part of a larger philosophy behind her company, which is to aim for no waste and sustainability.
Cape Ann Fresh Catch might be easy to miss, if you don't know your way around Gloucester. It is situated in a nondescript gray building – surrounded by quiet residential streets with homes, and a hair salon. Despite being tucked away, the activities orbiting Cape Ann Fresh Catch are a key part of the city's local fishing industry.
Cape Ann Fresh Catch was first started in 2009 by the non-profit Gloucester Fishermen's Wives Association (GFWA). GFWA was created in 1969 to bolster the New England fishing industry and family owned businesses and to assist active and retired fishermen and their families.
The spark for creating Cape Ann Fresh Catch was to build a market for customers to buy fresh, sustainably sourced seafood from local fishermen who wanted to sell to eager consumers who can't always get to the dock to pick up fish: a pescatarian version of community-supported agriculture (CSA).
These days, Cape Ann Fresh Catch is considered to be the largest and oldest Community Supported Fisheries (CSF) in the U.S. "We work directly with seven day boat fishermen from Gloucester," said Marshall, "and occasionally we buy ssfrom trip boats." Marshall has built close relationships with local fishermen, including Paul Vitale, who worked with the producers of the 2021 Sundance award winning film CODA, about a largely deaf fishing family in Gloucester, to show them the ropes and inform the production about what life is like as a working fisherman.
Vitale's work supplying Marshall and Cape Ann Fresh Catch's CSF with fresh fish is a lot more straightforward than working with producers and filmmakers. "[The fishermen] call me on their way in. I take what I can, and the rest goes to auction," said Marshall. "They tell me the sell price at auction, but I give them 50 cents more."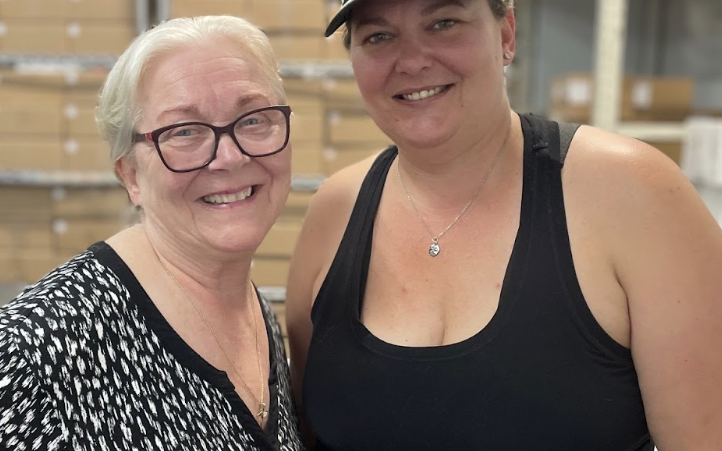 From Mother to Daughter
When Cape Ann Fresh Catch's CSF business started almost 15 years ago, Melissa's mom, Donna Marshall, was in charge. At first, she distributed whole fish, but gradually the business model evolved into supplying cut fillets, which are done off site. Over time, Donna – who herself grew up in a fishing family and came of age working alongside aunts and others in their family fish market, Captain Noble's, in Salem Massachusetts – decided it was time to step back a bit and let the next generation take the reins.
In January 2020, when Donna, who is now 65, asked Melissa if she would take over, Melissa was running her own business and living overseas in China. She had only been back from China for two weeks when she agreed to it.
"When I took it over in covid times, we had 10-12 drop sites, and were doing about 150 pounds a week. Now, we do 800 pounds of fish a week, and 30 drop sites, thanks to covid. It's weird to say it like that. But [the model] was great for fishermen at that time — because they couldn't find restaurants to sell fish to." Melissa Marshall is more than comfortable in her role of owner and boss. "I like being thrown into the fire," she said. "Stress brings out the best in me."
These days, Cape Ann Fresh Catch has about 4,500 total CSF customers, half of whom are active throughout the year in the eight to 10 week seasons. Marshall employs dozens local workers from Rockport, Gloucester and surrounding areas, to help run the business. They also sell at area farmer's markets. They typically offer about 10 local species, some which may be new for CSF members.
On the same day that Gus Contrino was picking up salmon parts, Sarah Curothers – who lives almost an hour away in Lexington Mass. – pulled up to the loading area to pick up her share. "I've been a customer since 2002 because I really want to support a Gloucester business," said Curothers. "And I've figured out how to cook it all!" It is customers like Curothers who make it all work, said Marshall. "When people get our fish, they don't want any other because it was swimming 24 hours before it gets into their hands."
Evolution of a Business: From CSF to Smokehouse
The newest division of Cape Ann Fresh Catch is the Twin Light Smokehouse, which makes smoked salmon and mussel spreads and fish lines. "The reason we opened the smokehouse was we wanted a zero-waste program," said Marshall. "When we buy local fish whole, we take any unused parts and smoke it." Any fish not smoked gets donated to local Gloucester organizations like Open Door, a non-profit that provides food and services.
The packaging on the Smoked Salmon Spread and other products have the words "WOMEN OWNED" on the side of the container. Nowadays, Marshall said, the smokehouse side of the business has grown to be larger than the CSF side of the business.
"You don't find it often; there just aren't a lot of women. Melissa runs the show nicely and is good at adapting and learning new things – especially when small businesses can be stressful at times." Marshall adds that while being a small business has advantages, seemingly "small" things – such as stormy June weather preventing the boats from going out or an employee's car breaking down – can cause challenges and ripple effects.
A Long Legacy of Women in Fisheries: the Gloucester Fishermen's Wives Association
Thankfully, others have paved the way – and Melissa Marshall is acutely aware of the local role models she can turn to. This includes not only her mom, Donna, but also Angela Sanfilippo, the current President of Gloucester Fishermen's Wives Association (GFW). "Angela is the biggest advocate for fishing in Gloucester," said Melissa Marshall.
Sanfilippo, now in her 70s, is the de facto matriarch of Gloucester's fishing community. While she was not there at the formation of GFWA, Sanfillipo has been long active in the organization for 47 years now and comes from a fishing family.
"In 1977, they called me because I'm bilingual and speak English and Italian. And, at that time, the fishing industry around here was 99 percent Italian American. They were about to meet with the government, and because I speak both languages, they called me to translate. I haven't stopped since then!" Sanfilippo laughs.
Many people say they are embracing a culture that Sanfilippo and GFWA started cultivating years ago and continue to see it as the guide to the evolution and success of Gloucester's fishing industry into the future. Marshall's own business would not have started without the GFWA.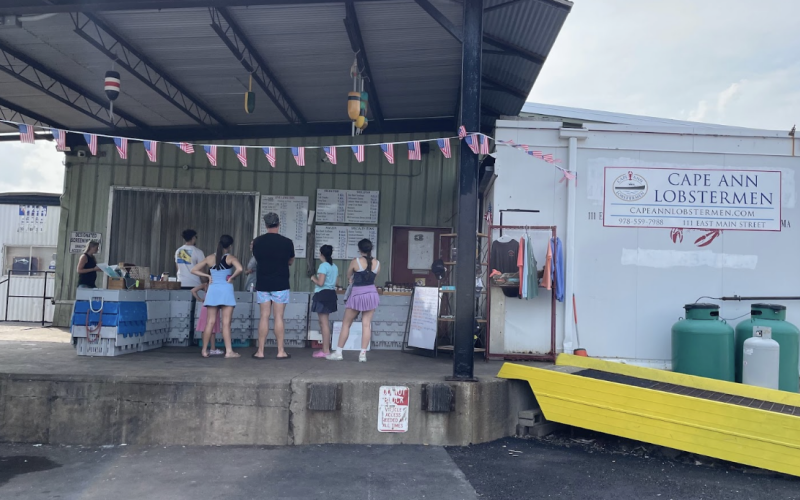 Cape Ann Lobstermen's Tessa Browne
If you leave Marshall's Cape Ann Fresh Catch and navigate around winding roads that ring Gloucester's harbor for five minutes, you arrive in the South Channel of the Harbor and to Cape Ann Lobstermen, which is owned by Tessa Browne.
A typical day at Cape Ann Lobstermen involves lobster being unloaded directly from the boats, onto the wharf, and then into her 5,000 square foot building, with two 30,000-pound lobster tanks. Browne said her company "tries to move about 20,000 live pounds of locally caught lobster a day." The focus is on wholesale lobster and cutting fish.
To get into Browne's on-site office, you have to pass her office door, which has a painting of a woman with a bun of dark hair and red rubber overalls–a symbol of quiet strength amid the hustle and bustle of the business.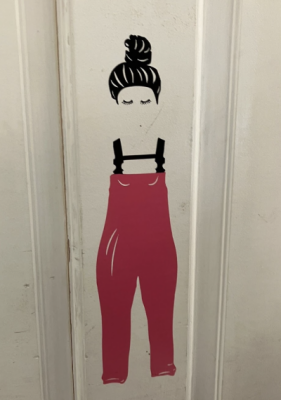 When covid first hit, Browne had 60,000 pounds of lobster on hand, with nowhere to go. But she thought fast and resolved what could have been a catastrophic loss, with a Facebook Marketplace post offering deeply discounted prices. She managed to sell it all in three days. "They're all now our regular customers," said Browne. In many ways, covid has been the single biggest challenge her company has faced so far. Of course, other challenges, like the rules around the protection of whales, offshore wind, and access to harbor space, are part of the bigger picture.
Browne is 37 years old and, like Melissa Marshall, seems to thrive in the fast-paced and often grueling schedule demanded by an industry that never really sleeps. "We can go from 4 a.m. to 11 a.m. – it ever really ends." Brown's first foray into business did not start with fish or lobster, but flowers. Her family's wholesale flower business allowed her to learn firsthand about supply chains, management, and coordinating on deadlines. Later, she earned a degree in biology and set off on the path of becoming a cancer researcher before deciding, "it's not for me." She later earned an MBA.
But Browne and her husband Ryan had always wanted to sell lobster. So, in 2017, they started things slowly, buying lobster from just three boats. Now, Ryan is a full time lobsterman (on the F/V Moon Dancer), and now, six years later, Browne manages about 68 employees and buys from about 100 boats in the North Shore, working with both draggers and dayboats.
At first, Browne said, the impulse behind starting her business was to help bolster the boat prices paid to fishermen in the harbor. But it was a transition to get accepted and gain trust.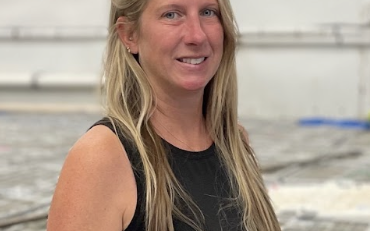 "The boats liked me," said Browne, "but the wholesalers would threaten me. No one talked to me for three years, but I [started this business] to help the boats, and give them a better price and support. The boats trusted me in the beginning and they're pretty loyal when you sell year after year." She says there are other buyers in the harbor, but she and maybe one other are the only woman-owned lobster buyers she is aware of.
Confronting challenges
Jackie Odell and Northeast Seafood Coalition Jackie Odell has been the executive director of the nonprofit Northeast Seafood Coalition (NSC) for 20 years. Odell's office is in Gloucester, but NSC represents commercial fishing entities throughout the Northeast. She works on political and policy issues affecting their interests as participants in the groundfish fishery and Sector program in the Northeast multispecies groundfish fishery.
"There's a lot of women, in all different capacities: running business, involved in nonprofits, or fisheries training, management, biology, policy, marketing, purchasing, and the buying and selling of fresh fish. We're all trying [and] care about supporting the local fisheries."
Among Odell, Sanfilippo, Browne, Donna, and Melissa Marshall, there is a strong network of support and mutual admiration – even when it can be hard for them to find time to get together physically.
Odell said, "I'm in the same building as Donna and Melissa [Marshall] and Angela, but we barely see each other because we're all so focused on our job, and it's a lot. It's unfortunate. In policy time, no one sees me!"
The women are acutely aware of the larger challenges their industry faces, as well. At Cape Ann Fresh Catch, the pressures local fishing fleets and businesses face include everything from international big boats, to whale protections, to wind development, to leaders that may favor development over working waterfronts. But, for Marshall, the bigger fear is when the local fishermen she works with "are not making as much money as they deserve" due to the cost of fuel, the prices they get at auction, and may feel like the only way out is to sell their permits.
Odell also cited the impact of data collection on the groundfish stock assessment process and the cost to operate businesses being huge challenges. "All the supplies like gas and products… are more expensive." We have issues with our markets and not enough public awareness of fresh, healthy fish. Our markets just aren't providing a consistent price to our boats for their catch."
Sanfilippo, Browne, and Odell also express concerns and opposition to offshore wind development. "Losing access to our fishing grounds is probably one of our biggest threats right now," said Odell. "So, when you already have a suite of closures to rebuild fish stocks, and protest spawning fish, and then add this new threat, it is huge."
Browne, Donna and Melissa Marshall, and Odell all mention Gloucester's mayor, Gregory Verga, who took over in January 2022 during a social-distanced inauguration. There is a hope that Verga can adequately balance the needs of the fishing community and other interests, like real estate.
"It's really difficult and there is a lot of tension there," said Odell. "Obviously, the fishing industry needs areas to dock, a sound harbor, the space for various services that are provided (fuel), and there is a lot of pressure on that." But Odell adds that Gloucester's classification as "a designated port" has perhaps allowed the local fishing economy to remain more protected than other east coast cities without a designation.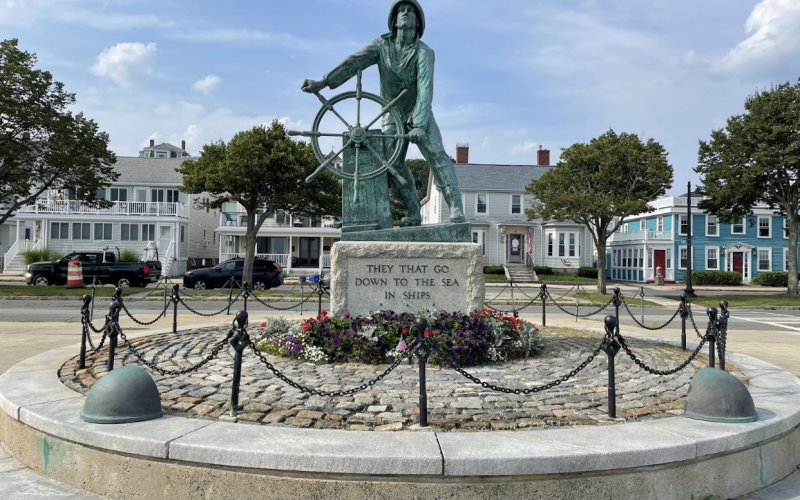 A 'fishing industry without the ego'
Both generations of Marshall women stress the importance of building strong networks and relationships with fishermen, the auction, and one another. "It's a closed circle in Gloucester, and so we support one another," said Donna Marshall. "It's changing, and there are more of us. This didn't happen accidentally," she added. "It is because of mutual cooperation." Melissa Marshall agreed. "It's like the fishing industry without the ego."
Even in 2023, things are not always easy for women in the fishing industry. "It's been very competitive, and you have to be very strong. We're all similar in nature – not wallflowers!" Jackie Odell agrees. "There's such a powerhouse here of dedicated, educated and passionate women [and] there's more we can do together."
Donna Marshall, whose roots are deep in the fishing industry said, "I can see if we're going to survive, we'll have to work together." She jokes about working so closely with her daughter. "Oh, we fight every day, but we don't take it personally. We actually speak seven to eight times a day, and then we talk one more time!" While Donna is no longer in charge of the day to day at Cape Ann Fresh Catch, she still does accounting and grant writing, as well as for Gloucester Fishermen Wives, and for some fishermen.
From her vantage point, Tessa Browne understands the landscape and what it takes to get along, and keep the fisheries strong. "Gloucester is lots of small business owners." Her social nature lends itself to her role as a local business leader, and one that often requires working 7 days a week and very long hours with her own workers and fishermen. "My employees are my friends. My boats, I'm their shrink!" She says she likes to encourage young people to enter the fisheries, and support their journeys. "I say I hate people, but I actually love people!" she laughs.
Browne also points to her participation in local policy, like the Municipal Harbor Plan, which is looking at marine and non-marine development. Browne also serves on the Gloucester Fisheries Commission, and the Chair is Angela Sanfilippo. The commission is charged with supporting the local fishing industry. "And I participate in forums because the lobstermen aren't going to go!"' said Browne.
For Donna Marshall, at Cape Ann Fresh Catch, the formula is simple: "I'm hopeful this way of doing business always goes back to supporting local fishermen and valuing sustainability. If I could have my dream come true, we would have fishermen choose what they could do with their catch, and what they earn, so that they can feel honored. That's still my goal everyday" said Marshall.
Angela Sanfilippo is proud that the work she helped start is being carried on by younger generations. "To me it means a lot, because there is an unbelievable amount of work to stay alive in this industry," said Sanfilippo. "I'm very happy there are younger people who will carry on when my day is done. I'm optimistic, little by little we're going to introduce more people to the industry."
Odell said the bigger picture is what keeps her invested.
"I am optimistic, because there are enough people committed and passionate about having there be a strong fisheries and shoreside business, and community. We all feel as members of that community, we're all tied to that cultural heritage, and to making that work. We all want to see it work."