Innovative automatic Trawl Winch and Fiber-Optic Cable Technology Lead the Way in Fishing Industry Advancements.
In May 2022, Naust Marine completed the installation of its electric winches on the Ocean Rover, making it the final American Seafoods trawler to undergo deck gear refitting. "I believe that was our most recent project in the U.S.," says Brittany Tassano, regional manager of Naust Marine in Poulsbo, Washington.
"We replaced all the hydraulics with electric," says Tassano. "The trawl winches, the auxiliary winches, the third wire, and we installed the cabinets." The cabinet, Tassano explains, is the control center for the Naust automatic trawl winch system.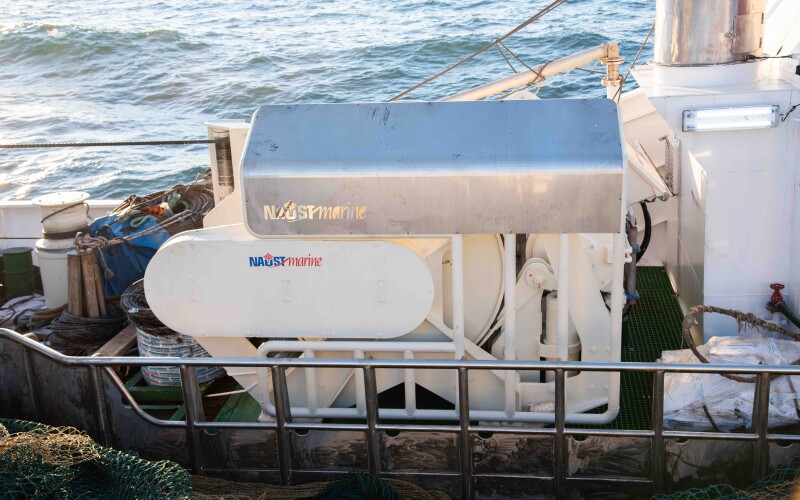 "In the wheelhouse or on deck, they decide how they want the trawl to perform, and with the Automatic Trawl Winch – we call it the ATW – they can configure how far they want the let trawl wires out, how they want to control it when they're turning, adjusting to depth, and things like that. The ATW does all that."
Tassano notes that the ATW is the centerpiece of the Naust system. "Naust Marine started working on it around 1970 when it was a different company. Back then, it was very simple, the company only made the ATW, and it only controlled one winch," she says. "Now it can control four winches and adjust to the vessel's speed for easier control."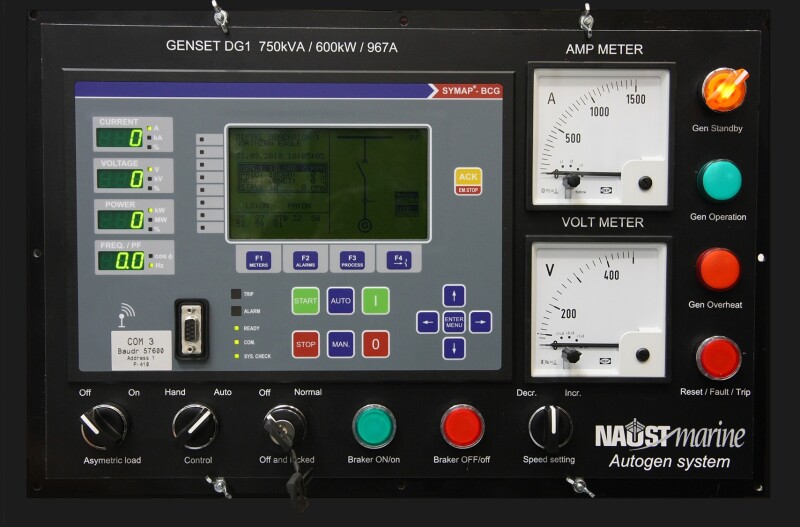 Tassano adds that the ATW can calculate the sea status and maintain the optimal opening of a net when it is being towed straight ahead, during turning, and fishing in cross-current. "And we're continuing to improve it," she says. "A lot of boats may not have our winches, but they'll still use our ATW. We've sold those more recently, and we are in talks to provide systems to other U.S. vessels, but I can't say any more about that."
With the Ocean Rover, the other American Seafood vessels, and projects worldwide, Naust sells and installs complete packages.
"With our systems, you don't have to shop around and source from different vendors," Tassano says. "We provide the entire deck package. Our controls and cabinets are manufactured at our location in Iceland, and all our winches are manufactured at our location in Spain."
When the owners of the original company established Naust Marine in 1993, they began supplying winches, and since 2016 have manufactured their own winches, with production now in Vigo, Spain.
For the Ocean Rover, Naust supplied and installed two trawl winches driven by 380kW DC motors; three third-wire (net sounder/cable) winches have 37kw AC motors along with newly designed pneumatic band brakes on the drum, replacing the magnetic brakes; two net drum winches with 230KW AC motors. Naust also supplied Gilson and Capstan winches.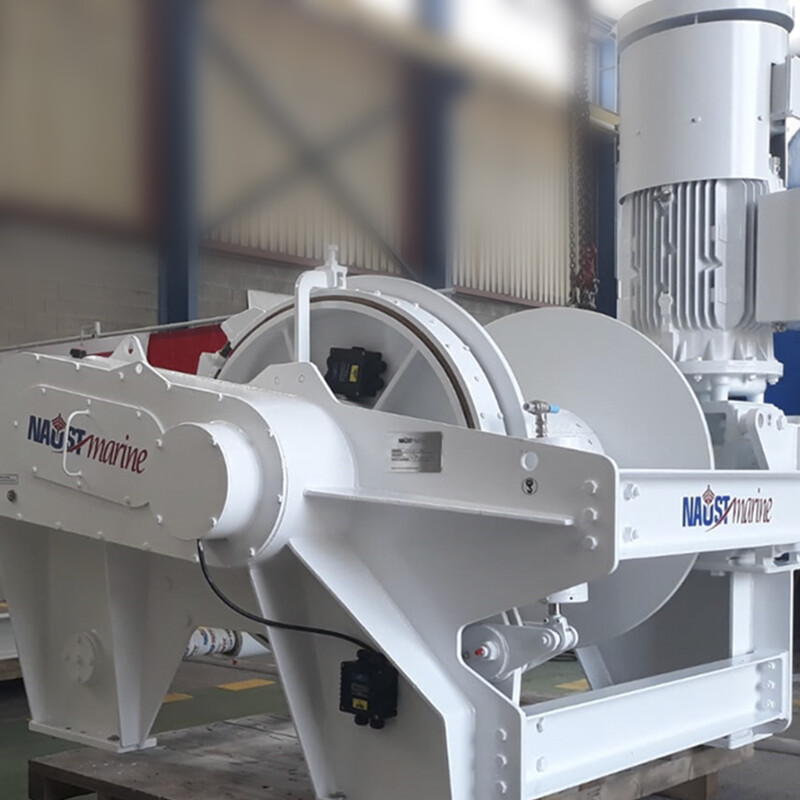 "Besides the Naust Automatic Trawl Winch (ATW) system, the winch control and system solutions delivered to Ocean Rover include the electrical spooling gear (ESG), the AutoGen power management system, and controls," says Tassano. The AutoGen system draws power from the winches by turning the electric motors into generators when the wire is spooling out.
Between the ATW system, oil heaters for the trawl winches, and other options, the Naust package can enable vessels to continue fishing effectively and efficiently in extreme conditions.
Tassano points out that Naust continues to pioneer new technologies. "We are providing Permanent Magnet (PM) motors for the first time for one of our projects that is about to be contracted," she says. "That's all I can say for now. We will also soon share details of newly designed HMI [human machine interface] and ATW systems."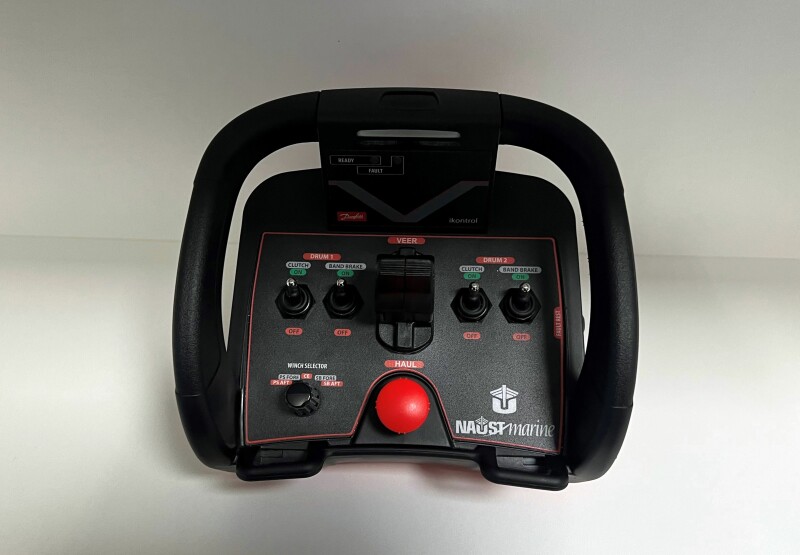 Of particular interest, as more fishermen utilize cameras and artificial intelligence, are Naust's new winches designed for the fiber-optic cable being developed by another Icelandic company, Hampidjan.
"The fiber optic cable can deliver so much more data," says Bjarni Gunnlaugsson, general manager of Naust. "Comparing what we have now for data flow to what we will have with fiber optic cable is like comparing your shower to the biggest waterfall that we have in Iceland. The problem is that it can break; it's much thicker, so we need a winch that can handle it."
Hjörtur Erlendsson, CEO of Hampidjan, commented about the technology when accepting an award for best innovation at the Icelandic fisheries exhibition.
"There is a lot of time involved in this development because it is not a simple matter to design a fiber optic cable that can withstand extremely challenging conditions at sea where the cable is under high and variable loads," Erlendsson said. "The fiber optic cable has been successfully tested, but conventional headline cable winches have been found not to be suitable for the fiber optic cable. We have therefore designed a new type of cable winding and are in collaboration with Naust Marine, who intends to fully design with us and build the first winch for testing in the coming winter."
According to Gunnlaugsson, Naust had a 10-vessel contract in Russia, including the Kapitan Sokolov (NF, August 2019), that has stalled due to sanctions and lack of payment. "Between covid and the war, things have been difficult, but we are working on other projects," says Gunnlaugsson. "We have an Icelandic vessel being built in Spain, a vessel for the PP Group in Holland – that one is being built in Turkey, and others. We're mostly doing service work in the U.S., but like Russia, the U.S. fleet needs to be rebuilt."
Gunnlaugsson notes that the Jones Act prevents U.S. fleet owners from building overseas but that Naust is in dialogue with some of them, with hopes of outfitting their new vessels.