A massive undersea volcanic explosion in the Pacific island nation of Tonga led to a widespread tsunami advisory throughout the Pacific, including Hawaii and the West Coast of the United States and Canada early Saturday morning, Jan. 15.
The National Weather Service issued the advisory at 5:16 a.m., warning people to stay away from coastal waters and the shoreline with surges predicted to arrive between 7:30 and 8 a.m. An advisory is not as severe as a tsunami warning, which would call for immediate evacuations from low-lying areas.
Tidal surges from the explosion piled on the high tide in the northern California port of Crescent City, almost 5,500 miles away from the explosion. An additional 3.7 feet of high water flooded into the fishing port, bringing back recollections of the $100 million in damages caused by the March 11, 2011, tsunami that originated in Japan and set off the Fukushima nuclear disaster.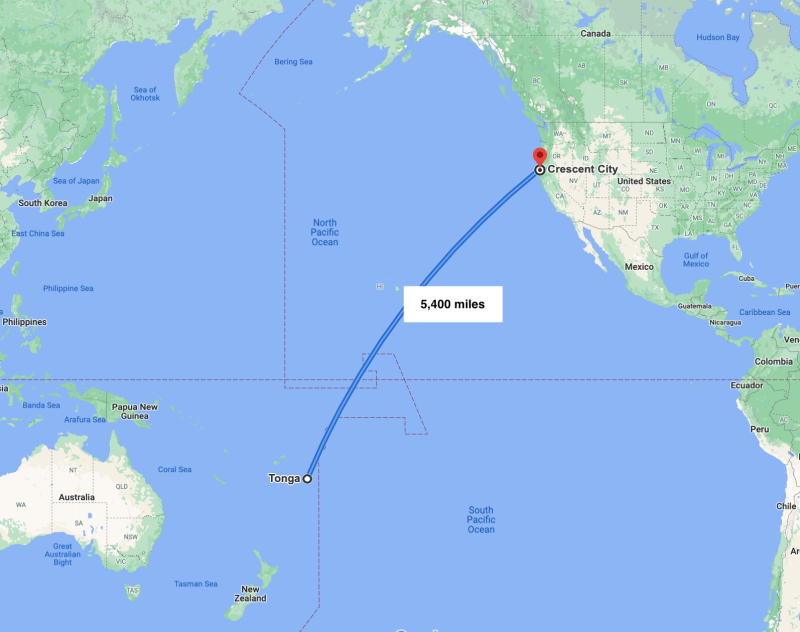 According to a weather service update on Saturday evening, the surges topped 3 feet in Point Arena, Calif., as well as King Cove, Alaska, on the Aleutian chain. The highest was recorded in Port San Luis, Calif., where the water reached 4.3 feet over normal levels.
In Ventura, Calif., a harbor patrol boat reportedly was swamped and capsized at the dock.
Many beaches along the coast were closed as a precaution.
Meanwhile, in Tonga, the explosion sent debris 19 miles into the air and dropped ash across a wide swath of the Pacific and nearby islands. Relief aid will be held up until ash can be cleared from runways, making fresh water a precious resource for the recovery and survivors. The explosion also severed an undersea cable, which is hampering communications and aid for nearly 105,000 residents.