A new national panel to advise federal energy planners on offshore wind energy and fisheries made its public debut April 13 – a collegial online video discussion with experts recruited from the fishing industry, scientists and universities.
While the experts talked on a Zoom video discussion, opponents of offshore wind projects vented on the sidelines, typing in the questions section about what they see as years of failure by the federal Bureau of Offshore Energy Management to foresee and avoid fisheries and environmental conflicts.
It was a virtual snapshot of the agency's ongoing battles with the fishing industry, which BOEM officials insist they are gradually working to reduce.
The National Academies of Science, Engineering and Medicine's new standing committee on offshore wind energy and fisheries is intended to be an independent, credible forum," said Elizabeth Klein, director of the federal Bureau of Ocean Energy Management, in introducing the panel Thursday afternoon.
"We've been working hard to make sure we are engaged with fishing communities and fishery stakeholders," said Klein, whose agency is sponsoring the National Academies group to study how wind power plans will affect fishing.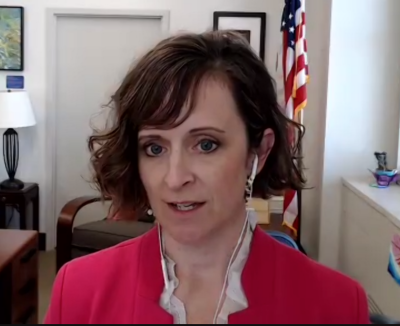 "We very much want this committee to be independent," said William Brown, BOEM's chief environmental officer.
The committee members include:
James Sanchirico, chairman and professor of coastal and marine sciences at the University of California Davis.

Daniel Doolittle, environmental manager for Fugro USA Marine, which conducts survey work for offshore wind developers.

Janet Duffy-Anderson, chief scientific officer at the Gulf of Maine Research Institute.

Tricia Jedele,

Atlantic coast offshore wind policy manager for

The Nature Conservancy.

Stephen H. Joner, of the Makah Tribe fisheries management program in Washington state.

Eric Kingma, executive director of the Hawaii Longline Association.

Daniel Kipnis, a retired Florida charter boat captain who has been outspoken on the effect of climate change on fisheries.

Sara Maxwell, an associate professor at the University of Washington Bothell campus.

Steven Scyphers,

associate professor

and

director at the Center for Socio-Environmental Resiliency at the

University of South Alabama.

Ronald Smolowitz, a fishing gear expert and consultant to the East Coast sea scallop fleet based at Coonamessett Farm on Cape Cod, Mass.

David Wallace of Wallace & Associates, a longtime advocate and consultant to the East Coast surf clam fishery.

Dick K. Yue, a professor at the Massachusetts Institute of Technology, whose research work covers wave hydrodynamics in the ocean and coastal environment; fluid mechanics of turbulent and two-phase flows at the air-sea interface; and dynamics of ships, underwater vehicles and offshore structures.
In their summary presentations to the committee, BOEM officials defended their work on studying potential effects on fisheries. Karen Baker, chief of BOEM's office of renewable energy programs, said around $90 million has been directed toward 150 studies on fisheries.
But fishing industry advocates have insisted that BOEM has had its environmental review priorities backward – that the agency should have done much more preliminary investigation before offering wind power lease areas off the Northeast and Mid-Atlantic states.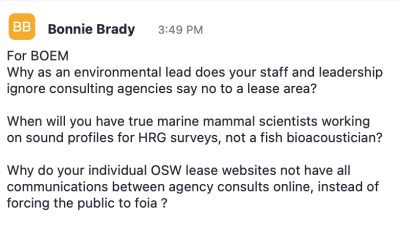 Committee member Eric Kingma of the Hawaii Longline Association asked "has there been a review of the process?"
Baker said BOEM has followed guidelines under the National Environmental Protection Act during its selection of wind energy areas but acknowledged "it's challenging often to get to specifics until you have the leases in place."
During its round of leasing offshore areas in the New York Bight and Gulf of Mexico, BOEM said it had learned from earlier conflicts and tried to head off conflicts. Those lease areas included some carve-outs to save productive sea scallop and shrimp fishing grounds, and other important wildlife habitats.
"We do believe that is more the wave of the future going forward," Baker said. "It's more productive in that regard to look at the broader region."
There is deep skepticism among fishermen about the cumulative effects if the Biden administration's goal of 30 gigawatts of offshore power by 2030 is built.
Potentially that could mean 2,500 turbines from New England to the Carolinas, said David Wallace, a consultant to the East Coast surf clam fishery.
"There are a whole series of assumptions that have been made about what the cumulative effects of that 2,500 turbines will be," said Wallace. If negative effects are worse that anticipated, he added, "what are you going to do?"
"That's why we're asking the Academies to help us answer that question," replied BOEM's environmental chief Brown.
Alongside the video conference, critics furiously posted questions and comments, nearly 200 in all during the 90-minute event.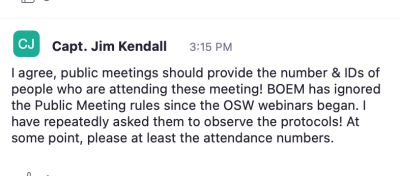 Some comments focused on wind projects off New Jersey, where organized community groups say the developments threaten the coastal resort economy. Many came from commercial fishermen and their advocates, who said BOEM's track record on engaging with the industry has never lived up to promises.
"BOEM keeps saying they are going to be transparent, but there is no transparency in anything BOEM is doing," wrote Leigh Habegger, executive director of Seafood Harvesters of America.
"Years of public outreach and comments has exposed the 'Renewable Energy Leasing Process' is flawed," wrote Brick Wenzel, a captain with the Fishermen's Dock Cooperative in Point Pleasant Beach, N.J. "The auction takes place too soon in the process!"
As the session ended, Caroline Bell of the National Academies staff thanked "members of the public" for commenting, and said the recorded comments will be used to develop topics for the committee's future public meetings. Some of those sessions will be held in person at locations around the United States.