On a sunny Tuesday in early June, Michiganders walked up to a surprising smell of fresh fish cooking, laughing of kids and legislators using boat props with a commercial fishing photobooth, and the sound of water splashing from a nearby fish tank glimmering with swimming rainbow, brown, and brook trout. This scene came together with many of Michigan's commercial fishermen, aquaculture producers, and fisheries educators who gathered under one big tent for one day only on Michigan's state capitol lawn. Enthusiastic volunteers welcomed more than 500 people to experience and learn about Michigan's commercial and aquaculture industries. This was the first ever Mi Fresh Fish Expo, launched to bring awareness of these struggling industries in the most direct way possible – through showcasing great products, flavors, and the families who catch and raise them.
Did you know that one of Michigan's oldest industries is commercial fishing? Neither did most of those who visited the tent that day. "I always check the Capital calendar at the beginning of each month," said one attendee. "There are tents here nearly every day, but something about the Mi Fresh Fish Expo stood out. I decided that this was one I couldn't miss."
The current Michigan seafood landscape includes small and mighty industries that feed the people of Michigan, but also encounters many of the same challenges that COVID-19 brought to other industries as well. Some federal funds (CARES Act II) that were allocated in 2020 to the Great Lakes for COVID-19 relief in support for commercial fisheries and aquaculture helped these industries and are still being used today – three years later.
The Michigan commercial fisheries landscape went under grueling challenges within the past three years. From majority of markets shifting from 80% wholesale to 80% retail, to quotas decreasing, to tensions raising from proposed legislature that would limit commercial harvest even further, the Michigan Fish Producers Association brought lawsuits forward to the Michigan Department of Natural Resources (DNR). Additionally, the state of Michigan went under fisheries negotiations with Tribal Nations for the 2020 Consent Decree (which is still on-going), and state eligibility for COVID-19 relief funds did not include those with retail sales of seafood – of which, provides the largest margins in sales; therefore, some companies had no option but to go out of business. However, light appeared on the horizon in fall 2022 as a portion of the remaining Michigan state spending plans from COVID-19 relief funds was allocated to a seafood consumer education marketing campaign, called Mi Fresh Fish.
Celebrating Michigan Fish
Mi Fresh Fish uplifts all fish produced in Michigan. Mi Fresh Fish is a brand that unites all Michigan-produced fish under the same message – especially creating access to fish for food. Using input from the industry, Mi Fresh Fish is an educational marketing campaign to bring awareness that seafood production exists in Michigan and that they are not just businesses, but also our neighbors. It's about celebrating what they offer and supporting local, healthy, tasty, and delicious fish. Mi Fresh Fish focuses on Michigan's commercial fishing industry by humanizing the industry and supporting their message: producers want Michiganders to meet them and understand they are focused on food security and helping to feed Michigan. Also, they are hardworking families celebrating Michigan's fishing culture and traditions while they continue to support their families and their legacies – some of which are six or seven generations. The hope from industry is that the Mi Fresh Fish campaign can create advocates for Michigan fish among Michiganders as they share their stories.
On June 13, 2023, the Mi Fresh Fish campaign reached a pivotal moment as Michiganders spent a day celebrating and learning about Michigan's commercial fishing industry in front of the state capitol in Lansing. The location of the event, Michigan's capitol lawn, was strategic as this opened the opportunity to educate not only stakeholders, but decision makers.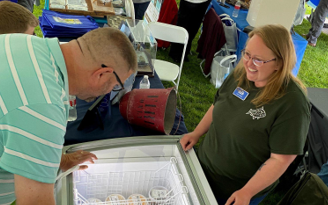 "The Michigan Fresh Fish Expo was a whirlwind experience for us here at Bay Port Fish Co.," remarked Lakon Williams from Bay Port Fish Company, "Working with other local Michigan fish producers planning this event was truly enlightening and enjoyable. Not only did we get to educate the public about Michigan's historical commercial fishing industry, but we also got to talk with legislators about the inner workings of our fisheries. Most were amazed with our fishery and fascinated by the struggles we face to stay afloat each year. We are truly grateful to have had such an experience telling folks about our family fishery in Bay Port, Michigan."
The Mi Fresh Fish Expo was hosted by the Michigan Fish Producers Association and Michigan Aquaculture Association, with coordination and organizational support from Michigan Sea Grant and Monte Consulting through the Mi Fresh Fish marketing campaign. Attendees discovered where Michigan fish come from, how they are cared for and harvested, and why they are an important part of the local economy.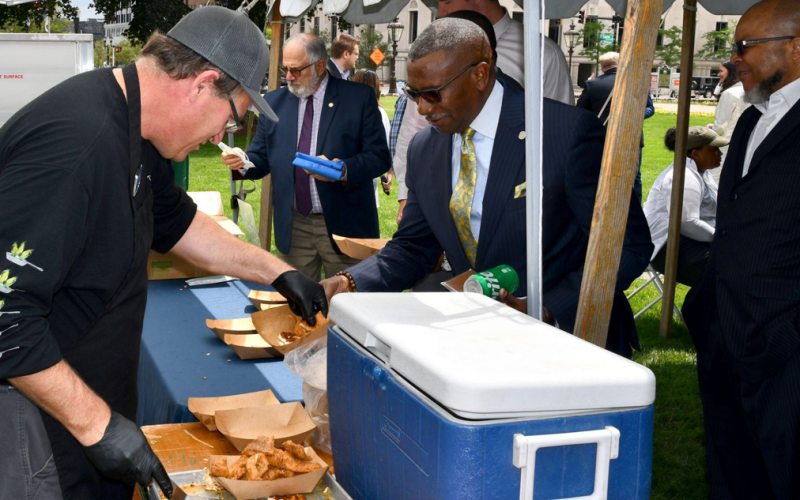 The cooking demonstrations were the star of the show as the Expo was redefining what it means to be called fresh fish. Commercial fishermen held cooking demonstrations where all the fish were harvested and processed the day before. Michigan Fish Producers Association showcased Big Stone Bay Fishery's lake whitefish and yellow perch prepared by The Farm Restaurant as Pan-seared blackened Great Lakes whitefish and Deep-fried yellow perch and whitefish.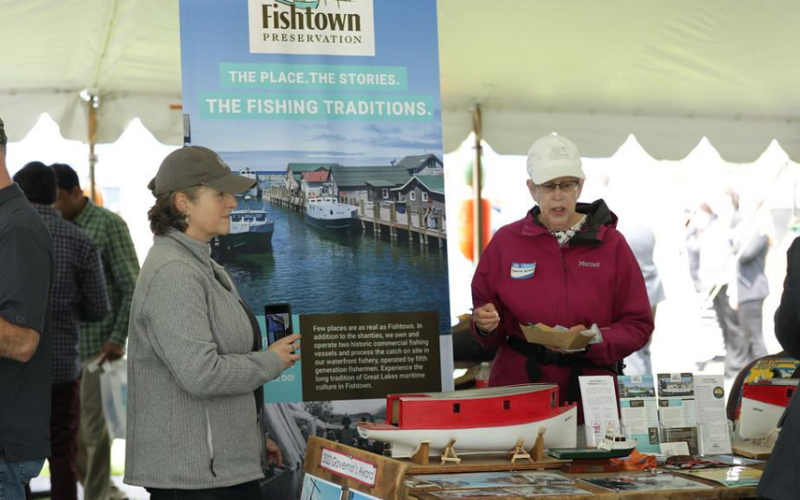 The event also helped the commercial fishing and aquaculture industries get to know each other better. "The business right behind me was Cedarbrook Trout Farms," said Amanda Holmes, of Fishtown Preservation in Leland, Michigan. "The fish farmer said that he thought Fishtown was just for tourists. He had no idea that we own and operate the commercial vessels and was thrilled to learn that it's also our goal to educate as many people as possible about the past and present of the Great Lakes fishing industry." Such conversations occurred everywhere under the tent that day.
Local Favorites
Of the more than 500 who explored the Expo, 243 participants completed a survey after attending. Of those who took the survey, 173 participants (90%) said yes, they plan to eat more fish. And when asked, "what is your favorite fish to eat?" they mostly voted for salmon!

The results of participants' favorite fish to eat were surprising as 90% of state-licensed commercial fishermen harvest is Lake Whitefish; they are not allowed to harvest (per any quota or by-catch) of salmon or walleye. Only a few licenses in Lake Huron are allowed to catch yellow perch but this remains an issue of contention with recreational harvesters.
Aquaculture, on the other hand, does raise walleye, however, these are all raised for stocking in waters for recreational fishing, not necessarily for entering the food systems to end up in grocery stores or restaurants. So, you might ask, then where do these fish come from that we like to eat? The answer: most are imported, and even walleye and yellow perch are from the Great Lakes waters, but even they are mostly imported from Canadian waters.
Impacts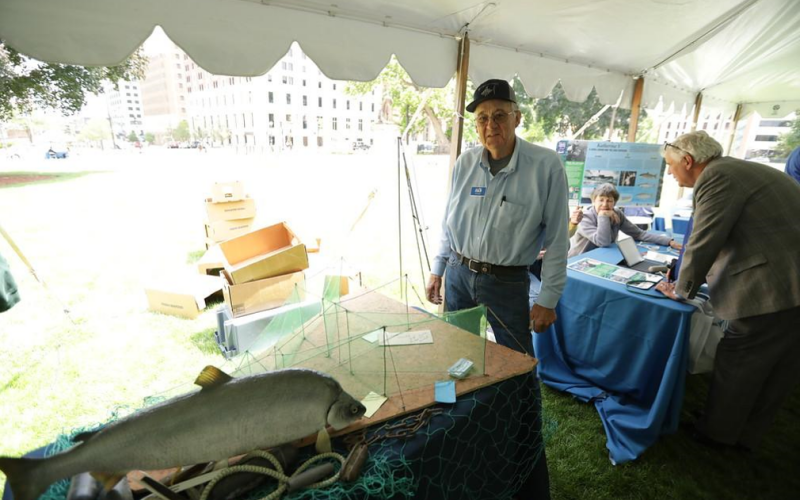 The Expo redefined what it means for producers to be able to talk about and educate others on who their industries are and what they do. In addition, they are shifting the conversation to not only talk about fish as a natural resource (stocking, recreational fishing, charter fishing, population management), but to also talk about fish as food (food security, local and regional economies, equitable access, diversity, healthy, sustainability, resiliency, customs and traditions). As word gets out about the work surrounding the Mi Fresh Fish Expo and marketing campaign, relationships are continuing to grow with decision makers as they make their way touring businesses in person that they have first connected with at the Expo.
"Several state representatives approached my table saying, 'I love Fishtown!' but weren't aware that we have an active fishery," said Amanda. "My goal is for people to say in the same breath, '…and I love Great Lakes fish, what can I do to help?'" The Expo is helping to make that happen.

Funding for the Mi Fresh Fish Campaign and Expo provided by CARES Act II, or Consolidated Appropriations Act, 2021, Pub. L. 116-260. DIVISION M - CORONAVIRUS RESPONSE AND RELIEF SUPPLEMENTAL APPROPRIATIONS ACT, 2021 TITLE I DEPARTMENT OF COMMERCE NATIONAL OCEANIC AND ATMOSPHERIC ADMINISTRATION FISHERIES DISASTER ASSISTANCE (Page 729).