Capturing higher returns from the retail market helps keep some fishermen afloat.
San Diego spot prawn fisherman Shane Slaughter never intended to meet the people who eat his catch, but the covid-19 pandemic forced his hand.
"We had fuel, groceries, and were getting ready to head out. I called my wholesaler to let him know," says Slaughter. "He didn't call me back until the next day, and said they weren't able to buy. Everything was shut down."
Up until March 2020, Slaughter had sold everything wholesale. "We'd come in, load the prawns onto a truck, get a check and head back out again. We didn't even think about the end user." But faced with the loss of his market, Slaughter had to come up with a plan.
While California's restaurants were shut down, essential businesses were allowed to stay open – that meant groceries stores and any place that sold food, including San Diego's own Tuna Harbor Dockside Market, something of a farmer's market for seafood.
"During the pandemic, Tuna Harbor went off the rails," says Slaughter. "The lines were half a mile long, and three or four people wide. They were waiting more than two hours."
Slaughter sells live product and tries to get in on a Friday to be ready to sell at Tuna Harbor, which is only open on Saturdays. "If the weather window closes on us, we have to babysit the shrimp. We hold them at 33 degrees, so they are kind of in a cold coma, and we keep them aerated."
Since the pandemic has ended, Slaughter has gone back to selling wholesale, to an extent. "We sell about half wholesale and half at the market. I found that I like meeting the people. Most of them didn't know that they had this resource on their doorstep. So, I have fun educating them, and at the same time I like hearing about how they use the product."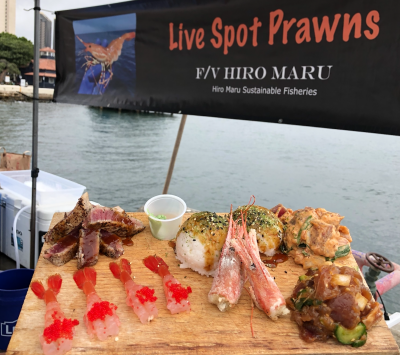 Slaughter notes that the spot prawns he catches range in size from 4 to 12 to a pound, but are usually 6 or 7 to a pound. "The traditional Japanese preparation is to serve the tail as nigiri sushi then fry the head, so it becomes crispy. You'll see spot prawns as amaebi on a sushi bar menu, which translates to sweet(ama) shrimp(ebi). Although the tail is distinctively sweet, most of the flavor is in the head."
While the pandemic boosted direct marketing all around the world, plenary of people were doing it before that, and not always selling just their own product. Captain Charlie Abner who lives near Augusta, Ga., was selling his own shrimp until his boat somehow got water in the fuel and ruined his engine.
"I'm looking for a new boat," says Abner. "But until then I'm buying from other fishermen and selling that to my customers here and around the Atlanta area. I only sell wild caught. I have nothing to do with farmed anything."
Abner buys shrimp, flounder and other fish species locally in ports such as Beaufort, S.C., and Mayport, Fla. "I have a Ford F-250 with a refrigerated trailer. I get orders from my clients in the Atlanta metro area and buy what I need. I get it to people for a very reasonable price," says Abner. "And I can pay more to the fishermen."
Abner has expansion plans that include frozen storage, a bigger truck and two new boats. "I want to be able to buy the whole trip from a boat and 500 or 600 boxes of shrimp and fish up here," he says. "I also want to start a training program for disadvantaged young people, to prepare them to go out fishing and get a full share, and be emotionally and mentally equipped to deal with being out there for a week or more."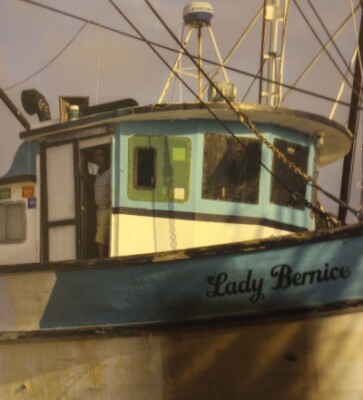 Both Abner and Slaughter have participated in a program launched by the Local Catch Network – Scale Your Local Catch– aimed at helping fishermen learn about direct marketing. Abner has been doing direct marketing since 2003, but has made multiple contacts through the program, and is working on bringing frozen salmon, tuna and other products to his customers from small scale fishermen in other parts of the world.
While already adequately versed in the business aspects of the program, Slaughter appreciated the online marketing ideas. "I need to do more of that," he says.
So far, the Local Catch program has worked with 26 small scale fishermen and vendors to help them overcome the hurdles of developing business plans, and marketing seafood. Roughly 30 percent of the participants sell salmon from Alaska, which many are finding out, is not particularly difficult.
Chris Mullen of Machias, Maine, did not participate in the Local Catch course – he never heard about it– but he has been selling his salmon locally since 2014.
"I'm competing with companies that operate at scale, so my business model has to be very simple. I can't put a ton of time into it, or it won't pay," says Mullen, who travels to Bristol Bay ever summer to fish for socket with his boat, the Chris R. ("That was the name when I bought it," he says. "It has nothing to do with me.")
Mullen sells to Leader Creek and buys back about 10,000 pounds of fillets and portions at the end of the season.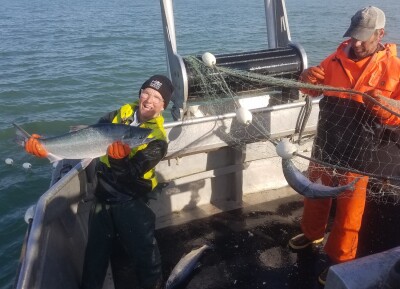 "I like Leader Creek because they deal with 100 percent chilled and bled fish," says Mullen. "They process in Seattle, where the fish are held at -40 degrees." Mullen then has the fish trucked across country and stored at a freezer in Bangor, Maine. "I go up there on Saturdays and sell at the farmer's market," he says. Mullen also sells via his website, monger.net and makes a deliveries all over the state of Maine. "I have a Ford transit van, their smallest. It has a 12V freezer unit that holds the fish at 10 below. Every couple of weeks I make a big loop down the route 95 corridor as far as Portland and then up Route 1. That's where most of the people of Maine are."
Mullen, Abner and Slaughter are a drop in the bucket of fishermen doing direct marketing. If there was one benefit from the recent pandemic, it's that these guys and others are looking at what many believe is a growth industry.