Filleting machines may cut most of the fish caught in America's fishing industry. But there are more people than machines cutting fish, and they use knives. The knife is the connection point between the cutter's intention and the fish, it is where the mind meets matter.
The folks at Dexter-Russell Knives in Southbridge, Massachusetts, understand this as well as anyone. "After more than 200 years we ought to be," says Dexter's national sales manager, Carl Abissi.
"I run the outdoors department," says Abissi. "Our newest knife is the Dextreme. It has a double edge – a long cutting edge and then a scalloped edge on top. So you can use the scalloped edge to cut through scales and collars and save the good edge for filleting." Originally developed for red snapper fishermen, Abissi developed a 12-inch version of the Dextreme for tuna fishermen.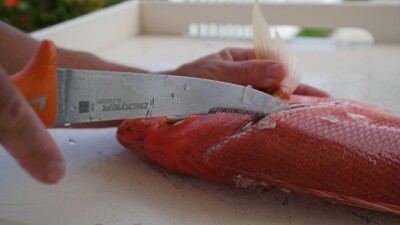 "We spent a lot of time on the handle," says Abissi. "We took videos of all the ways people hold a knife and analyzed them with an ergonomics consultant so that it was comfortable no matter which side of the blade you used."
Abissi notes that the shiny blades of the newer Sani-Safe knives are not stainless steel. "They are 'stain-free' steel. It's still carbon steel but with some chromium added."
While proud of the newer designs, Abissi also knows that many customers are committed to the Dexter knives they grew up with.
"That's our traditional line," he says. "The model 1376 is carbon steel with a beechwood handle; they're still popular. We sell crazy amounts of them. We sell through all the marine supply stores like Hamilton Marine and LFS." Abissi notes that all Dexter knives are made in the company's facility in Southbridge. "Except for the plastic handles, those are made in Sturbridge."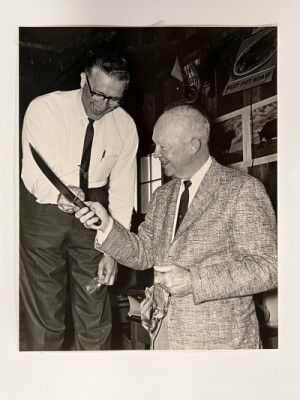 Dexter knives have been around for more than 200 years, but older still is the uluaq, or ulu, used by the Yup'ik, Chukchi, Inupiat, and Inuit people of the Arctic.
Working on a project years ago, I took a case of Dexter knives to a Yup'ik Village setting up an experimental processing plant. Those knives never touched a fish, all the fish cutters brought their own uluaq. In prehistoric times Arctic people fashioned an uluaq from stone or iron cold-hammered from the Cape York meteorite in Greenland – which was traded halfway to Alaska.
But for the Yup'ik of western Alaska, the preferred material would have been slate, until steel arrived with the Europeans. Today, the preferred steel for uluat – Yupik for three or more uluaq – is cut from saw blades.
"I like to get my uluat from Willard Church, at classiculuag in Bethel," says Yup'ik crafter Nikki Corbett, many of whose uluat feature the little hole often found near the tip of the crosscut saws from which they were fashioned. "I started going to fish camp on the Kuskokwim with my Aunt Margaret when I was about eight years old," says Corbett. "Back then, the kings were so big I couldn't cut them. I tried one and ruined it, so I was given the job of gutting the fish."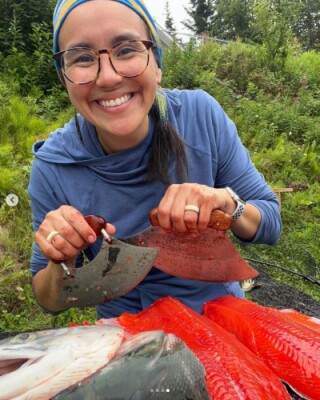 In time, Corbett learned the skill of cutting salmon to dry and has shared it on her YouTube channel.
"My Aunt Marie Meaee, Arnaq, is here with us now," says Corbett, who lives in Soldatna. "We're dipping fish on the Kasilof, and she is helping us cut fish to dry and can. She is really good at it." Corbett cans her dry fish for easy storage. "It's easy. I put it in the jars plain, but nothing added. I use a Presto canner, I'd like to get an All-American, but they're so expensive."
Besides Classiculuaq, other makers of uluat include Maynard Linder of Homer, who wholesales through Fish Creek Company, other craftspeople, and higher production companies. Even Dexter offers an Ulu. "The ones made from old saws are the best," says Corbett, who, like other knife users, appreciates the edge she can put on the high-carbon steel.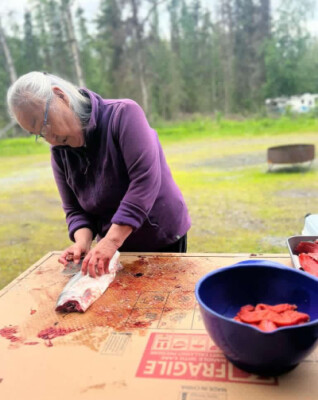 Knife maker Willard Church of Quinhagak, is so busy supplying local women he prefers not to comment for this story, but he describes many of his tricks on his classiculuaq Instagram page linked above and lists his available uluat. Prices for his uluat range from around $175 to over $600, depending on the design and the material he uses for the handles, which can be anything from black walnut to caribou antler to oosik.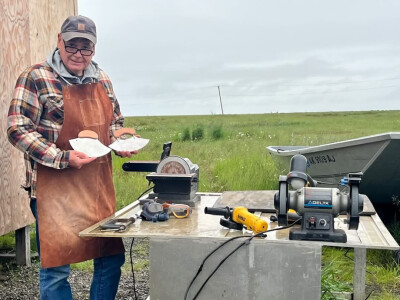 In the world where steel meets fish, state of the art might be the Taiwanese tuna sword – the sharpest knife in the world – used to section large tuna.
"It might not be the sharpest knife in the world, but it scares me," says Tom Blodgett, owner of Jende Industries, a company that sells hand-forged tuna swords to customers worldwide. "They're made by a local blacksmith here, Yong Shin," Blodgett says from his home near Taiwan's Donggang Fish Market. "He's a third-generation maker of tuna knives and swords. He supplies the tuna cutters at the market, and I sell what I can. Right now, I have orders backed up for three months. It's just him and his son, so we're a low-key company."
Yong Shin makes his tuna swords out of steel from old artillery shells. "I don't know where he gets it," says Blodgett. "But I guess there's a source. The shells are about two feet long. He cuts them into strips with a torch and then forges them. It takes about three days; finishing them takes as long as forging them."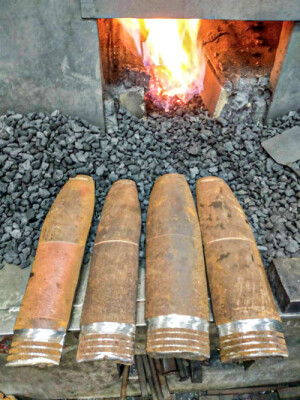 Blodgett notes that the steel is comparable to 1095 carbon steel. "He also uses spring steel. He marks each sword with a pattern of five dots to indicate what kind of steel it is," he says.
When properly sharpened, a tuna sword slides through a tuna like a hot knife through butter. "They sharpen them between each fish," says Blodgett. "So, they don't last long, five or ten years. But the ones I sell to individual fishermen last forever; they may only use them two or three times a year."
While fish processing technology advances, the knife endures in its many forms.