There's something humbling about seeing your own cover story headlining in Fishing Back When. Ten years ago was my first trip to Alaska for National Fisherman. I had the pleasure of spending a full week in and out of the fishing hamlet of Petersburg.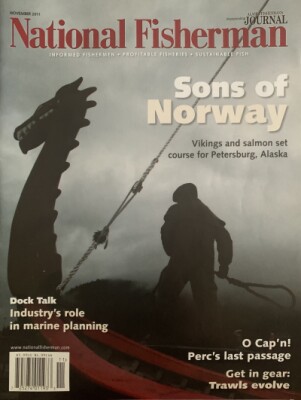 A lot of Americans put Alaska on a bucket list, but there's so much to see in this one state with more than 33,000 miles of shoreline (including its islands) that one trip hardly seems adequate.
I've been lucky to visit almost every year (before 2020 *insert cry emoji*), sometimes twice, and see new places almost every time. Yet still, I have a long list of fishing villages to be checked out before I can say I've had the Alaska experience.
This year, the Alaska Seafood Marketing Institute celebrates 40 years of industry-funded promotion work that has made the Alaska Seafood brand the gold standard for wild fisheries.
Although the All Hands on Deck annual meeting will be taking place virtually again this year (Nov. 9-11), I look forward to seeing familiar faces as we gather for three days of an industry deep dive and critical decision-making.
The Northern Lights column this month is from Alaska's Lt. Gov. Kevin Meyer, who will be attending All-Hands as a new ex-officio member of the ASMI board of directors.
Our cover story is a different kind of deep dive. Fishing photographer and writer Jay Fleming spent five years immersing himself into island culture in two offshore, isolated working waterfront communities of Chesapeake Bay. The result is his second book, "Island Life."
Although less than 15 miles of water separate the islands from the mainland, centuries of isolation have preserved their unique culture, which is closely tied to the rich waters that sustain a time-worn way of life.
In changing times, some will adapt and others will be left behind — whether we like it or not. But the success or failure of the leap we must take to the next step can be all about timing.
In this issue, Boats & Gear Editor Paul Molyneaux gives an update on designing boats for hybrid power. The fishing industry, Paul notes, is lagging a bit behind other industries. But that's not necessarily a bad thing. Read more about what to expect next from this emerging sector.
What's next for us is Pacific Marine Expo in Seattle! Registration is live at PacificMarineExpo.com. See you there!