The sea to plate concept, Mexican style
It's one thing to eat fish and chips made from frozen-at-sea cod caught by a massive factory trawler, the flavor of the fish buried under batter and soaked in oil. Technically that's eating from the sea. But then there is Fugaz, a tiny seafood restaurant run by Giuseppe Lacorazza in Mexico City.
Lacorazza has been 15 years in the restaurant business. After graduating culinary school in Buenos Aires, the Colombian-born Lacorazza worked in the south of France and London, and spent seven years in New York City. "New York is home to some of the world's most interesting and modern thinking restaurants in the world," says Lacorazza. "But it's a very expensive city. I felt lack of personal freedom there, and too much financial pressure within restaurants."
Lacorazza took some time away from cooking to study photography before moving to Mexico City. While his primary medium is food, he gets the visual. But eventually a pair of partners invited Lacorazza to open a restaurant in a building they owned in Mexico's Roma neighborhood, and he accepted.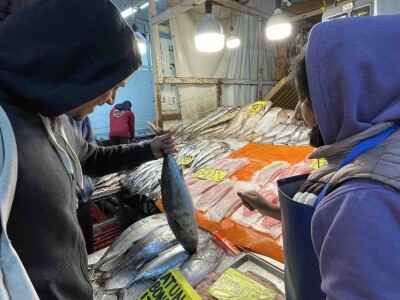 "A lot of chefs from my generation are focused on more than the bottom line. We want equity for the fishermen and famers – the material we work with is everything – I put a lot of work into sourcing. We also want our staff to be able to earn a good living working 8 or 9 hours, 4 days a week. And we want our customers to have a memorable experience."
In Mexico City, Lacorazza met Juan Escalona, a member of a group of Mexican chefs known as Sexto Colectivo (National Fisherman, Feb. 6, 2020). "When Juan invited me to go meet the fishermen I said yes, I took my camera."
At 7 a.m. on a hot summer morning, Lacorazza and Escalona, left Boca del Rio, Veracruz, with a young fisherman, Jonathan Reyes, who had returned from Canada to resume the family business during the pandemic. "We met for breakfast at 5 a.m.," says Lacorazza. "They said we would be gone for as long as it took to catch 60 kilos (132 pounds), maybe six hours, maybe 10."
In a 20-foot skiff, a panga, they headed out about 7 miles to an isolated reef and dropped anchor. Lacorazza watched as the three fishermen – Jonathan, and his crew, Sabino, age 20, and Toño, age 14 – bait their twin hook handlines with sardines. "It was amazing. When the fish started biting, they could tell by the way if felt on the line if it was a villa jaiba, or huachinango, whatever. They would bet with each other if they were right and almost always they were."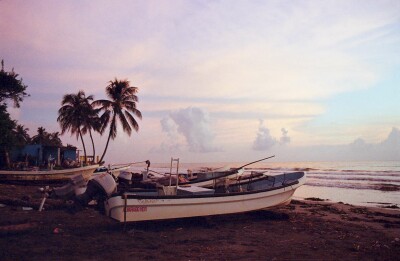 The fishermen let their guests try catching a few fish, and this is was why Escalona had brought Lacorazza to the coast, to complete the chain of connection. The fishermen's intimacy with the isolated reefs and the fish they caught there, would flow through the supply chain to the mouth of a hungry diner at Fugaz.
After 10 hours work, Jonathan returned to the beach with 70 kilos (154 pounds) of various species such as villa jaiba, jurel, madrigal, and other reef fish. "We were exhausted. But I got some good pictures," says Lacorazza.
While many restaurants in the U.S. and elsewhere have established traceable links directly to the fishermen who caught the fish on the plates they serve, Lacorazza is doing a low-rent version of this marketing strategy.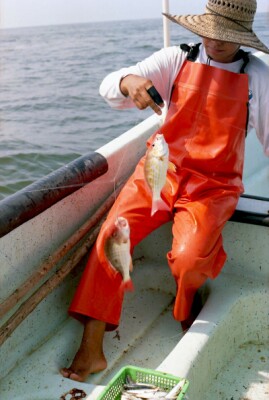 "I've been to Vera Cruz and gone out with the fishermen there. I know them. I know they sell to a buyer who brings the fish to La Viga Market, and that's where I buy."
Lacorazza doesn't shop for any particular species, he looks for a particular quality. The one thing he can't do, however, is tell you exactly who caught the fish. "La Viga is like the second biggest open air fish market in the world," he says. "Traceability is impossible."
He notes, also, that he has learned from his conversations with fishermen they are not getting much of the premium on the fish they do sell directly to urban restaurants. So, Lacorazza buys in the confusion and mayhem of La Viga, confident he is serving his customers the best quality seafood available. "I go once a month, but I have a guy there buying for me every day. I trained him to get the quality I want," he says. "We print the menu every day, depending on what's available."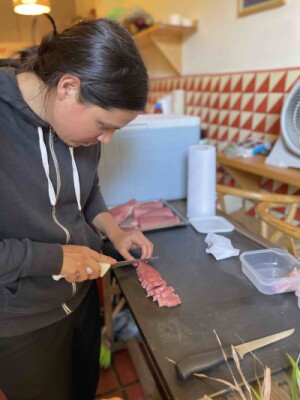 While some of the fish he serves may come from fishermen he knows, the connections he has made are enough to support his mission. The fishermen do their part, his buyer does his part, and for his part Lacorazza could be called an architect of seafood. "Try the smelt tostada," he says. "It's really well built."
Lacorazza explains what well built means. "With a tostada what's on top pushes down on what's underneath, and it can push it out when you bite. Another thing people do is make it higher in the middle, so when you bite at the edge you don't get the flavors. It needs to be an even layer of flavors across the tostada, so that you get the right mix with every bite."
The smelt tostada arrives what looks like a soapstone dish. "It's concrete," says Lacorazza. "The tostada bears five delicately marinaded smelt filets on top of an even layer of thinly sliced cucumbers, which hide a layer of sauce laden with chopped dry sardines and chiles.
"The shrimp tostada is also very popular," says Lacorazza. "And this one, the raw Pacific jack and with tamarind and mandarin. Because of the way we buy fish, we never know what we are going to have, tomorrow it might be bonita and peaches."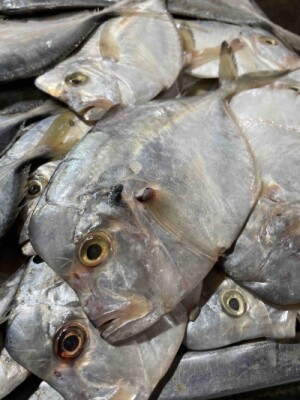 Lacorazza's business model includes educating his customers. "I'm usually out at the tables talking to people about the fish. I have good people cooking so I can focus on sourcing, including the tomatoes which come from a little farm in Hidalgo."
He does, however, makes some compromises to what the market demands. "I don't even want to serve the tostadas with the almejas (chocolate clams), but people want them. I would rather if they ate it with the juice so they could just get those ingredients together."
Talking to Lacorazza I couldn't help but feel that while I often eat from the sea, I have been betraying the fish that come to my plate. At Fugaz, to eat from the sea means to exalt seafood for everyone, with simple but careful preparation and presentation, and attention to the architecture of ingredients and flavors.