Nearly 1,150 square miles in the western Gulf of Mexico are proposed for offshore wind energy areas, as President Biden said he would do everything within his executive powers to act on climate issues and developing cleaner energy.
With heat waves nationwide putting 100 million Americans in 90 degree-plus temperatures this week, Biden went to the site of a former coal plant in coastal Massachusetts July 20 to announce a new push on offshore wind.
The cumulative effect of climate change "is definitely a clear and present danger," Biden said at Brayton Point in Somerset, Mass., where the old generating site is being redeveloped to manufacture power cables for wind projects off southern New England.
"We see it in America, in red states and blue states," said Biden, "seeing 100-year droughts happening every few years" and massive damage from hurricanes. "This is an emergency and I'll look at it that way."
Speaking from a podium on the old coal plant site, Biden said it used to generate "the kind of pollution that contributed to the climate emergency we're in now."
"Today Brayton Point is on the frontier of clean energy," he said. In a speech peppered with references to construction jobs, shipbuilding and new manufacturing, he called the site on example of future economic opportunity.
"When I think clean energy, I think jobs," said Biden.
Timed with Biden's address, the Department of Interior and Bureau of Ocean Energy Management announced a public comment process for the two new draft WEAs.
One located about 24 nautical miles off Galveston, Texas, covers 546,645 acres and potentially could be developed potential to power 2.3 million homes, according to BOEM. Several potential lease blocks are being removed from consideration because they are used by the commercial shrimp fishery, according to a BOEM graphic of the plan.
The second WEA about 56 miles south of Lake Charles, La., covers 188,023 acres with development potential to power 799,000 homes, according to the agency, which started a 30-day public comment period.
Meanwhile BOEM has prepared a draft Environmental Assessment covering the entire Gulf of Mexico call area, and started another 30-day comment period on that document.
Biden directed Interior Secretary Deb Haaland to move forward on planning wind development off the Carolinas, Georgia and Florida.
The path was cleared for that last week by the House of Representatives, which passed an amendment to the 2023 Defense Spending Authorization Act to rescind a Trump-era moratorium on all Southeast offshore energy leasing.
Former president Trump issued that surprise order in late September 2020 to withdraw the Southeast outer continental shelf from leasing, looking to boost his re-election chances by capitalizing on opposition to oil drilling in the region's coastal communities.
Trump's move shocked the oil and gas industry – and offshore wind advocates, who were not targeted by the order but nevertheless threatened. The American Clean Power association and other industry groups pushed hard for Congress to reverse the moratorium, which now awaits a Senate vote on the defense bill.
"We're going to make sure the ocean is open for the clean energy of our future, and everything we can do to give a green light to wind power on the Atlantic coasts where my predecessor's actions only created confusion," said Biden.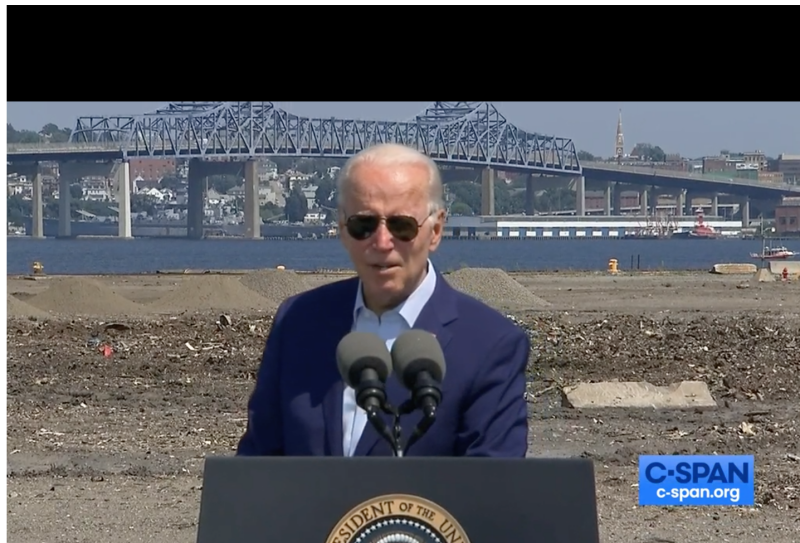 "President Biden has called on us to address the climate crisis and Interior is taking that challenge to heart. The promise of renewable energy is undeniable, as is the momentum for a clean energy transition," Haaland said in announcing the agency moves.
"Today's announcement in the Gulf of Mexico is one of many commitments we are making to spur innovation, create good-paying jobs, and collaborate with states, Tribes and communities to ensure that we are doing everything we can to care for our Earth."
"BOEM used the most current scientific data to analyze 30 million acres in the Call Area to find the best spaces for wind energy development. We are invested in working in partnership with states and communities to find areas that avoid or minimize conflicts with other ocean uses and marine life in the Gulf of Mexico," said BOEM Director Amanda Lefton. "We are committed to a transparent, inclusive and data-driven process that ensures all ocean users flourish in the Gulf."