Captain Bobby Earl and a crewman were rescued by the Coast Guard Nov. 5 when his 53-foot boat Reel E' Bugging — of the National Geographic hit show "Wicked Tuna" — was stricken by an engine room fire.
The duo was 34 miles east of Barnegat Light, N.J., when Coast Guard Sector Delaware Bay watchstanders heard a mayday call on VHF radio channel 16 saying the boat was engulfed by fire, and the crew was deploying a life raft to abandon ship.
An MH-65 Dolphin helicopter crew launched from the Coast Guard air station near Atlantic City, while two 47-foot motor lifeboat crews from the stations at Barnegat Light and Manasquan Inlet got underway.
The helicopter crew spotted the life raft and hoisted both fishermen on board the aircraft uninjured, then flying them to the Monmouth Executive Airport in Wall, N.J., where they were met by family members.
The Coast Guard did not release the names of the fishermen. But reporter Jim Walsh of the New Jersey Courier Post newspaper noted a Coast Guard-released photo of the men in the helicopter showed Bobby Earl wearing the same sweatshirt he had in an Oct. 1 social media posting on Twitter promoting the Wicked Tuna fall television season and crews preparing to compete off the North Carolina Outer Banks.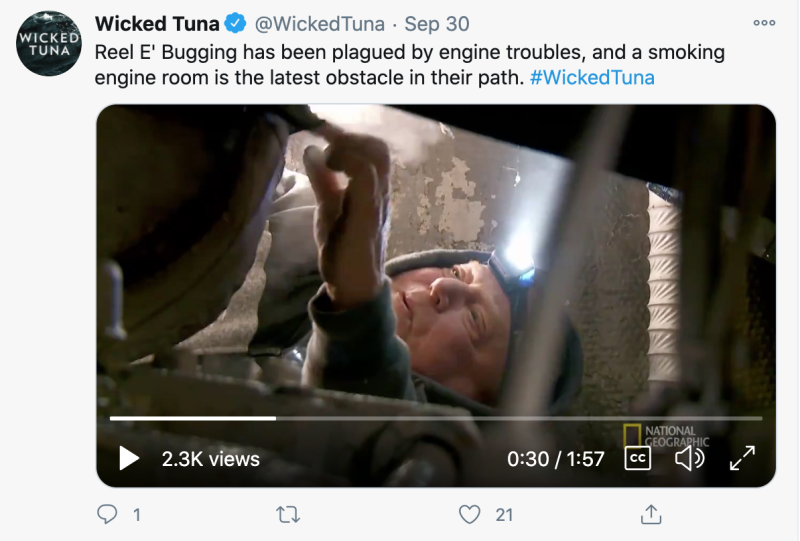 That entry was headlined "Reel E' Bugging has been plagued by engine troubles, and a smoking engine room is the latest obstacle in their path."
An embedded video showed Earl conferring with another crewman down below as they worked to solve the problem. At one point in the video, Earl observes: "That's the worst thing that can happen out here, a fire."
Coast Guard officials said the fishermen were well prepared to handle the emergency.
"Today's case was a perfect example of a unified effort between prepared boaters, the sector, small boats and the air station," said Lt. j.g. Matt Devlin, a helicopter pilot at the Atlantic City air station. "We are happy that the mariners realized they were in distress and we were able to be there quickly. Ultimately their preparedness led to our success."